ACA project, en partenariat avec l'AFAO, se réjouit de vous retrouver le jeudi 16 décembre à 18h pour une visite guidée de l'exposition ROCKS ! à l'Espace Culturel d'ICICLE (35 av. George V, Paris 8e), avec la co-commissaire de l'exposition Gabrielle Petiau.
« ROCKS ! » met en correspondance cinq regards d'artistes français et chinois sur le minéral : Zhan Wang (1962), Jonathan Bréchignac (1985), Charlotte Charbonnel (1980), Noémie Goudal (1984) et Shao Wenhuan (1971).
L'exposition tire son point de départ dans la tradition chinoise de la collection de pierres. Les lettrés chinois avaient pour coutume de choisir dans la nature des pierres ou des rochers érodés par le temps pour décorer les jardins et leurs studios. En association avec l'eau, ces formes symbolisant la montagne constituent des réductions de la nature et agissent comme sources d'évasion de la vie quotidienne, propices au plaisir esthétique et à l'enrichissement spirituel.
Cette tradition trouve un lointain écho dans les cabinets de curiosités, miroirs du monde en miniature, à travers la collection d'objets naturels et créés par l'homme. Née à la Renaissance, cette pratique érudite et esthétique marqua une étape vers une classification et une appréhension plus scientifique du monde.
Comme un jardin de lettrés ou un cabinet de curiosités contemporain, l'exposition « ROCKS ! » explore le lien entre nature et artifice et interroge cette convergence est-ouest : sculptures hybrides faites de pierres naturelles et de matériaux composites, interventions directes dans des paysages donnant forme à des montages photographiques illusionnistes ou des formes créées « à quatre mains » par la nature et par l'artiste, expériences chimiques en chambre noire sur la matière minérale elle-même… Les artistes de « ROCKS ! » questionnent nos perceptions et convoquent le mystère des pierres. Car, par-delà leur forme figée et immobile, celles-ci sont imprégnées du mouvement du monde, résultats de sédimentations successives, témoins d'un temps profond qui se compte en millions ou en milliards d'années.
La visite est gratuite sur inscription en suivant ce lien.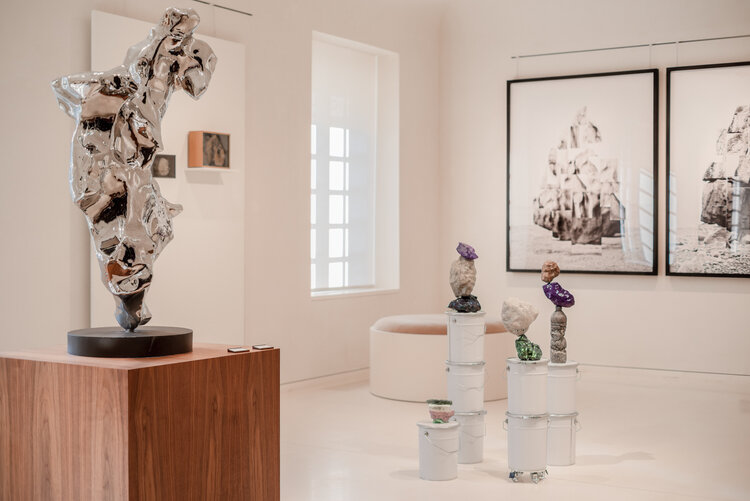 ACA project, in partnership with AFAO, is happy to meet you on Thursday December 16 at 6pm for the visit of the exhibition ROCKS ! at ICICLE Cultural Space (35 av. George V, Paris 8) with the co-curator of the show Gabrielle Petiau.
« ROCKS! » gathers the outlooks of five French and Chinese artists on mineral: Zhan Wang (1962), Jonathan Bréchignac (1985), Charlotte Charbonnel (1980), Noémie Goudal (1984) and Shao Wenhuan (1971).
The starting point of this exhibition lies in the typically Chinese tradition of stone collecting. Chinese scholars used to pick stones or rocks, preferably those eroded by time or natural elements, in order to decorate their gardens or studios. When combined with water, rocks symbolising the mountain, become miniature reproductions of nature. The result acts as sources of escape from the everyday life, contributing to aesthetic comfort and spiritual enrichment.
This tradition finds a distant echo in cabinets of curiosities, miniature collections of natural and man-made objects that mirrors the world. An erudite and aesthetic practice that started in the Renaissance and marked humanity's step forward to a more scientific classification and apprehension of the world.
Like a scholar's garden or a contemporary cabinet of curiosities, the exhibition explores the link between nature and artifice and questions this east-west convergence: hybrid sculptures made of natural stones and composite materials, performances in natural landscapes to create illusionistic photographic montages or forms created by the hands of nature alongside the artist, to chemical experiments in the darkroom of mineral matter itself… The artists of « ROCKS! » question our perceptions and evoke the mystery of stones. Because, beyond their fixed and frozen form, these stones impregnated with the world's movements are the results of successive sedimentations and the witnesses of abyssal times dating back to millions or billions of years.