English version
Sundoo Kim is an established artist in South Korea. He was born in Jangheung in Jeollanam-Do and came up to Seoul when he was 14 years old. Though, he couldn't adapt to Seoul life, spending on his time most of those days alone. Furthermore, he has not been intrigued by anything except painting. He eventually got a master degree in Korean painting but he couldn't get along with friends. His lonely and uncommon youth life became the inspiration of his artworks. He found a inner beauty from our ordinary life such as scenes of non famous circus which is conducted by hard working traveling performers, or people working for a street food located outside of fancy city lights. He felt empathy with them. They are not main influencers in society but their life is truly valuable and beautiful. He depicted their life which is not visible but essential. At first, he mainly drew figures, and then he has been drawing a variety of drawings ranging from ordinary artefacts to landscapes. These days, he evangelises his new perspective through these messages : « We only can notice important things if we go slow » and « Valuable things are invisible just like stars are only visible in darkness. ».
Sundoo Kim has been trying lots of experiments based on traditional Jangji paper techniques of Korean painting. His artworks take both of contemporary sense and an aesthetic of traditional Korean Painting. He studied Korean Painting in Chung Ang University in South Korea and got a master degree. Today, he is a professor in this university.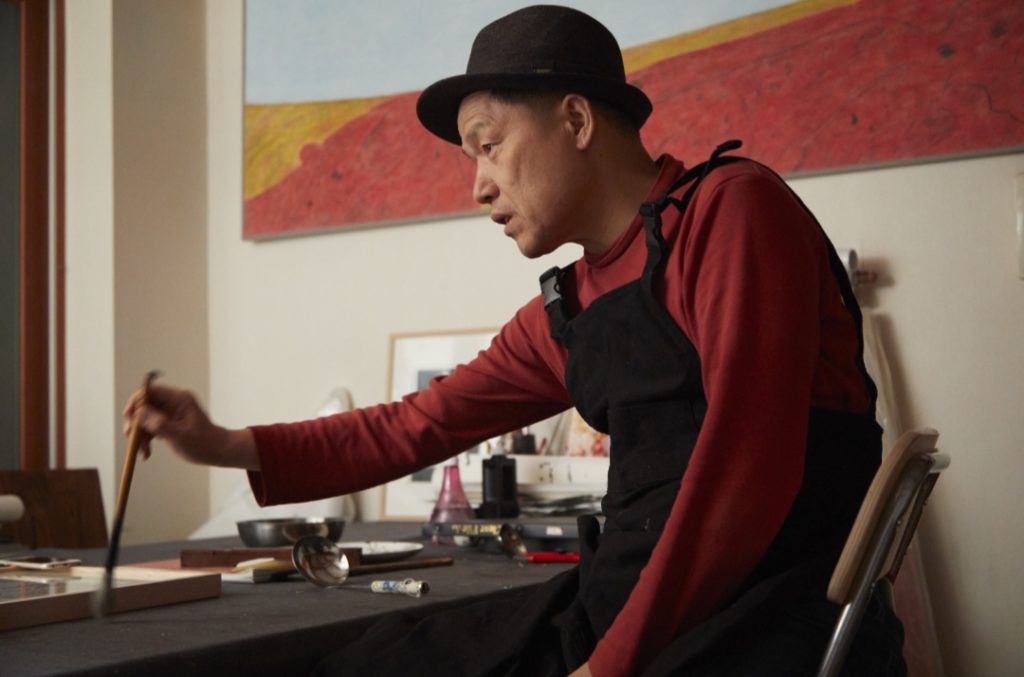 ACA project: I heard that you came to Seoul from Jeollanam-Do when you were 14 years old and this period affected your life a lot…
Sundoo Kim: I was a quite naive and curious child when I lived in the countryside in Jeollanam-Do. But kids who were spending their childhood in Seoul, the center of South Korea, were not like me, so I couldn't get along with them nor get used to life in Seoul.
ACA project: It is really captivating how you got interested in people's life who are surrounding us but hard to notice in our daily life. Can you tell us more about this source of inspiration?
Sundoo Kim: I have always been alone, quietly, and I always sat in the back during class. One day, I watched a circus and performers who worked so hard, sweating, and I was thinking that they were beautiful regardless they were a minority who ddid't get a spot light on TV.
As soon as I arrived in Seoul, I felt it is a spectacular city, under those fancy lights, but when I dig up inside of it, there are so many people who work hard but don't get what they deserve. I thought people who live in Seoul have something special that's far from me, but at the end of the day, they were just the same as me. I realised and found a beauty from their ordinary life that no one has paid attention to before.
Now, I am trying to draw my thought from my ordinary life through not only people but also objects and landscapes. It's also about essence and true beauty. I'm showing them in a series of « I will show you the Stars » or « Slow Landscape. »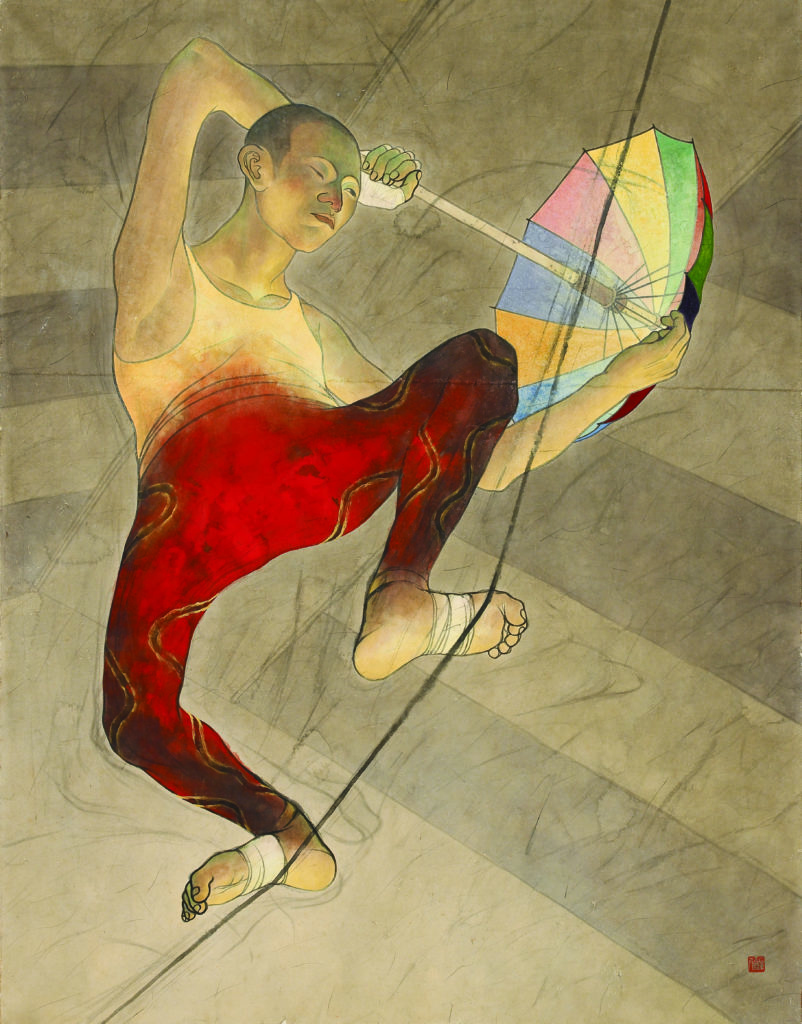 ACA project: You have been using Jang Ji paper for a long time. Is there any reason you keep using this type of paper?
Sundoo Kim: I learned the technique of the Jang Ji from Jongsang Lee (b.1938). Jang Ji is one of the representative techniques in Korean painting. One of the big advantages of Jang Ji paper technique is the capability of layering different brush strokes on a paper many times so that the viewers can notice the colour from the underneath layer subtly. They can feel the depth. Another advantage of this paper is that it is forgiving to make a mistake since it requires lots of layering of brush strokes, which can cover what you have painted. Jang Ji paper is really tough and durable. So, Jongsang Lee called Jang Ji "a paper of aesthetic of forgiving and tolerance", and you know, these characteristics very resemble to Korean people's culture and innate.
ACA project: You said that "Korean Painting has to be recognised as a contemporary painting now, not a traditional one." What do you think of the identity of Korean Painting?
Sundoo Kim: I have recently tried to use canvas and oil painting instead of the traditional medium of Korean Painting. The most important thing is not about the medium that we use. It is about what we get realised, I mean, the idea is what is most important. You don't have to be captivated by the traditional Korean painting materials like Han Ji or an ink stick just because you are a Korean Painter. Try everything you can to convey your idea to the people. If you think multimedia is the best medium for showing your artworks, it is okay to use it.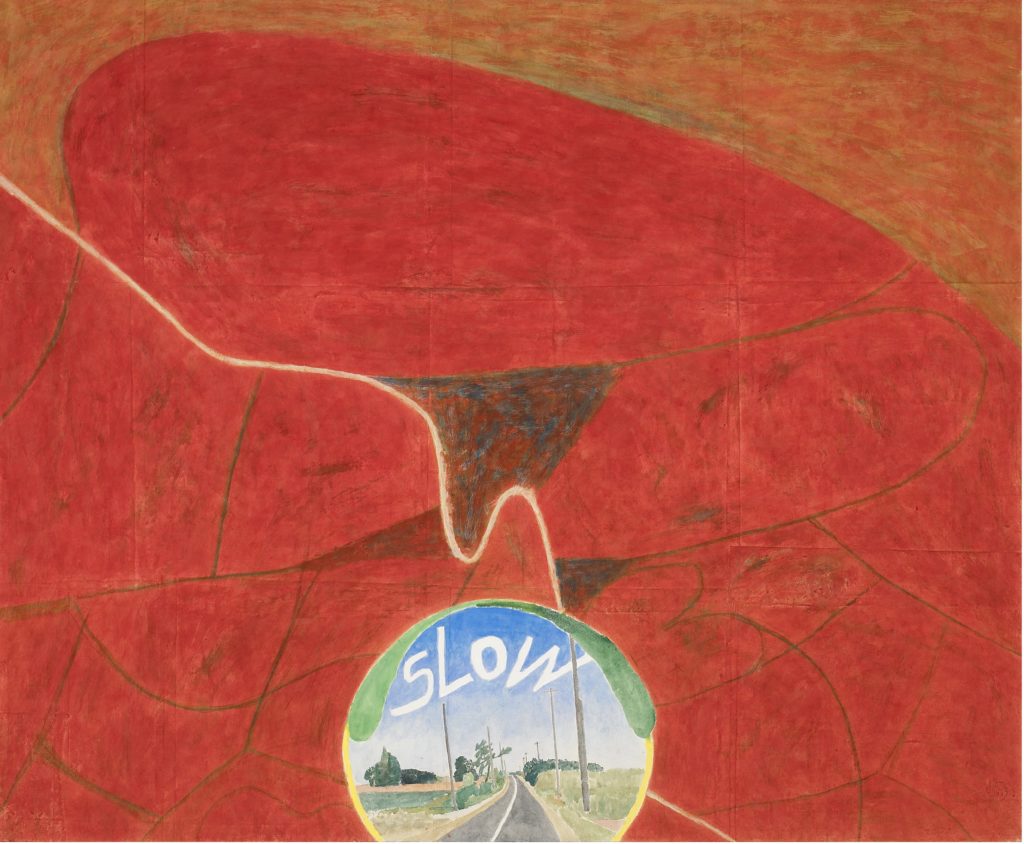 Nonetheless, I suggest that we need to be very knowledgeable about our unique aesthetic aspects of the Korean Painting that can only be found only in it. Knowing about the unique beauty of Korean Painting is similar to climbing. To see the grand view, you have to climb to the peak, and then you can think about where you want to go. Once you are at the peak, you can make a decision how to show your artworks in your own way.
ACA project: What are your upcoming projects?
Sundoo Kim: I am going to participate in some group exhibitions in Korea this September, including the Yeosu International Art Festival, « Literary Painting Exhibition, Kim Sowol » at Kyobo Gallery and « The back of the landscape » at Fill Gallery. In 2 years, I am planning to hold a private exhibition at Hakgojae Gallery in Korea where I am attached now. 
Interview by Hyojin Cho – June 2020
___
Version française
Sundoo Kim est un artiste renommé de Corée du Sud. Né à Jangheung dans la province de Jeollanam-Do, il est venu à Séoul à l'âge de 14 ans. Là, il a rencontré des difficultés à s'adapter à la vie de la capitale sud-coréenne, passant la plupart de ces jours seul. De plus, rien d'autre n'a suscité son intérêt que la peinture. Il a finalement obtenu son diplôme en peinture coréenne, mais sans parvenir à s'entendre avec ses camarades. Sa vie durant sa jeunesse solitaire et peu commune est devenue l'inspiration de ses œuvres. Il y a trouvé une beauté intérieure de la vie ordinaire, notamment dans des scènes de cirques non célèbres dirigés par des artistes itinérants qui travaillent dur, ou d'individus qui travaillent pour de petits commerces de street food situés à l'extérieur de la ville. Il ressentait de l'empathie pour eux; ils ne sont pas les principaux influenceurs de la société, mais leur vie est vraiment précieuse et belle. Il a ainsi dépeint leur vie qui n'est pas visible, mais essentielle. Au début, il dessinait principalement des personnages, puis il s'est mis à réaliser une variété de dessins allant des artefacts ordinaires aux paysages. Ces jours-ci, il évangélise sa nouvelle perspective du monde à travers des messages comme « Nous ne pouvons remarquer les choses importantes que si nous allons lentement » et «Les choses précieuses sont invisibles comme les étoiles ne sont visibles que dans l'obscurité».
Sundoo Kim a tenté de nombreuses expériences sur papier Jangji, basées sur les techniques traditionnelles de la peinture coréenne. Ainsi, ses œuvres prennent à la fois un sens contemporain et empruntent une esthétique de la peinture traditionnelle coréenne. Il a étudié la peinture coréenne à l'Université de Chung Ang en Corée du Sud où il a obtenu une maîtrise. Aujourd'hui, il est professeur dans cette université.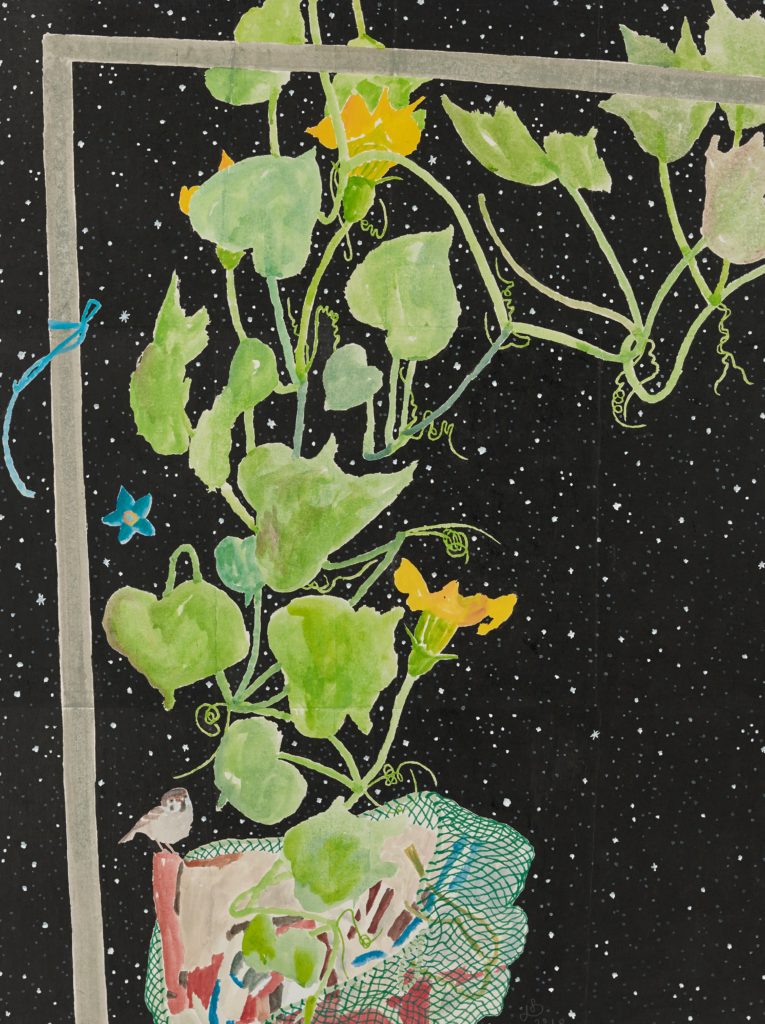 ACA project : J'ai entendu dire que vous étiez venu à Séoul de Jeollanam-Do à l'âge de 14 ans, et cette période a beaucoup affecté votre vie...
Sundoo Kim : J'étais un enfant assez naïf et curieux lorsque j'habitais à la campagne à Jeollanam-Do. Mais les enfants qui ont passé leur enfance à Séoul, soit le centre de la Corée du Sud, n'étaient pas comme moi, donc je ne pouvais pas m'entendre avec eux ni m'habituer à la vie à Séoul.
ACA project : C'est vraiment captivant de voir comment vous vous êtes intéressés à la vie des individus qui nous entourent mais qui sont difficiles à remarquer dans notre vie quotidienne. Pouvez-vous nous en dire plus sur votre source d'inspiration ?
Sundoo Kim : J'ai toujours été seul, tranquillement, et je me suis toujours assis au fond de la classe pendant les cours. Un jour, j'ai observé un cirque et ses artistes qui travaillaient si dur, transpiraient, et je pensais qu'ils étaient beaux, même s'ils étaient une minorité qui n'aurait pas eu sa place dans un programme de télévision.
Dès mon arrivée à Séoul, j'ai senti que c'était une ville spectaculaire sous ces lumières fantaisistes, mais en fouillant à l'intérieur, on y trouve tellement de gens qui travaillent dur, mais sans jamais obtenir ce qu'ils méritent. Je pensais que les gens qui vivent à Séoul ont quelque chose de spécial très éloigné de moi, mais en fin de compte, ils sont exactement comme moi. J'ai réalisé et trouvé une beauté de leur vie ordinaire à laquelle personne n'avait prêté attention auparavant.
Maintenant, j'essaye de puiser ma pensée sur ma vie ordinaire à travers non seulement des personnes mais aussi des objets et des paysages. C'est aussi une question d'essence et de vraie beauté. Je les montre dans mes séries « I will show you the stars » ou « Slow landscape».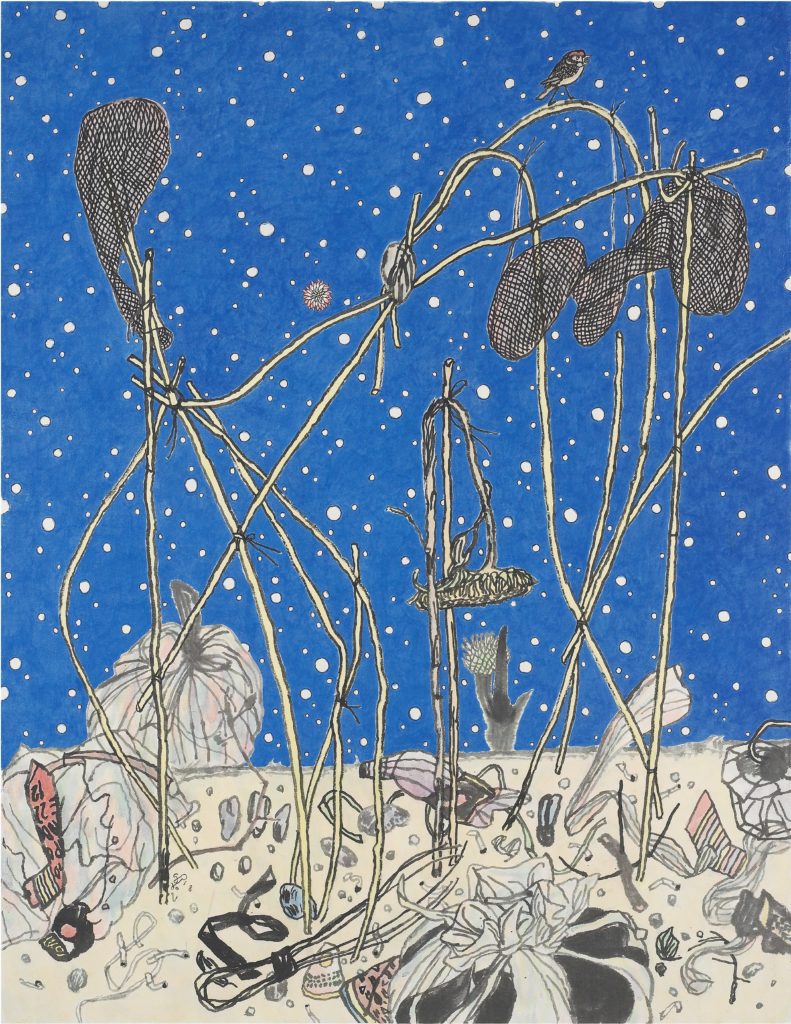 ACA project : Vous utilisez depuis longtemps du papier Jang Ji. Y a-t-il une raison pour laquelle vous continuez à travailler avec ce type de papier?
Sundoo Kim : J'ai appris la technique du Jang Ji auprès de Jongsang Lee (né en 1938). Jang Ji est l'une des techniques représentatives de la peinture coréenne. L'un des grands avantages de la technique du papier Jang Ji est la capacité de superposer plusieurs fois différents coups de pinceau sur le papier afin que les spectateurs puissent remarquer subtilement la couleur de la couche inférieure. Ils peuvent sentir la profondeur. Un autre avantage de ce papier est l'indulgence de se tromper car il nécessite beaucoup de superposition de coups de pinceau, ce qui peut recouvrir ce que vous avez peint. Le papier Jang Ji est vraiment solide et durable. Ainsi, Jongsang Lee a qualifié le Jang Ji de «papier d'esthétique du pardon et de la tolérance», et vous savez, ces caractéristiques ressemblent beaucoup à la culture du peuple coréen et sont innées.
ACA project : Vous avez dit que «la peinture coréenne doit à présent être reconnue comme une peinture contemporaine, et non comme une peinture traditionnelle». Que pensez-vous de l'identité de la peinture coréenne?
Sundoo Kim : J'ai récemment essayé d'utiliser la toile et la peinture à l'huile au lieu des médiums traditionnels de la peinture coréenne. Le plus important n'est pas le support que nous utilisons. Il s'agit de ce que nous réalisons, je veux dire que l'idée est ce qui est le plus important. Vous n'avez pas à être tenu captif des matériaux de peinture coréens traditionnels comme le Han Ji ou un bâton d'encre simplement parce que vous êtes un peintre coréen. Essayez tout ce que vous pouvez pour transmettre votre idée aux gens. Si vous pensez que le multimédia est le meilleur moyen de montrer vos œuvres d'art, vous pouvez l'utiliser.
Mais je suggère que nous devons être très bien informés sur les aspects esthétiques uniques de la peinture coréenne qui ne peuvent être trouvés que dans celle-ci. Connaître la beauté unique de la peinture coréenne est similaire à l'escalade. Avant de pouvoir admirer la vue grandiose, vous devez grimper au sommet, puis vous pouvez penser à l'endroit où vous voulez aller. Une fois que vous êtes au sommet, vous pouvez décider comment montrer vos œuvres à votre manière.
ACA project : Quels sont vos projets à venir?
Sundoo Kim : Je vais participer à quelques expositions collectives en Corée du Sud en septembre, dont le Yeosu International Art Festival, « Literary Painting Exhibition, Kim Sowol » à la Kyobo Gallery et « The back of the landscape » à Fill Gallery. Dans 2 ans, j'envisage de réaliser une exposition privée à la Galerie Hakgojae en Corée à laquelle je suis actuellement rattaché.
Propos recueillis par Hyojin Cho – Juin 2020