by Ambrine Lazreug-Didier
The Bright Side – Une exposition à Pékin qui prend la lumière comme sujet
Le Today Art Museum accueille l'exposition « The Bright Side », une mise en résonance entre un thème cher au joaillier Boucheron, la lumière, et les œuvres de trois jeunes artistes lauréats du Prix Yishu 8 : deux artistes chinois Peng Yong et Ouyang Sulong, et un artiste français, Lyes Hammadouche. Leurs travaux associent la pensée conceptuelle, l'innovation technologique et la spiritualité, excellant dans le traitement de la lumière en cherchant à reproduire avec finesse le détail de ses effets : éclat, lueur, reflets, transparence, translucidité, miroitement…
The Bright Side – An exhibition in Beijing which uses light as a subject
The Today Art Museum is hosting the exhibition « The Bright Side », a resonance between a theme dear to the jeweler Boucheron, light, and the works of three young artists who won the Yishu 8 Prize: two Chinese artists Peng Yong and Ouyang Sulong, and a French artist, Lyes Hammadouche. Their works combine conceptual thinking, technological innovation and spirituality, excelling in the treatment of light by seeking to reproduce with finesse the detail of its effects: shine, glow, reflections, transparency, translucency, shimmer …
Saisir les variations des couleurs et les transitions de la lumière
Les gravures de Peng Yong dépassent leurs fonctions illustratives pour devenir sculptures, peintures et même installations. Par la lumière, les effets de reliefs et les aplats de matières, l'artiste fait varier l'intensité de sa palette chromatique.
To seize the colours variations and light transitions
Peng Yong's engravings go beyond their illustrative functions to become sculptures, paintings and even installations. Through light, volume effects and flat areas of materials, the artist varies the intensity of his chromatic palette.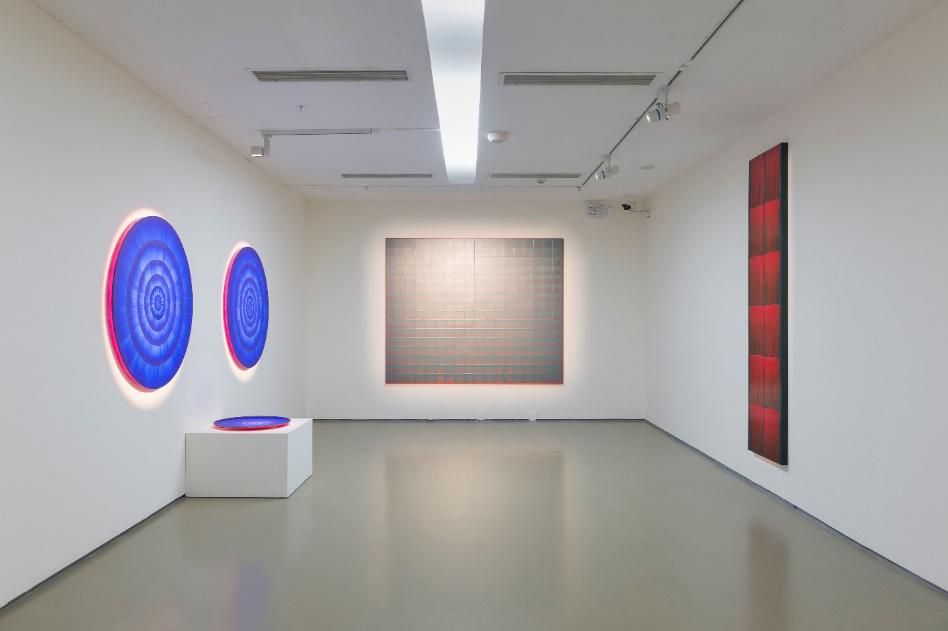 Comprendre le volume par la couleur et la lumière
Ouyang Sulong est un sculpteur qui s'inspire des reflets des pierres précieuses pour imaginer des jeux de lumière. Il place autour de ses sculptures une source de lumière fixe, faisant de l'ombre qui se dessine un espace physique. Grâce à l'impression 3D, il recrée le spectre coloré de la lumière et le fige dans une série de sculptures en résine.
To understand the volume through colour and light
Ouyang Sulong is a sculptor who is inspired by the reflections of precious stones to imagine plays of light. He places a fixed source of light around his sculptures, making the shadow that emerges into a physical space. Using 3D printing, he recreates the colorful spectrum of light and freezes it in a series of resin sculptures.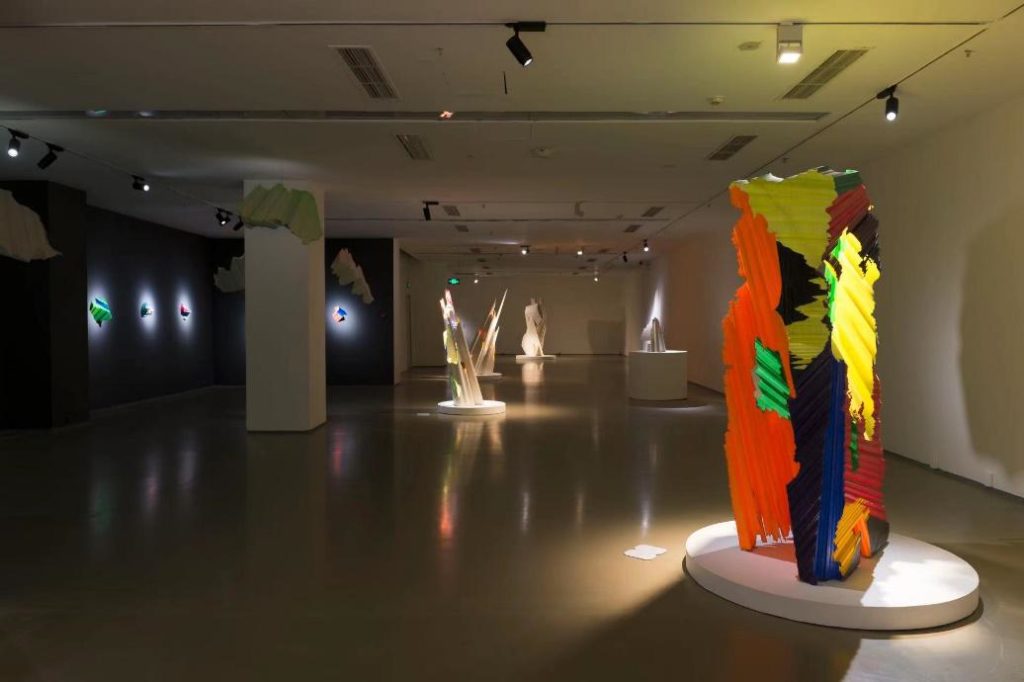 Questionner les effets de la lumière
Lyes Hammadouche réalise des œuvres qui s'emparent de la lumière pour créer des effets hypnotiques sur le spectateur. Dans un rapport subtil entre technologie et mysticisme, la lumière prend, dans le travail de l'artiste, une dimension sacrée. Ses sculptures et ses installations en néons sont des percées qui interrogent et renvoient au mystère de la lumière.
To question the effects of light
Lyes Hammadouche creates works that capture the light to create hypnotic effects on the viewer. In a subtle relationship between technology and mysticism, light takes on a sacred dimension in the artist's work. His sculptures and neon installations are breakthroughs that question and refer to the mystery of light.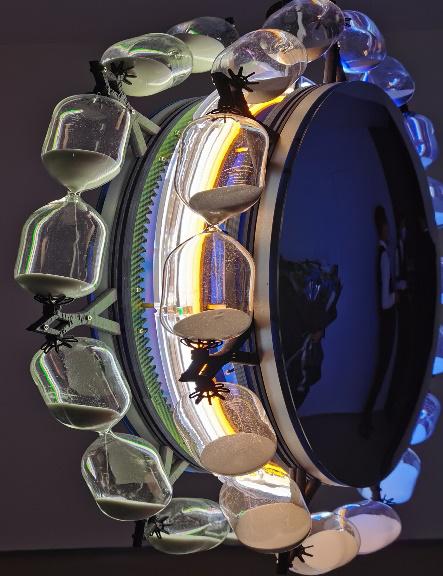 Une exposition à découvrir jusqu'au 21 novembre 2021 au Today Art Museum de Pékin, conçue sous le commissariat général du Professeur Su Dan, Vice-directeur de l'Académie d'Art et de Design de l'Université de Tsinghua, et Directeur du Musée d'art contemporain de l'Université de Tsinghua.
An exhibition to discover at the Today Art Museum until November 21st, 2021. General curator : Professor Su Dan, Deputy Director of the Academy of Art and Design of the Tsinghua University, and Director of the Contemporary Art Museum of the Tsinghua University.