by Eléonore Arashima
ACA project presents a selection of three Japanese artists who have made self-portraits their artistic signature: Erina Matsui, painter with a singular universe, photographer Yasumasa Morimura who stages himself in reproductions of art history masterpieces, and Yurie Nagashima, who creates provocative photographs.
ACA project propose une sélection de trois artistes d'origine japonaise qui ont fait de l'auto-portrait leur signature artistique : Erina Matsui, peintre à l'univers singulier, le photographe Yasumasa Morimura qui se met en scène dans des reproductions de chefs d'oeuvres de l'histoire de l'art, et Yurie Nagashima, qui produit des photographies provocantes.
ERINA MATSUI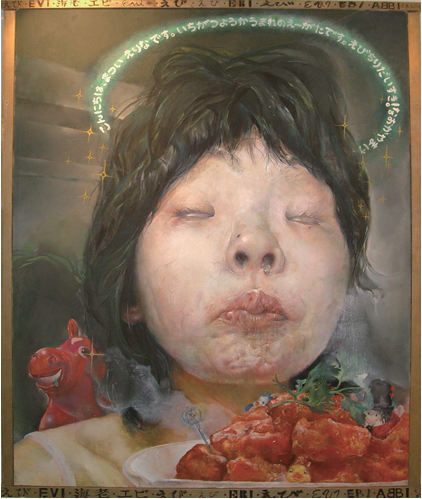 Erina Matsui (b.1984, Okayama, Japan) is a Japanese artist renowned for her series of singular self-portraits. Depicting herself without idealized features, she intends to reflect her feelings and her own personality through her works. She received a gold medal for I love shrimp chill at Takashi Murakami's Geisai art fair in Tokyo when she was only a twenty-year old art student. Hiding among rose petals, getting lost in space and regurgitating mammoths appear to be common activities in her eccentric and fantastic world. She seems to recreate the cosmos with a universal reach. Toys are often part of her oil paintings to evoke the frustrations of young adults who grow up while being constantly exposed to Kawaii aesthetics. Considering the axolotl her double, she turned it into her icon and a key figure of her work. In the Uparupa can go everywhere series, she travels to Rome and Iriomote Island wearing an axolotl head as a costume.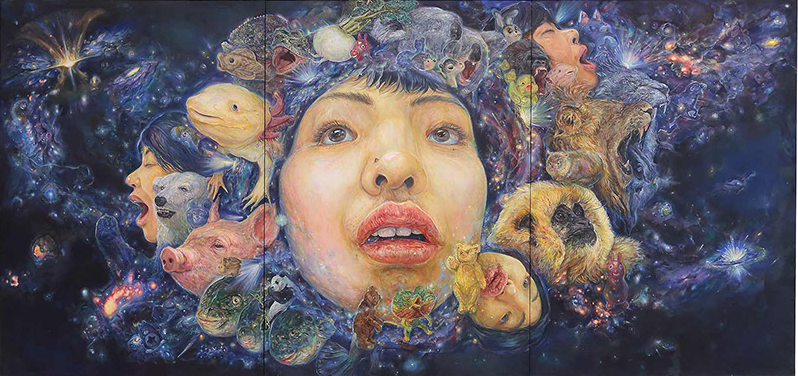 Erina Matsui (née en 1984 à Okayama, Japon) est une artiste japonaise réputée pour ses séries d'autoportraits singuliers qui la représentent sans complaisance et reflètent ses sentiments ainsi que sa personnalité unique. Elle reçoit une médaille d'or à l'âge de vingt ans pour « I love shrimp chill » à la foire d'art Geisai présidée par Takashi Murakami. Se cacher dans des pétales de roses, se perdre dans l'espace et régurgiter des mammouths sont des activités fréquentes dans son monde excentrique et fantastique. Elle semble recréer le cosmos dans le but d'atteindre une forme d'universalité. Les jouets sont souvent présents dans ses peintures à l'huile afin d'évoquer les frustrations des jeunes adultes qui évoluent dans une société où l'esthétique kawaii est omniprésente. Considérant l'axolotl comme son double, Erina Matsui en fait son icône et une figure récurrente de son œuvre. Dans la série « Uparupa can go everywhere », elle voyage à Rome et sur l'île d'Iriomote vêtue d'une tête d'axolotl.
YASUMASA MORIMURA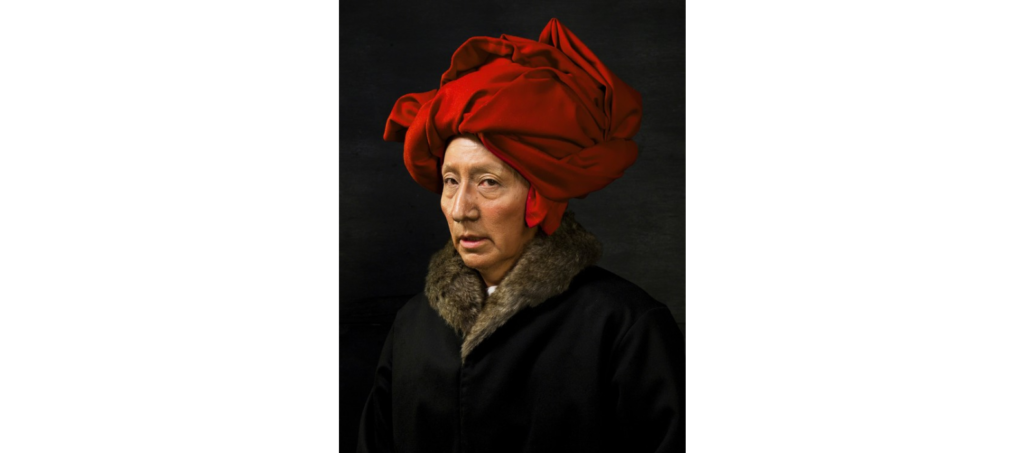 Often compared to Cindy Sherman due to his extensive use of props and makeup, Yasumasa Morimura (b.1951, Osaka, Japan) reproduces world-famous images in which the main characters' faces are replaced by his own. Imagining himself in Frida Kahlo's, Jan van Eyck's or in Marilyn Monroe's shoes, Yasumasa Morimura realizes ingenious and convincing self-portraits which question our perception of art history as well as gender through his feminine disguises. "My aim is to explore the border between a man and a woman" explains the artist who revisits Western masterpieces such as Olympia by Edouard Manet where the languid maiden is substituted for the geisha-like Yasumasa Morimura resting near a maneki neko. His face is successively applied to demons, nuns and young girls in the series Los Nuevos Caprichos that was inspired by Francesco de Goya. Graduated from Kyoto City University of Arts, and Columbia University, Yasumasa Yoshimura lives and works in Osaka.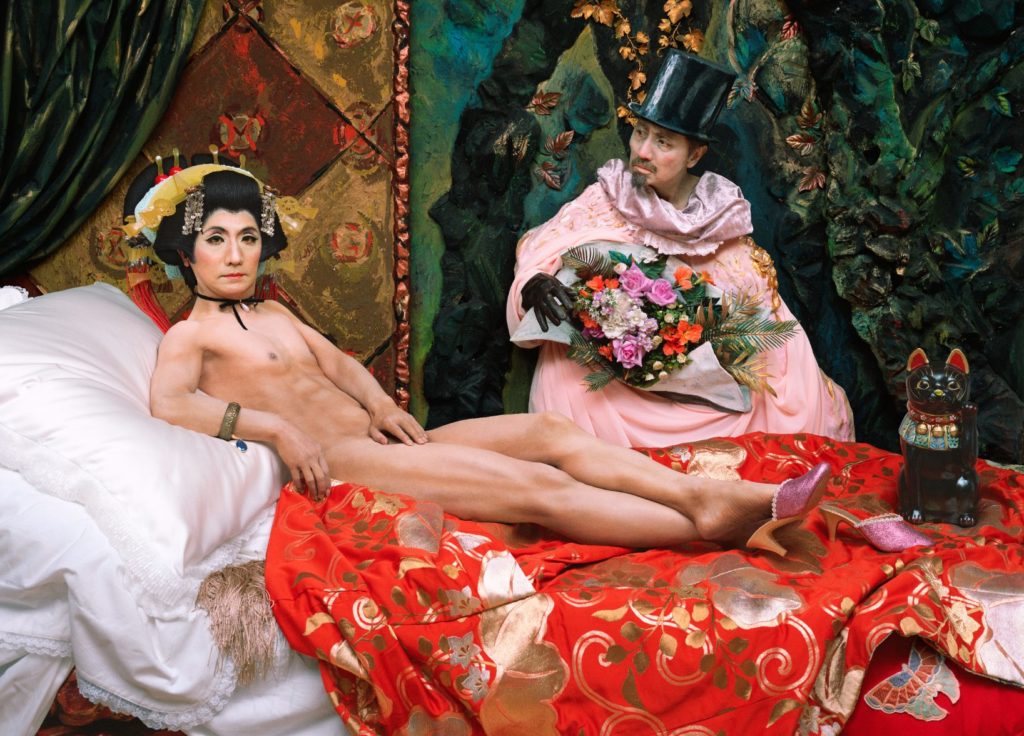 Souvent comparé à Cindy Sherman pour son emploi extensif d'accessoires et de maquillage, Yasumasa Morimura (né en 1951 à Osaka, Japon) reproduit des images mondialement connues dans lesquelles il remplace le visage des personnages principaux par le sien. Se rêvant en Frida Kahlo, Jan Van Eyck ou encore Marilyn Monroe, Yasumasa Morimura réalise des autoportraits ingénieux et convaincants qui remettent en question notre perception de l'histoire de l'art et du genre à travers ses travestissements. «Mon but est d'explorer la frontière entre l'homme et la femme» explique l'artiste qui détourne des chefs d'œuvres occidentaux comme « Olympia » par Edouard Manet. Coiffé tel une geisha et entouré d'un maneki neko, il se substitue à la jeune fille alanguie. Son visage est successivement associé à des démons, nonnes et femmes nubiles dans la série « Los Nuevos Caprichos » inspirée par Francesco de Goya. Diplômé de l'Université des Arts de Kyoto et de l'Université Columbia, Yasumasa Yoshimura vit et travaille à Osaka.
YURIE NAGASHIMA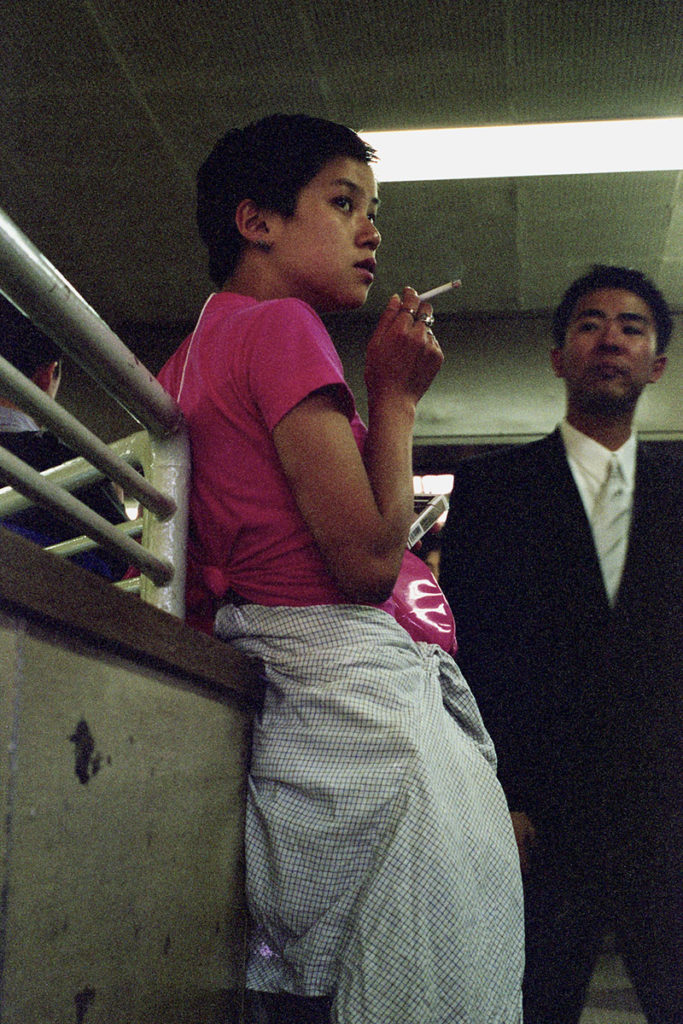 Yurie Nagashima (b.1973, Tokyo, Japan) is a photographer whose work focuses on feminism, gender and the concept of family. In 1993, she received Parco Gallery's second annual Urbanart award for a series of portraits depicting herself and her relatives in the nude. Yurie Nagashima gained international recognition thanks to her disturbing self-portraits where she is seen having a shower, wincing or even smoking during pregnancy. Appearing as a boyish and rebellious artist as well as a tender mother, she challenges the role of women in society: she considers self-portraits "a way of taking action against the historical roles of the male and female in photography". As a key figure of a group of female photographers, her photographs were reductively labelled Onnanoko Shashin or "Girls' Photographs" in the 1990s. Interested in documenting daily life and dealing with nudity, she has paved the way to a new approach to photography.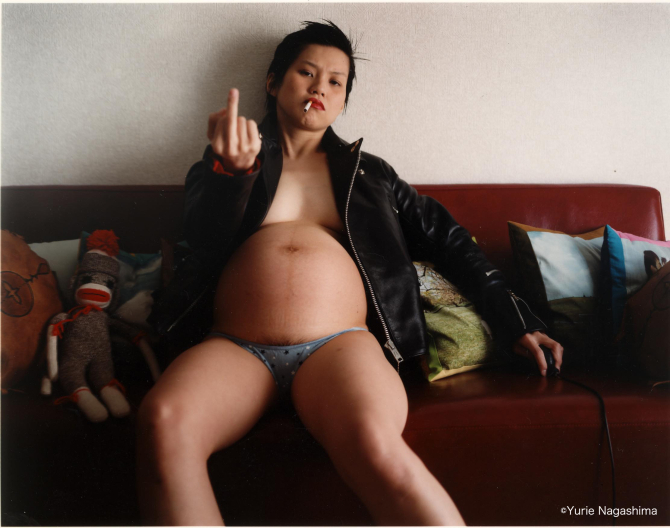 Yurie Nagashima (née en 1973 à Tokyo, Japon) est une photographe dont les thèmes de prédilection sont le féminisme, le genre et le concept de la famille. En 1993, elle remporte le second prix annuel Urbanart de la galerie Parco pour une série de portraits la montrant nue avec ses proches. Yurie Nagashima acquiert une renommée internationale grâce à ses autoportraits déroutants dans lesquels elle prend une douche, grimace ou encore fume alors qu'elle attend un enfant. Apparaissant en artiste rebelle et masculine ainsi qu'en mère affectueuse, elle remet en question le rôle des femmes dans la société: elle considère que l'autoportrait est "un moyen de s'ériger contre les rôles historiques de l'homme et de la femme en photographie". Figure clé d'un groupe de femmes photographes, ses œuvres sont qualifiées de « Onnanoko Shashin » ou « Photos de filles » de manière réductrice. Capturant la réalité de la vie quotidienne et abordant le thème de la nudité, elle renouvelle la vision de la photographie.