by Elodie Lafaurie-Bianchi
The Tokyo based gallery ShugoArts presents the first 2020 edition of its "ShugoArts Show". Over the years, this group show became the great gathering of the artists represented by the gallery, thus, allowing us to follow their creative evolution.
Honored with a one-room installation, the Hong Kong artist Lee Kit comes back in Tokyo after a two-year hiatus. Combining painted elements with visuals and sounds projections, A morning with 2 colors invites us into a poetic and wistful atmosphere echoed by the political and social turmoil the artist had encountered in his homeland. However, as Lee Kit often reminds us, if he does art politically, it isn't to be labeled as political art. To capture or to convey a defined emotion is the given role to his compositions.
On the spot, also some of Yukio Fujimoto's works. Alongside DELETE (The Beatles), a collection of fourteen records with a deliberately abraded surface, we can find the last-added to his EARS WITH CHAIR series where the viewer is subject to his own hearing experience, sitting on a chair with two new expended ears.
Lastly, both preparing important upcoming exhibitions, are Masaya Chiba, whose works refer to surrealism using the power of words in motley compositions and Anju Michele, who incorporates silver leaves in abstract paintings, a material traditionally used in the making of Nishijin-Ori, textiles from Kyoto his hometown.
"ShugoArts Show" until April 4th 2020 at ShugoArts Gallery, Tokyo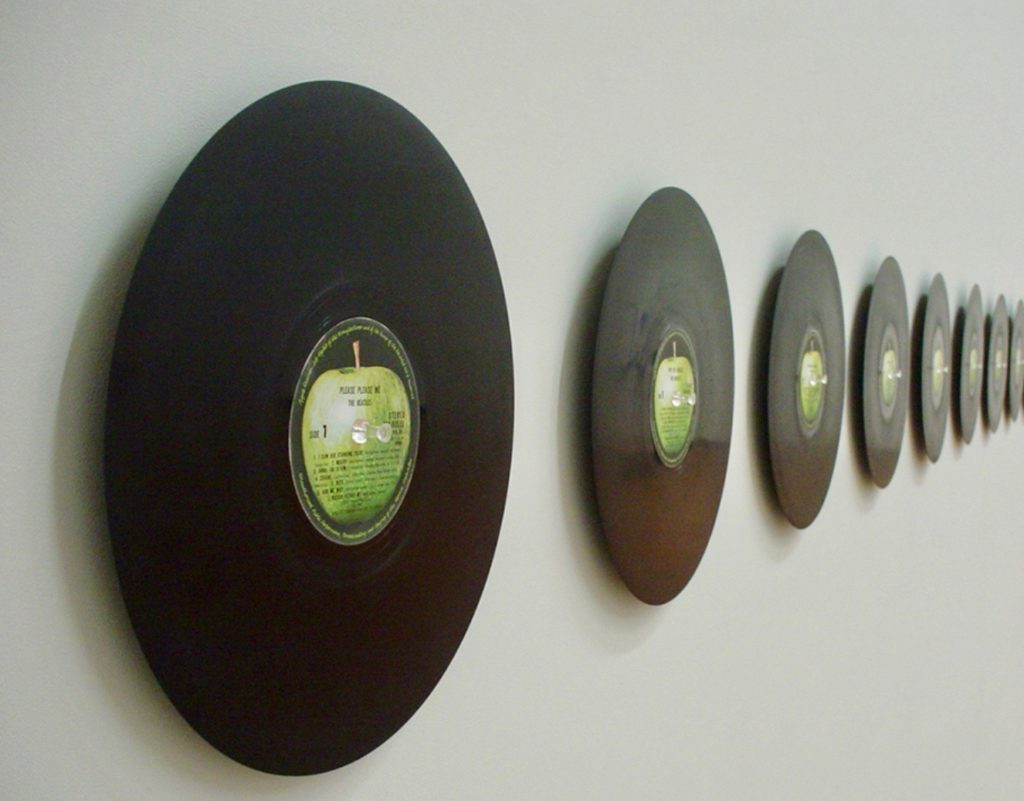 La galerie tokyoïte ShugoArts présente la première édition 2020 de son « ShugoArts Show ». Devenue au fil des années le grand rassemblement des artistes représentés par la galerie, cette exposition collective nous permet ainsi de suivre leur évolution créative.
Mis à l'honneur avec une salle consacrée à son installation, l'artiste hongkongais Lee Kit revient à Tokyo après un hiatus de deux ans. Combinant des éléments peints avec des projections visuelles et sonores, « A morning with 2 colors » nous invite dans une ambiance poétique et nostalgique en écho à l'agitation politico-sociale rencontrée par l'artiste dans son pays. Cependant, comme Lee Kit nous le rappelle souvent, s'il fait de l'art politiquement, son travail n'est pas à étiqueter sous le terme d'un « art politique ». Le rôle donné à ses compositions est avant tout de capturer ou de transmettre une émotion définie.
Sur place également, quelques œuvres de Yukio Fujimoto. Aux côtés de « DELETE (The Beatles) », une collection de quatorze disques vinyles à la surface délibérément abrasée, nous pouvons trouver le dernier né de sa série EARS WITH CHAIR où le spectateur, assis sur une chaise et doté d'une nouvelle paire d'oreilles, est le sujet de sa propre expérience auditive.
Enfin, tous deux préparant d'importantes expositions à venir, on trouve Masaya Chiba, dont les œuvres aux compositions hétéroclites se réfèrent au surréalisme en utilisant le pouvoir des mots et Anju Michele, qui incorpore des feuilles d'argent dans des peintures abstraites, un matériau traditionnellement utilisé dans la fabrication des textiles Nishijin-Ori de Kyoto sa ville natale.
« ShugoArts Show » jusqu'au 4 avril 2020 à la galerie ShugoArts, Tokyo