by Camille Despré
The Centre Pompidou in Paris is presenting until April 27th a focus on the unique and fantastical world of the Taiwanese artist Yuan Jai. As the museum is closed until further notice, ACA project is proposing you a virtual tour of the exhibition.
Born in Chongqing (China) in 1941, Yuan Jai grew up in Taiwan where she learned Chinese classical painting. She pursued her studies in Belgium, England and the U.S. Yuan Jai begun her artist career belatedly after having worked in the museum field. In her works, she uses the tradition of Chinese literati paintings and reinterprets it into a playful and uniquely fresh way, giving this ancient art a new breath. Hence the strokes are not black any more but colorful and the colour palette is expanded to a range of vivid and zingy colours.
Director of the restoration department at the National Palace Museum in Taipei for most of her carreer, Yuan Jai's artistic world is largely influenced by Chinese classical art. Direct quotations of objets in museums collections can be found in her works. For example the work « Bons Augures », 2017 is a reference to the famous painting of Song Huizong emperor « Auspicious Cranes » in the Liaoning provincial museum collection. Yuan Jai also draws inspirations from folk traditions and especially from Chinese paper-cuts she integrates in her compositions.
All those references are combined with a fantastical vocabulary made of fairies, animals and flowers, hence creating unique, sensitive and poetic works, breaking new ground in Chinese figurative painting.
Yuan Jai, until April 27th 2020 in the Focus Room of the museum of Centre Pompidou, Paris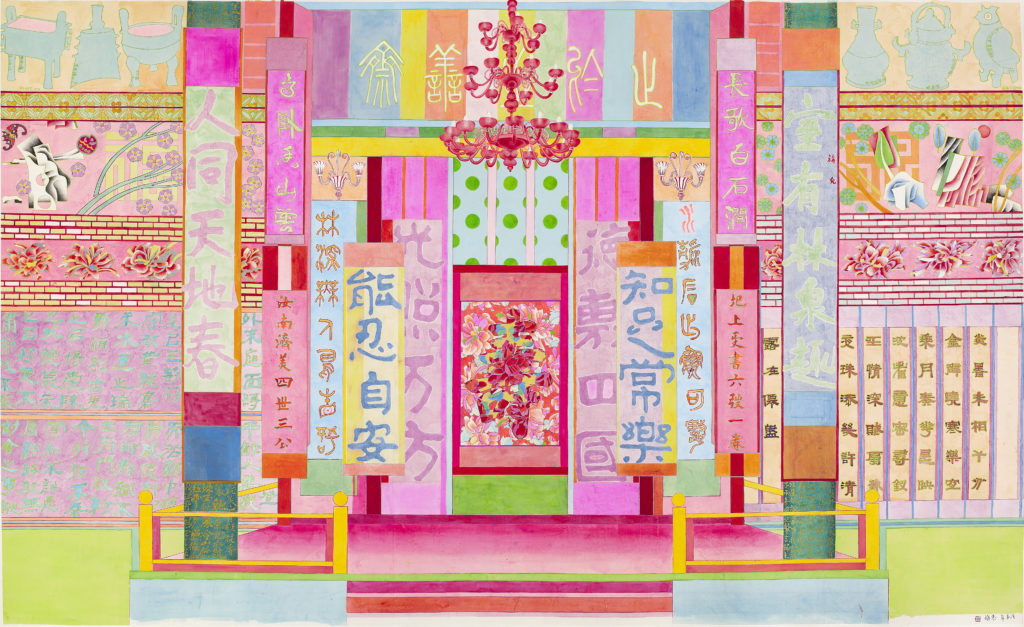 Jusqu'au 27 avril prochain, le Centre Pompidou présente un focus sur le travail poétique et singulier de l'artiste taiwanaise Yuan Jai. Actuellement fermée en raison du confinement, ACA project vous propose une visite virtuelle de l'exposition.
Née à Chongqing en Chine en 1941, Yuan Jai a grandi à Taiwan où elle a étudié la peinture chinoise. Elle a ensuite poursuivi sa formation en Belgique, en Angleterre et aux Etats-Unis. Yuan Jai a commencé sa carrière d'artiste sur le tard après avoir travaillé dans le domaine muséal. Dans ses œuvres, elle reprend les codes de la peinture de paysage chinoise en les modernisant. Le cerne n'est alors plus noir mais coloré et la palette de couleurs est élargie à des teintes vives et acidulées. Yuan Jai renouvelle ainsi cet art millénaire avec naïveté, fraicheur et singularité.
Directrice du service de restauration du Musée National du Palais de Taipei pendant la majeure partie de sa carrière, l'univers de Yuan Jai est pétri de l'influence de la culture classique chinoise. Certaines de ses œuvres sont des citations directes d'objets conservés dans les collections des musées. L'œuvre « Bons Augures », 2017 est une référence à la célèbre peinture « Grues de bon augure » peinte par l'empereur Huizong de la dynastie Song et conservée au musée provincial du Liaoning. Elle s'inspire également de la culture populaire et notamment de l'art des papiers découpés qu'elle réinterprète dans ses compositions.
Ces nombreuses références sont associées à des éléments du réel et à un vocabulaire fantasmagorique peuplé de fées, de fleurs et d'animaux en tout genre composant un imaginaire singulier et sensible, entre rêve et réalité.
Yuan Jai, jusqu'au 27 avril 2020, Salle Focus du musée du Centre Pompidou, Paris