By Camille Despré
At the beginning of November, Shanghai was buzzing thanks to the art week dedicated to contemporary art. The opening of the two fairs Art021 and West Bund Art & Design were one of the highlights of this week. ACA Project went to West Bund Art & Design and gives you its point of view.
West Bund Art & Design was founded in 2013. For its fifth anniversary, a new hall has been built allowing 110 galleries to exhibit instead of 70 last year. Located in the new district of West Bund, along the Huangpu river, the fair wanted to make an impression by inviting the most famous galleries. Reunited in the Hall A, the historical building, worldwide galleries as Hauser & Wirth, David Zwirner, Thaddaeus Ropac, Perrotin, Kamel Mennour, exhibited their most amazing artworks. This could have been the motto of this edition : being as amazing, as big as Shanghai is. One can not miss the impressive installation of Takashi Murakami called « Dragon in clouds, Indigo Blue » at the entrance of Hall N nor the solo show of the minimalist artist Dan Flavin at David Zwirner Gallery. The gallery exhibited one historical neon-made piece of the artist called « untitled (to sonja) ».
On the other side of the fair, the Hall N hosted more national galleries such as A thousand Plateaus Art Space from Chengdu or ShanghART ou MadeIn Gallery, well-known in Shanghai. Those galleries had a more creative selection of artists and allowed us to do great discoveries. Among them the shanghaist Don Gallery exhibited some of its emerging Chinese artists such as the conceptual artist Liu Ren. In his work, based on daily life materials, he evokes the passage of time, the consumption of life and the state of being. In his last series, he gives us his reflection upon the accelerating transformation of human society. In his work « Panta Rhei—X 121.9101 Y 115.079 », exhibited at West Bund Art Fair, painting gold on straw paper brick is a way to raise the question of our society based on appearance.
After five editions, West Bund Art Fair establishes itself as the reference fair for contemporary art in Shanghai. It is gradually strengthening its reputation by hosting world major galleries and Chinese galleries offering a sharp eye on the contemporary scene.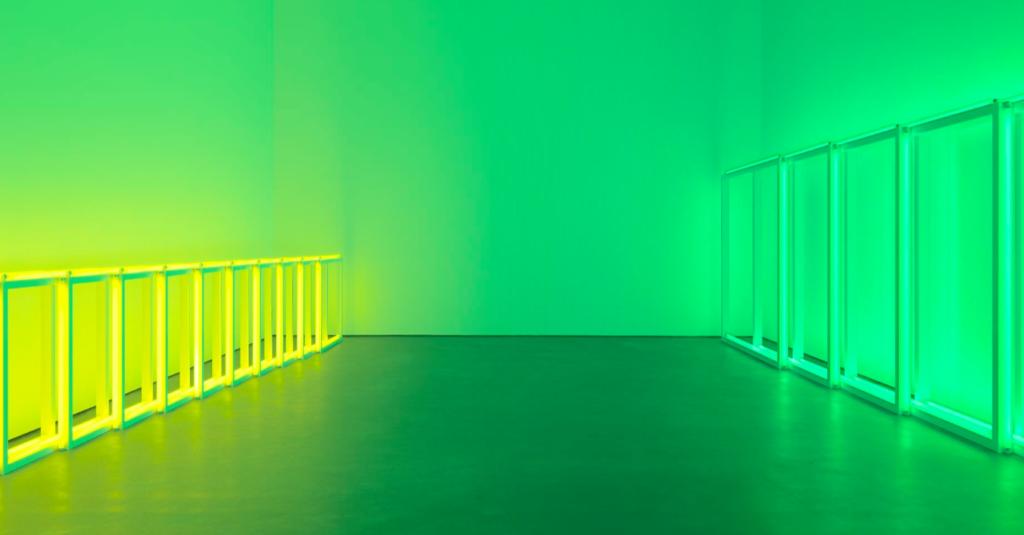 Début Novembre, l' « Art Week » faisait vibrer Shanghai au rythme de l'art contemporain. Point d'orgue de cette semaine : l'ouverture de deux foires, West Bund Art & Design et Art 021, et le vernissage de la Biennale de Shanghai.
Fondée en 2013, West Bund Art & Design fêtait cette année ses cinq ans avec l'inauguration d'un nouvel espace. Ces trois nouveaux halls ont permis de passer de 70 galeries à 110 galeries participantes. Située dans le nouveau quartier de West Bund, le long de la rivière Huangpu, la foire cherchait à marquer les esprits en attirant les meilleures galeries d'art contemporain. Réunies dans le hall A, son bâtiment historique, les galeries d'envergure internationale telles Hauser & Wirth, David Zwirner, Thaddaeus Ropac, Perrotin, Kamel Mennour, exposaient les pièces les plus impressionnantes de leur collection. Le ton était ainsi donné : cette édition serait hors norme, à l'image de la Shanghai et de sa grandeur. On ne pouvait passer à côté de l'imposante fresque « Dragon in clouds, Indigo Blue » de Takashi Murakami, représenté par la galerie Gagosian ou encore de la minimaliste installation de Dan Flavin « untitled (to sonja) », unique œuvre exposée par la galerie David Zwirner.
À l'opposé, le hall N rassemblait de nombreuses galeries nationales comme A thousand Plateaus Art Space venue de Chengdu ou encore ShanghART ou MadeIn Gallery, bien connues du paysage shanghaien. Elles nous offraient un regard plus frais sur la scène contemporaine chinoise. Parmi elles, la shanghaienne Don Gallery exposait une sélection de ses artistes émergents dont Liu Ren. Son travail conceptuel se base sur des objets du quotidien lui permettant d'aborder les thèmes du passage du temps et du caractère éphémère de la vie. Dans sa dernière série, faite à partir de briques de papier recouvert de feuille d'or, il nous livre ses réflexions sur la transformation accélérée de notre société. Avec son œuvre « Panta Rhei—X 121.9101 Y 115.079 », exposée lors de la foire, il pose la question d'une société fondée sur l'apparence. Ses sculptures nous renvoient à nous-même et à l'image véhiculée par les réseaux sociaux.
West Bund Art Fair s'impose donc comme l'une des foires de référence sur la scène contemporaine de Shanghai. Elle consolide progressivement sa place avec une sélection pointue et la venue de galeries de référence.