By Eléonore Arashima
The modern samurai
Akira Yamaguchi is a Japanese artist widely known for his works combining contemporary topics and traditional Japanese aesthetic. He invites us to dive into a fantastic world inspired by the Edo period (1603 -1868) where warriors go to Mitsukoshi department store and ride motorbikes. In early January 2021, his artwork entitled Horseback Archery was chosen to be part of Tokyo 2021 Paralympics campaign.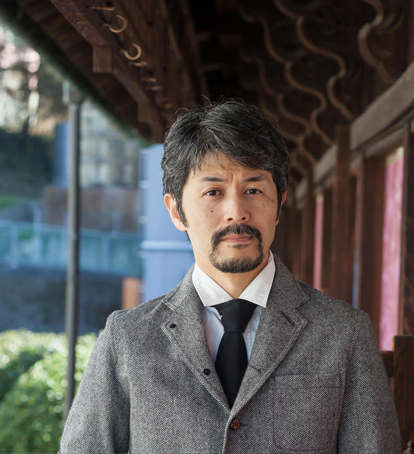 Bridging the old and the new
Born in 1969, Akira Yamaguchi holds a Master's Degree in oil painting from prestigious Tokyo National University of Fine Arts and Music. His unique style results from his reflection on Yamato-e painting which means Japanese style painting. As the meeting of Western and Japanese cultures has shaped Japanese art history for centuries, Akira Yamaguchi intends to give us his own approach to modernity as it was before Japan's rapid westernization. « I wanted to re-do the modernization of Japanese art for myself » he told Brigitte Koyama-Richard during an interview for Nippon.com. Described as a Nihonga painter, Akira Yamaguchi rejects this label implying that he only uses traditional media. Blending the old and the new is the purpose of his works.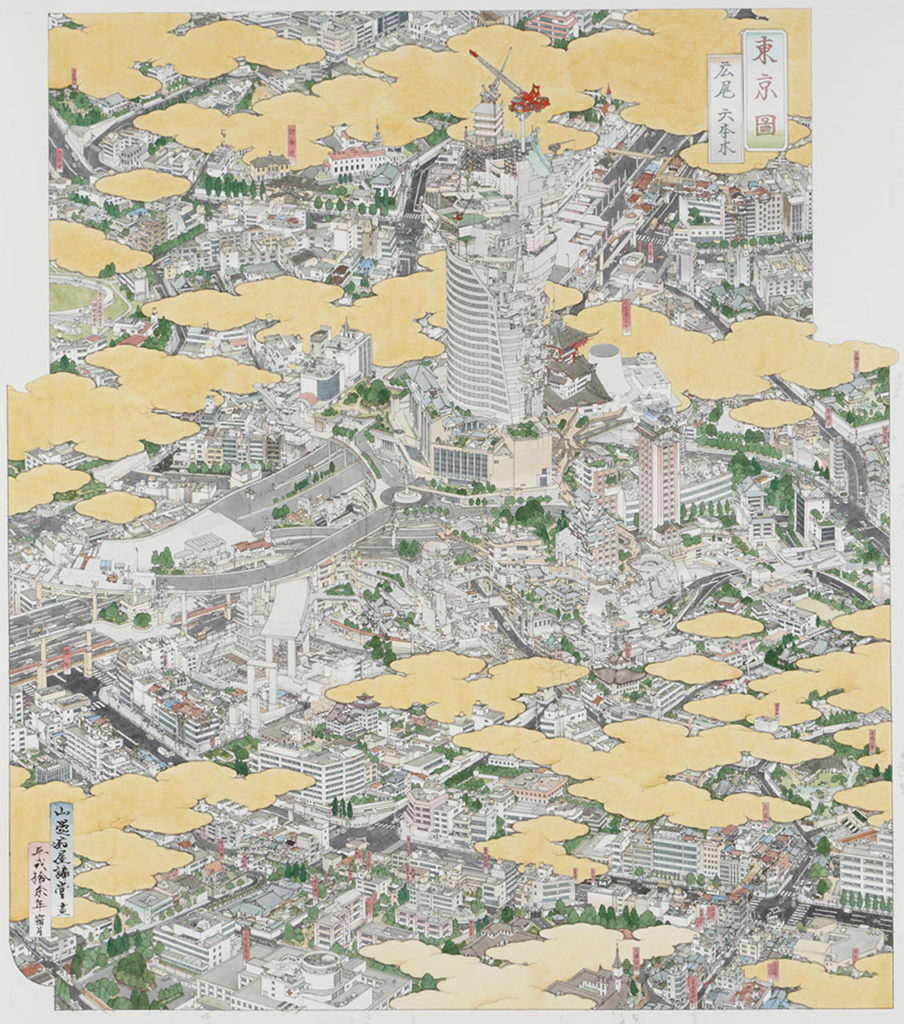 We undeniably wind back the clock through Akira Yamaguchi's paintings. Indeed, his depictions of Hiroo, Roppongi Hills and Nihonbashi might belong to meisho-e or pictures of famous places that were popular during the Edo period. He revisits ukiyo-e woodblock prints, known as pictures of the floating world, and the representation of the Tokaido road by using similar formats and creating series of Kyoto's and Tokyo's most popular landmarks. In Tokei: Hiroo and Roppongi, golden clouds are reminiscent of illustrated handscrolls called emaki where they were employed to implement a narration. Emerging from the fog, the Roppongi Tower seems to come from a dream. The blown-off roof technique fukinuki yatai definitely evokes traditional Japanese painting from the Heian period (794 – 1185) and enables us to experience hectic Japanese lifestyle through glimpses of buildings, airports, shops and train stations which are real hives of activity. The absence of perspective and the fact that all the characters have the same size lead us to focus our attention on the numerous details. Akira Yamaguchi whose art practices are anchored in the past, adopts the rakuchū rakugai-zu technique in order to create bird's-eye view of urban landscapes as we can see in Department Store: Nihonbashi Mitsukoshi. Dating back to the Muromachi period (1333-1573), this technique is dedicated to the representation of Kyoto sights and customs.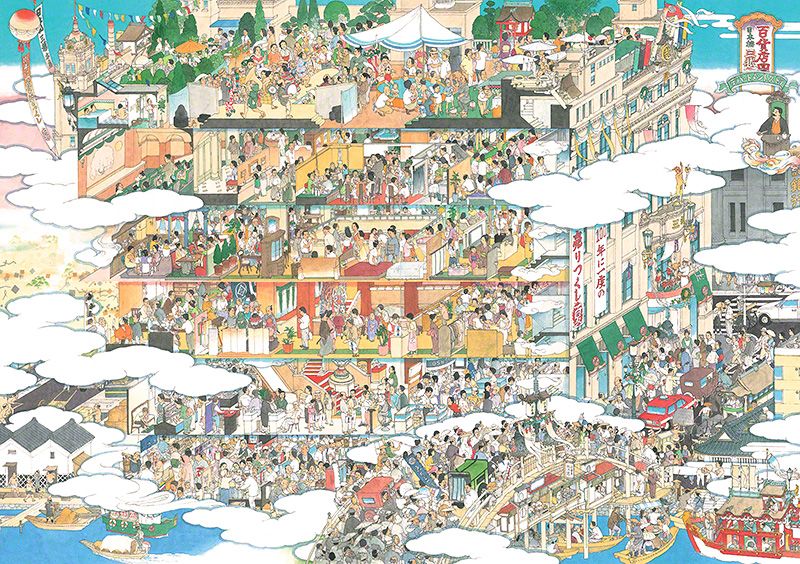 Iconic topic of Japanese art, war is also reinterpreted by the Tokyo-born painter who does not hesitate to illustrate contemporary battles in ancient settings.
In addition, vividly coloured representations of Buddhist deities reveal Pop influences whereas Western drawings appear to have inspired the thin outline which we can notice in most of his works.  After Hokusai's Portrait of the Great Bodhidharma is certainly one of the most impressive artworks by Akira Yamaguchi. Drawn on a huge cotton cloth during a performance at the Hokusai Museum in 2017, this piece of work renews sumi-e or traditional ink painting. As a consequence, Akira Yamaguchi's modernity is based on the redefinition of traditional art practices in contemporary contexts and encourages us to reconsider art history.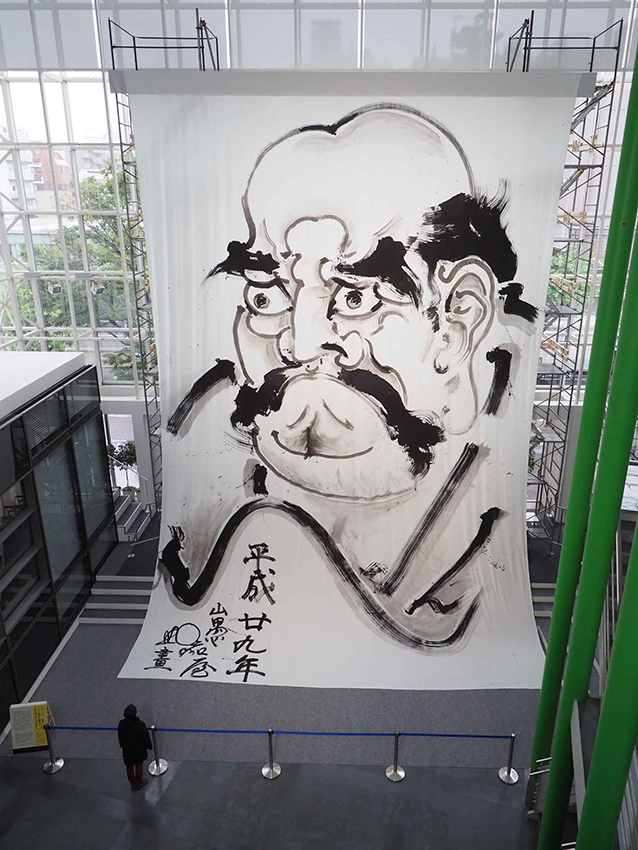 A symbol for the Paralympics
Highlighting issues faced by disabled people in their everyday life, Akira Yamaguchi's Horseback Archery has recently been selected along with nineteen posters by the organizing committee of the 2021 Paralympics to promote the Games. A woman with no arms who is pulling the archery string with her mouth immediately draws our attention. She is wearing a blue kimono and she is riding a mechanical horse. Determined to reach her target, this modern-day heroin embodies the strength and courage of people who have to cope with their disabilities. She is flying over the National Stadium which is surrounded by black containers and tanks holding radioactive contaminated water on a building. In the foreground, a tsunami recreates the Tokyo Tower near houses. Besides, Fukushima No.1 power plant is located in the background. If we take a closer look at the poster, we can notice several people who experience different situations related to their handicap. For instance, a group of people in wheelchairs are practicing sport by playing with balls in the bottom left hand corner. We can even see a person pushing a wheelchair facing a five-centimeter-tall step on the right. Another person is painting with his mouth as he cannot move his limbs at the top. This artwork results from Akira Yamaguchi's desire to put disabled people into the limelight and to commemorate the 2011 disaster. According to him, improving access and use of facilities as well as resolving the Fukushima nuclear problem are far more valuable than hosting the Olympics. He declares that Japan should focus on the current sanitary crisis as well.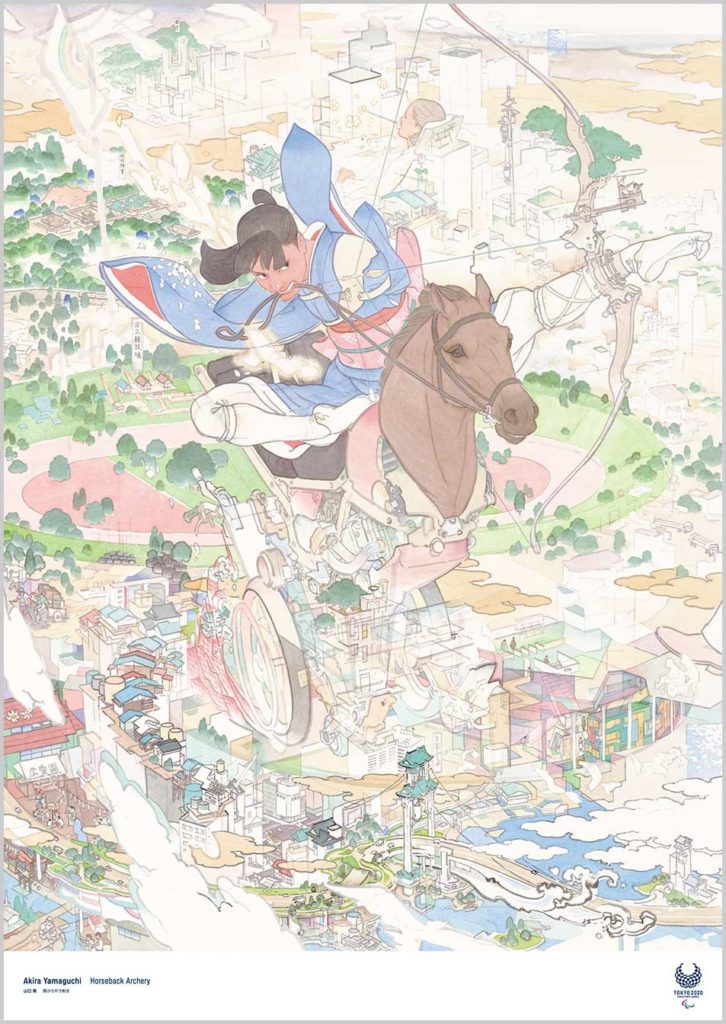 Le samouraï des temps modernes
Akira Yamaguchi est un artiste japonais mondialement connu pour ses œuvres qui mêlent sujets contemporains et esthétique traditionnelle nippone. Il nous invite à plonger dans un monde fantastique inspiré par la période d'Edo et dans lequel des guerriers fréquentent les centres commerciaux Mitsukoshi et conduisent des motos. Au début du mois de janvier, son œuvre Horseback Archery a été désignée pour promouvoir les Jeux Paralympiques de Tokyo qui se dérouleront en 2021.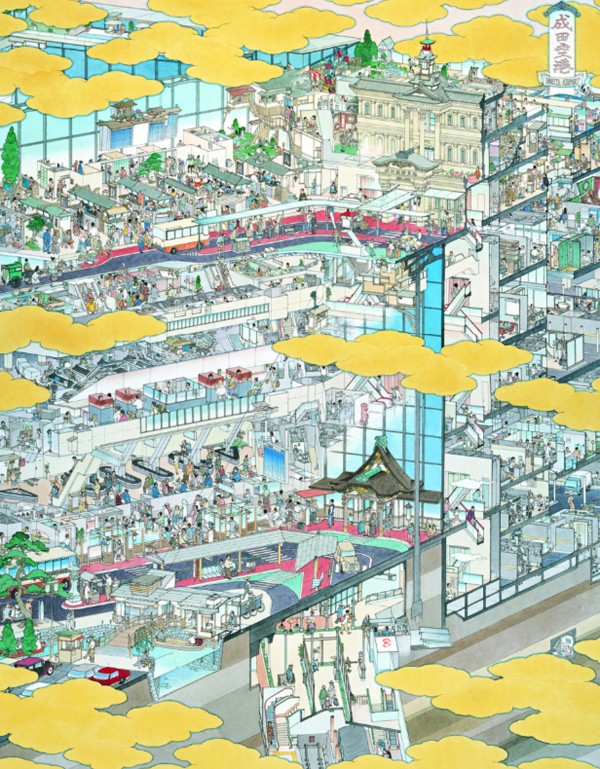 L'alliance du passé et de la modernité
Né à Tokyo en 1969, Akira Yamaguchi est diplômé d'une maîtrise en peinture à l'huile de la prestigieuse Université des beaux-arts et de musique de Tokyo. Son style unique résulte de sa réflexion sur la peinture yamato-e qui signifie peinture japonaise. Akira Yamaguchi nous présente sa propre interprétation de la modernité avant que le Japon ne subisse une occidentalisation galopante. La confrontation des cultures occidentale et nippone a véritablement bouleversé l'histoire de l'art japonais. « Je me suis dit que je pouvais moi-même essayer de « re-moderniser » l'art japonais » confie-t-il à Brigitte Koyama-Richard au cours d'un entretien réalisé en 2013 pour le site Nippon.com. Décrit comme un peintre Nihonga, Akira Yamaguchi rejette cette appellation qui suggère qu'il se limite aux techniques traditionnelles. Mêler le passé au présent est l'ambition clairement affichée par ses travaux.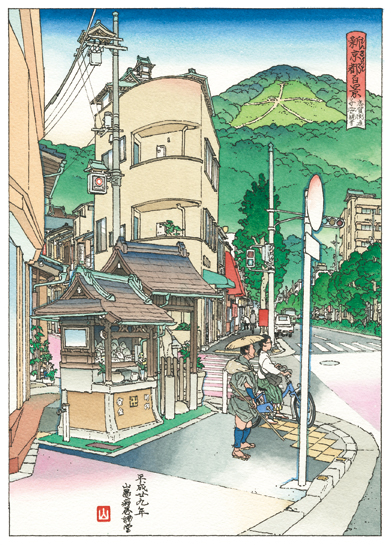 Les peintures d'Akira Yamaguchi nous amènent incontestablement à remonter le cours du temps. En effet, ses illustrations de Roppongi Hills, Hiroo et Nihonbashi  ressemblent aux meisho-e , les peintures de vues célèbres, qui étaient très en vogue durant la période d'Edo. L'artiste japonais revisite les estampes ukiyo-e aussi connues sous le nom d'images du monde flottant, et renoue avec les représentations de la route du Tokaido en utilisant des formats similaires à ceux des estampes du XVIIIe siècle et en réalisant des séries dédiées aux lieux les plus populaires de Kyoto et Tokyo. Dans « Tokei: Hiroo and Roppongi », des nuages dorés évoquent les rouleaux illustrés emaki dans lesquels ils guident la lecture des épisodes. Enveloppée par le brouillard, la Tour de Roppongi revêt une dimension onirique. La technique au toit enlevé fukinuki yatai fait vraisemblablement écho à la peinture traditionnelle japonaise de la période de Heian (794 – 1185) et nous permet d'expérimenter le trépidant mode de vie japonais en nous laissant entrevoir l'intérieur de bâtiments, aéroports, magasins et gares qui sont de véritables fourmilières. Le fait que tous les personnages aient la même taille ainsi que l'absence de perspective nous conduisent à concentrer notre attention sur les nombreux détails. L'emploi de la technique rakuchū rakugai-zu, qui date de la période de Muromachi (1333-1573), confirme l'ancrage dans le passé des pratiques artistiques d'Akira Yamaguchi. Initialement consacrée à la description des lieux de Kyoto et de ses mœurs, la technique rakuchū rakugai-zu permet de constituer des vues aériennes de paysages urbains à l'image de « Department Store: Nihonbashi Mitsukoshi ».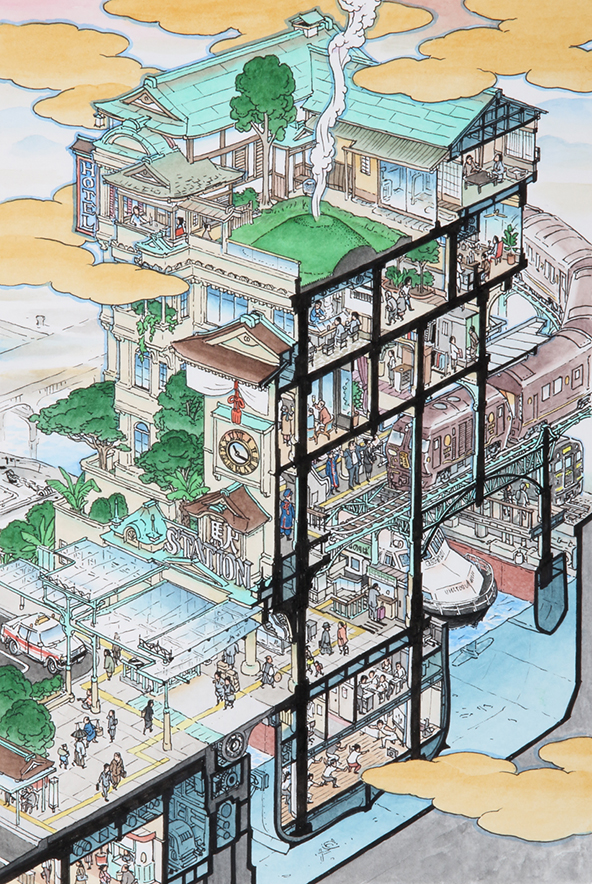 Topos majeur de l'art japonais, la guerre est aussi réinterprétée par le peintre originaire de Tokyo qui n'hésite pas à dépeindre des scènes de batailles contemporaines dans un cadre ancien.
De plus, ses représentations colorées des divinités bouddhiques dévoilent une filiation avec la culture Pop tandis que les dessins européens semblent avoir inspiré le fin contour des formes qui est visible dans la plupart de ses œuvres.
« After Hokusai's Portrait of the Great Bodhidharma » est certainement l'une des créations les plus impressionnantes d'Akira Yamauchi. Dessinée sur une immense pièce de tissu en coton au cours d'une performance au Musée Hokusai en 2017, cette œuvre témoigne d'un  renouveau de la peinture à l'encre sumi-e.
On peut en déduire que la modernité d'Akira Yamauchi repose sur une réactualisation des pratiques artistiques traditionnelles dans des contextes contemporains. Elle nous incite à renouveler le regard que nous portons sur l'histoire de l'art. 
Un symbole pour les Jeux Paralympiques
Affichant les problèmes quotidiens rencontrés par les personnes handicapées, « Horseback Archery » d'Akira Yamaguchi a été sélectionné aux côtés de dix-neuf autres posters pour promouvoir les Jeux Paralympiques de Tokyo de 2021. Une femme sans bras et décochant une flèche à l'aide de sa bouche attire immédiatement notre attention. Elle est assise sur un cheval mécanique qui vole et revêt un kimono bleu. Déterminée à atteindre sa cible, cette héroïne contemporaine incarne la force et le courage des personnes qui luttent contre leur handicap. Elle survole le Nouveau stade olympique national qui est entouré de conteneurs noirs et de réservoirs retenant les eaux chargées d'éléments radioactifs. Au premier plan, la Tour de Tokyo apparaît sous la forme d'un tsunami à proximité d'habitations. D'ailleurs, on peut apercevoir la centrale nucléaire de Fukushima à l'arrière-plan. On peut aussi observer plusieurs personnes handicapées confrontées à différentes situations en regardant attentivement le poster. Par exemple, un groupe de personnes en fauteuil roulant prennent part à un rassemblement sportif tandis qu'une autre doit faire face à une marche de cinq centimètres de hauteur. On distingue également une personne alitée et dépourvue de l'usage de ses membres qui tient un pinceau dans sa bouche afin de peindre dans la partie supérieure du poster. Cette œuvre résulte de la volonté d'Akira Yamaguchi de valoriser la place des personnes handicapées au sein de la société et s'inscrit dans le devoir de commémoration du drame que le Japon a connu en 2011. Selon Akira Yamaguchi, le développement de structures pour les personnes handicapées et la résolution des problèmes nucléaires à Fukushima sont des enjeux majeurs dont l'importance excède nettement celle de la tenue des Jeux Olympiques. Il affirme que la priorité actuelle du Japon devrait être le combat contre la crise sanitaire actuelle.