During the first semester of 2017, the Rockbund Art Museum (RAM) in Shanghai has been holding a major monographic exhibition of Chinese artist Song Dong, "I Don't Know the Mandate of Heaven".
Starting his career as an artist in the early 1990s, Song Dong (born in 1966 in Beijing) has also taken part in the planning of contemporary art exhibitions, as well as in the co-foundation of an artistic collective "Polit-Sheer-Form-Office. He is today one of the most renowned Chinese artist, showing his works internationally (MoMA New-York, Documenta Kassel, Venice Biennale…).
"At 50, I knew the Mandate of Heaven" is a Confucian maxim that reflects the traditional ideal progressions of an individual's journey in life. An inspiring saying for Song Dong – who just turned 50 – to look back on his own reflections on art and life: indeed, his artistic career has embraced the concept that "Life is Art", transforming common perceptions into artistic experiences. On the occasion of his exhibition at RAM, Song Dong presents works from 1992, including some installations made specially for this show, divided into seven chapters: mirrors, shadow, word, revelation, experience, self, illumination.
ACA project's team presents you a selection of its 3 favourite latest Song Dong's artworks, part of the show at RAM :
Pour sa programmation du premier semestre 2017, le Rockbund Art Museum à Shanghai a organisé une importante exposition monographique de l'artiste chinois Song Dong, «I Don't Know the Mandate of Heaven».
Song Dong (né en 1966 à Pékin) a débuté sa carrière d'artiste au début des années 1990. Il est également commissaire d'expositions, et est le co-fondateur du collectif artistique «Polit-Sheer-Form-Desk ». Il est aujourd'hui l'un des artistes chinois les plus renommés, exposant ses œuvres à travers le monde entier (MoMA New-York, Documenta Kassel, Biennale de Venise …).
« À 50 ans, je connaissais le Mandat du Ciel » est une maxime confucéenne qui reflète l'évolution idéale du voyage d'un individu à travers la vie. Un dicton inspirant pour Song Dong – qui vient d'avoir 50 ans – pour porter un regard sur ses propres réflexions sur l'art et la vie: en effet, au cours de sa carrière artistique, l'artiste chinois a embrassé le concept de «La vie est art», transformant les perceptions quotidiennes en expériences artistiques. À l'occasion de son exposition au RAM, Song Dong présente de multiples œuvres qu'il a conçues à partir de 1992, y compris certaines installations spécialement réalisées pour cette exposition, divisée en sept chapitres: miroirs, ombres, mots, révélations, expériences, autonomie, illumination.
L'équipe d'ACA project vous présente une sélection de ses trois œuvres coup de coeur :
Mirror Hall (2016-2017)
Entering the Rockbund Art Museum, the visitor directly immerses into Song Dong's world: mirrors and old window frames of various shapes and colour cover the walls and ceiling of the room. Here Song Dong uses mirrors to express one of his way of looking at the current world, reminding that reality is always concealed and distorted by illusions.
En entrant au RAM, le visiteur rentre directement en immersion dans le monde de Song Dong: des miroirs et de vieux encadrements de fenêtres de formes et de couleurs variées couvrent les murs et le plafond de la pièce. Ici Song Dong utilise les miroirs pour exprimer sa façon de regarder le monde actuel, rappelant que la réalité est toujours cachée et déformée par les illusions.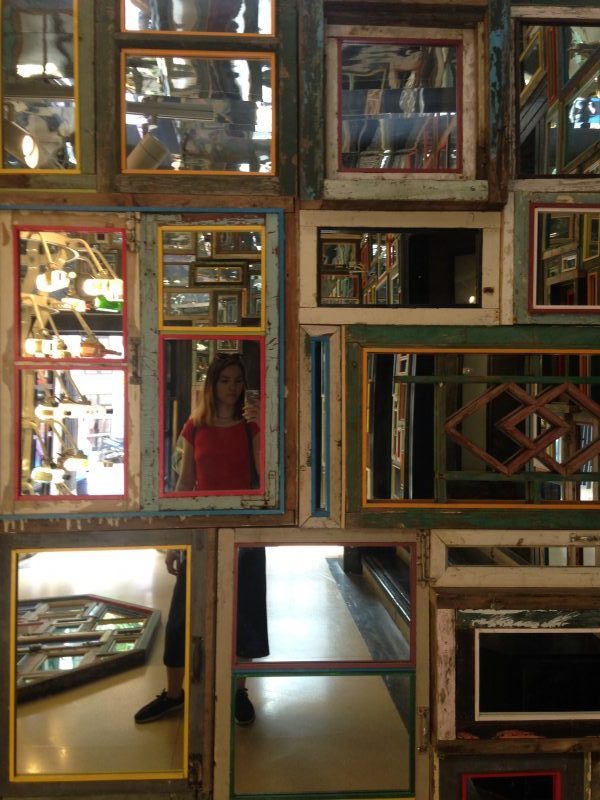 The Use of Uselessness: Bottle Rack Big Brother (2016)
With Bottle Rack (1914), a bottle rack turned upside-down, Marcel Duchamp created the first readymade; a daily life object ftransformed into an artwork, which then loses its practical value. As an echo to it here, Song Dong copies, enlarges and turns upside-down a bottle rack, restoring its practical function, and commenting on the relationship between art and life.
Avec « Porte-bouteilles » (1914), un porte-bouteilles tourné à l'envers, Marcel Duchamp a créé le premier ready-made; un objet du quotidien transformé en une œuvre d'art, qui perd alors sa valeur pratique. En écho à cette pièce iconique, Song Dong copie, agrandit et retourne un porte-bouteilles, rétablissant sa fonction pratique et commentant la relation entre l'art et la vie.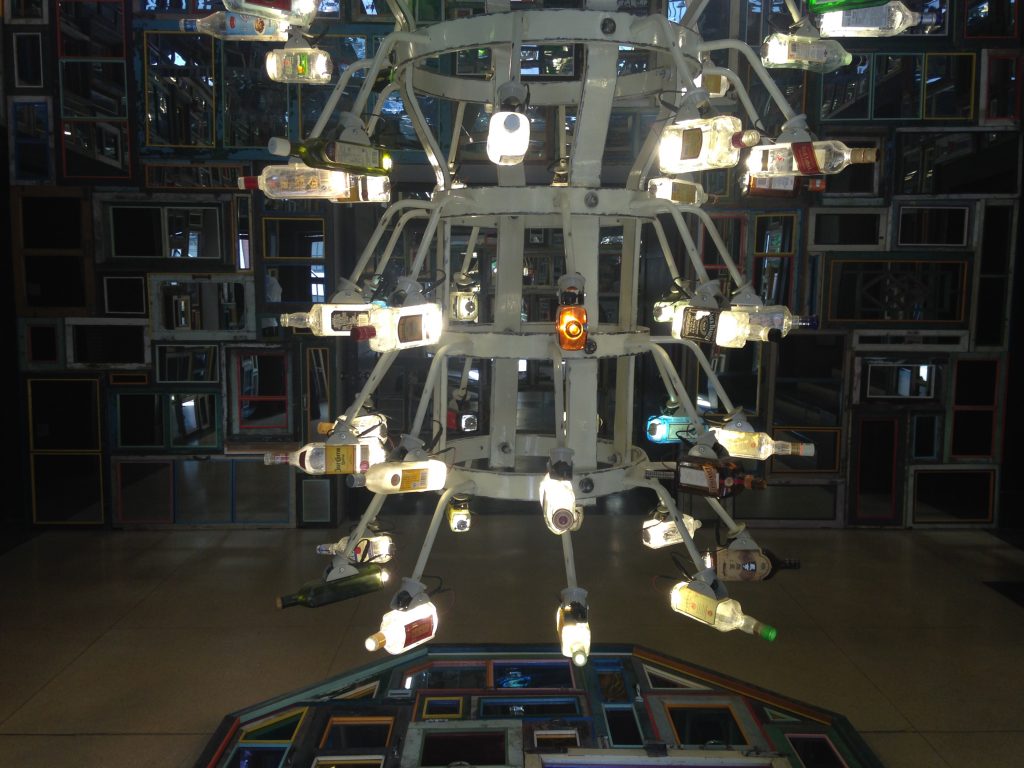 At Fifty, I Don't Know the Mandate of Heaven (2016-2017)
Specially created for the exhibitions, 50 clay dolls occupy the atrium of the museum. This large-scale installation works as a metaphor of the "self", representing Song Dong during previous performances of his career.
Spécialement créées pour l'exposition au RAM, 50 poupées d'argile occupent l'atrium du musée. Cette installation à grande échelle fonctionne comme une métaphore du «soi», représentant Song Dong lors de ses précédentes performances.