ACA project, en partenariat avec l'AFAO, est heureux d'organiser une conférence-dialogue entre Wang Keping, artiste, et Mael Bellec, conservateur au musée Cernuschi, sur le thème « Bronze et bois : un savoir faire chinois réactualisé » qui se déroulera à la Maison de l'Asie (22 Av. du Président Wilson, Paris 16e), le lundi 22 novembre de 18h30 à 20h.
De nombreux artistes chinois contemporains font du bronze et du bois leurs matériaux privilégiés. L'utilisation de techniques traditionnelles relève d'une permanence des recherches esthétiques et spirituelles inspirées par les pratiques techniques et artistiques très anciennes. Celles-ci sont de véritables forces créatrices pour les artistes, dont Wang Keping, l'un des cofondateurs du groupe des Étoiles et reconnu notamment pour ses sculptures en bois.
Nous proposons ainsi une rencontre, sous la forme d'un dialogue décomplexé, entre deux spécialistes de ces matériaux. Wang Keping dans son usage pour des fins artistiques fera une présentation sur sa pratique. M. Mael Bellec, conservateur en chef du département Chine et Corée au musée Cernuschi, proposera un regard d'historien de l'art, sur l'usage du bronze, comme matériaux de création au sein des dynasties chinoises de l'antiquité.
Conférence gratuite, sur inscription en suivant ce lien.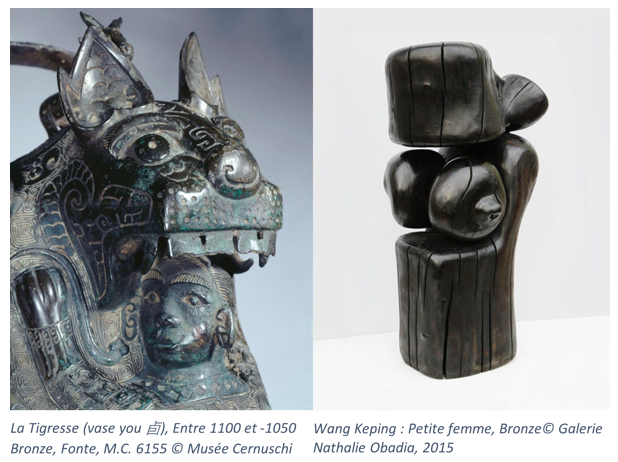 ACA Project, in partnership with AFAO, is pleased to organize a conference-dialogue between Wang Keping, artist, and Mael Bellec, Curator at the Cernuschi Museum, on the theme « Bronze and Wood: a renewed Chinese know-how » which will run at the Maison de l'Asie (22 Av. du Président Wilson, Paris 16e), on Monday, November 22nd from 6.30pm to 8pm.
Many contemporary Chinese artists use bronze and wood as privileged materials. The use of traditional techniques is a permanence of aesthetic and spiritual research inspired by very old technical and artistic practices. These are true creative forces for artists, including Wang Keping, one of the co-founders of the Star group and particularly well-known for his wooden sculptures.
This meeting will take the form of an uninhibited dialogue, between two specialists of these materials. Wang Keping in his use for artistic purposes will make a presentation on his practice. Mr. Mael Bellec, Chief Curator of the China and Korea Department at the Cernuschi Museum, will suggest a look of art historian, on the use of bronze, as materials of creation within the Chinese dynasties of antiquity.