by Camille Despré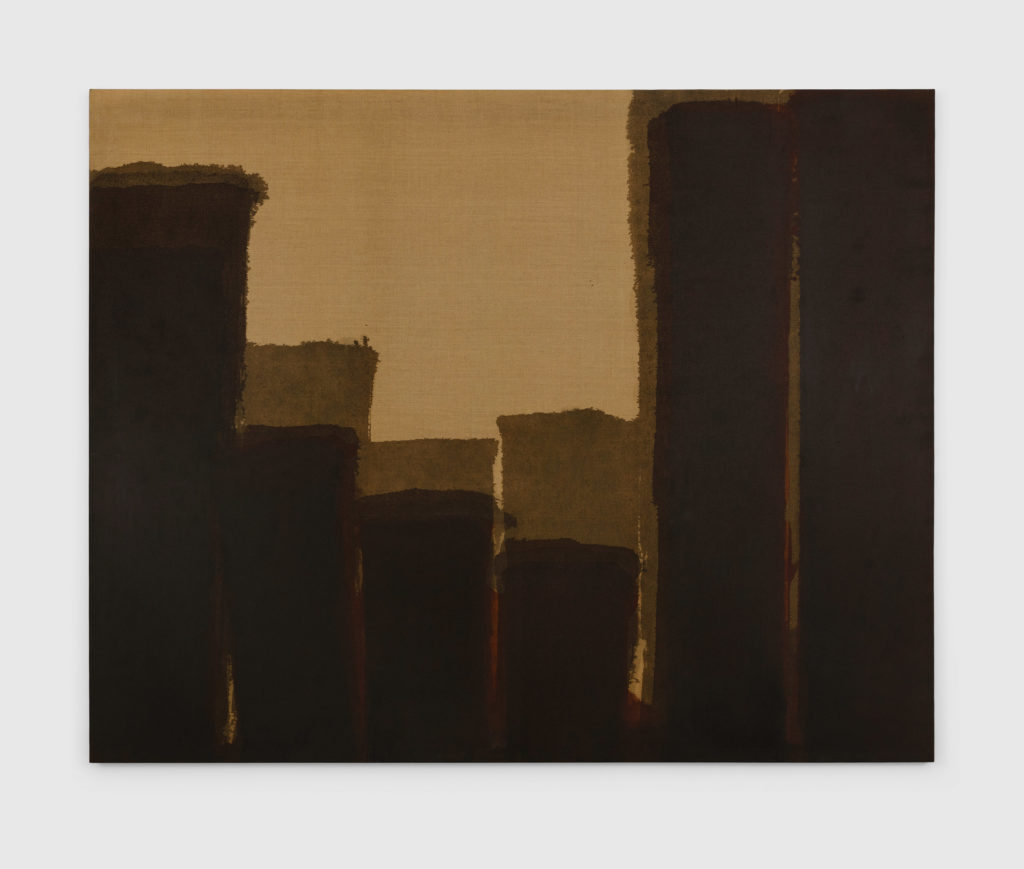 L'antenne parisienne de la galerie David Zwirner présente jusqu'au 23 février prochain un ensemble d'œuvres inédites de l'artiste coréen Yun Hyong-keun. Réalisées sur toile et sur papier hanji, papier traditionnel coréen à base de feuilles de mûrier, cet ensemble d'œuvres a été exécuté entre 1979 et 1984. 
Yun Hyong-keun fait partie de cette première génération d'artistes à profiter de la réouverture des universités après l'occupation japonaise. Membre phare du mouvement Dansaekhwa (peinture monochrome), premier mouvement coréen bénéficiant d'une reconnaissance internationale, il se fait remarquer dans les années 1970. Il développe alors une peinture abstraite dans laquelle les pigments naturels – majoritairement de la terre de Sienne et de l'outremer – sont fortement dilués dans la térébenthine et appliqués en couches très humides sur la toile non apprêtée ou le papier. Utilisant les propriétés absorbantes du hanji, il en résulte des œuvres puissantes où les grands monolithes sombres se fondent en halos aux teintes profondes, rappelant la peinture à l'encre traditionnelle à laquelle l'artiste a été formé.
Yun Hyong-keun est aussi connu pour son engagement militant et ses convictions politiques contre la corruption qui gangrène la Corée du Sud dans les années 1970. Placé sur liste noire par les autorités sud-coréennes, l'artiste n'a de choix que d'exposer à l'étranger. Révolté suite à la répression du soulèvement de Gwanju en mai 1980, il choisit de s'exiler entre 1980 et 1982 à Paris afin de trouver un peu de sérénité. C'est notamment lors de cette période d'exil qu'il peint les œuvres présentées dans cette exposition.
Yun Hyong-keun, jusqu'au 23 février à la galerie David Zwirner, 108 rue Vieille du Temple, Paris 3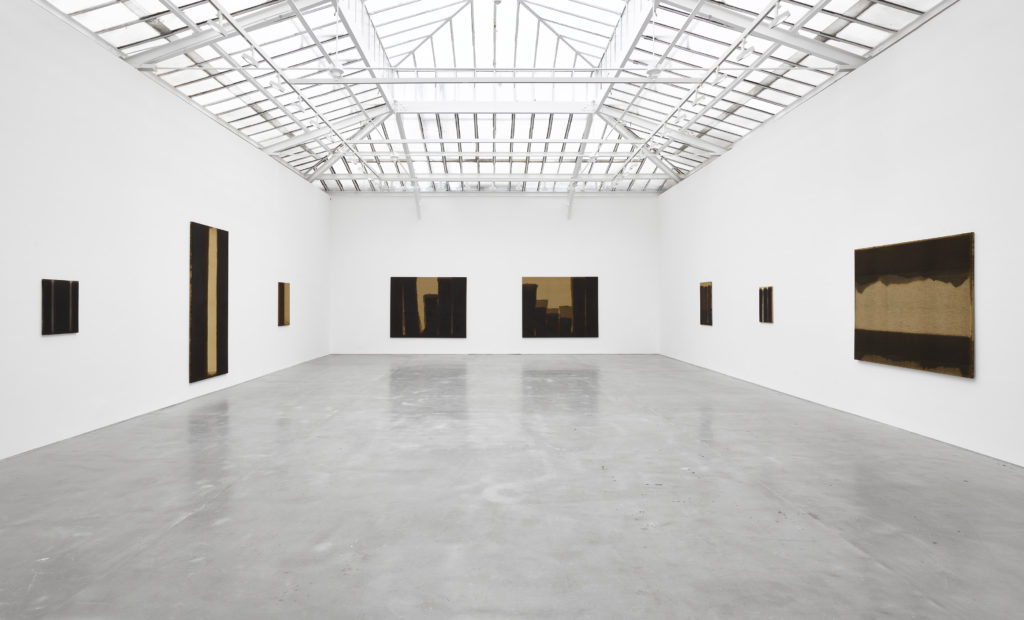 David Zwirner gallery located in Paris presents until February 23 works on hanji paper – Korean mulberry paper-  and canvas by Korean artist Yun Hyong-kun. These never exhibited works were made between 1979 and 1984, partly during the determining stay of the artist in Paris. 
Yun Kyong-keun is part of the first generation of artists who benefited from the reopening of universities after Japanese occupation. He is a key member of the movement Dansaekhwa – monochrome painting – first korean pictorial movement worldwide recognized from 1960's – 1970's. At that time he created paintings made with natural pigments, using a restrictive palette of ultramarine and umber. Yun highly diluted the pigments with turpentine, applying them in several humid layers on the paper or raw canvas. Using the absorbent properties of hanji, the result is powerful works where large dark monoliths merge into deep-hued halos, reminiscent of the traditional ink painting the artist was trained in.
Yun Hyong-keun is also known for his political beliefs and activities, for instance against the corrupted system of South Korea in the 1970's. He is then blacklisted by the authorities and has no choice but to exhibit his works outside of Korea. Deeply angered by the suppression of the Gwanju Uprisings of May 1980, Yun decided to relocate his family to Paris between 1980 and 1982. In Paris, seeking for peace, he gathered with other Korean artists and created the works exhibited.
Yun Hyong-keun, until February 23 at David Zwirner gallery, 108 rue Vieille du Temple, Paris 3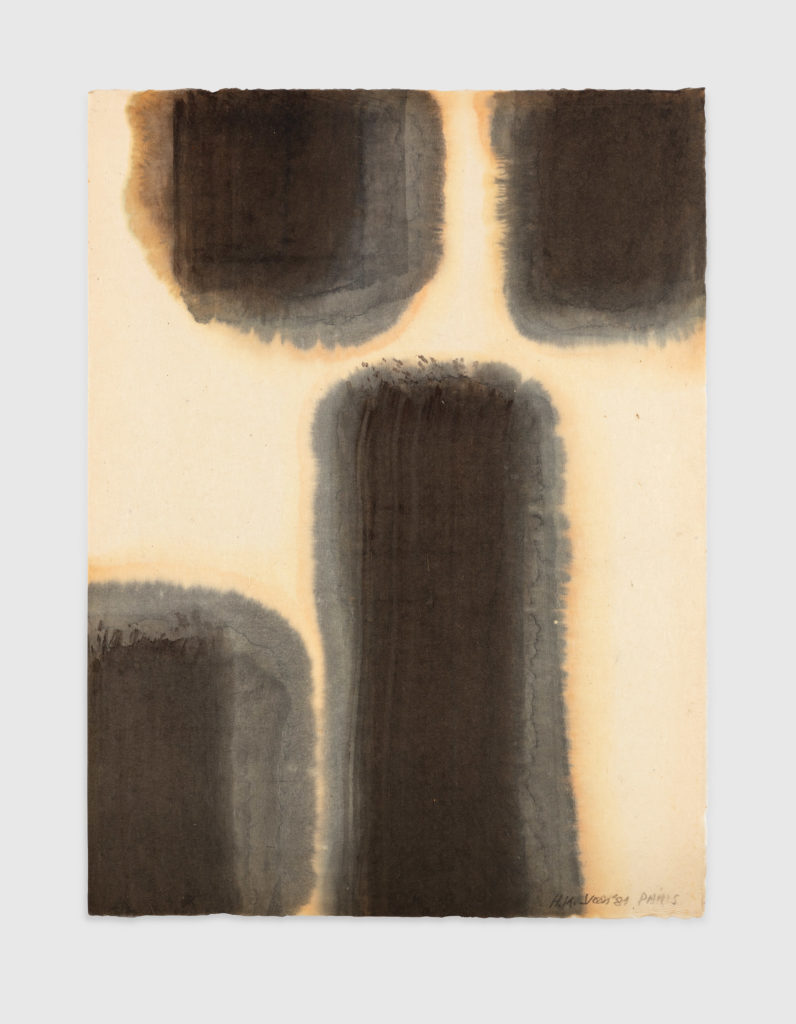 ---
ACA project est une association française dédiée à la promotion de la connaissance de l'art contemporain asiatique, en particulier l'art contemporain chinois, coréen, japonais et d'Asie du sud-est. Grâce à notre réseau de bénévoles et de partenaires, nous publions régulièrement une newsletter, des actualités, des interviews, une base de données, et organisons des événements principalement en ligne et à Paris. Si vous aimez nos articles et nos actions, n'hésitez pas à nous soutenir par un don ou à nous écrire.
ACA project is a French association dedicated to the promotion of the knowledge about Asian contemporary art, in particular Chinese, Korea, Japanese and South-East Asian art. Thanks to our network of volunteers and partners, we publish a bimonthly newsletter, as well as news, interviews and database, and we organise or take part in events mostly online or in Paris, France. If you like our articles and our actions, feel free to support us by making a donation or writing to us.