by Erwan Jambet
The 13th Gwangju Biennale : Minds Rising, Spirits Tuning
What does a "post-COVID" contemporary art Biennale look like ? After two postponements and minor adjustments, the 13th edition of the Gwangju Biennale was finally able to open on April 1st, 2021. Limited attendance, temperature checks, hand sanitizing at the entrance of each of the exhibition halls and masking-up are the new normal, and air-purifying-robots are wandering around between the canvas and installations.
Regardless of these minor adjustments, a Biennale in 2021 looks almost like any other – yet the Gwangju Biennale embodies the spirit of healing, community and diversity that is its core identity. Established in 1995 in the South Korean city known for the May 18 Democratic Uprising of 1980, the Gwangju Biennale was the first contemporary art Biennale in Asia. It aims at showcasing the diversity of contemporary creation and honouring the democratic spirit of the 1980 uprising and its lasting cultural influence. First scheduled in 2020 to celebrate the 40th anniversary of May 18, this edition is entitled "Minds Rising, Spirits Tuning". Curated by Defne Ayas and Natasha Ginwala, it features 69 artists and collectives of 43 nationalities, amongst which a meticulous selection of Korean and Asian artists. Ayas and Ginwala's curatorial project aims at building gateways between times and communities and "examin[ing] the spectrum of the extended mind" by navigating through spiritism, shamanism, ancient, technological, queer, feminist, or indigenous practices and theories.
As a result, the five exhibition rooms, playing on light and dialogue between contemporary and historical pieces, echo surviving crisis, isolation, marginalization. Amongst Korean artists, Sangdon Kim exhibits Cart in the first room as well as March in the following one. His installations use motifs from dashiraegi, the traditional funeral culture of Jindo Island, elements from Korean shamanism, colonial memory, and circuits of hyperconsumerism in order to reflect on the mourning of crisis, resilience, and instability. Gap-Chul Lee's black and white photography series Conflict and Reaction (1990-2002) explores images of shamanists and Buddhists rituals in the Korean peninsula.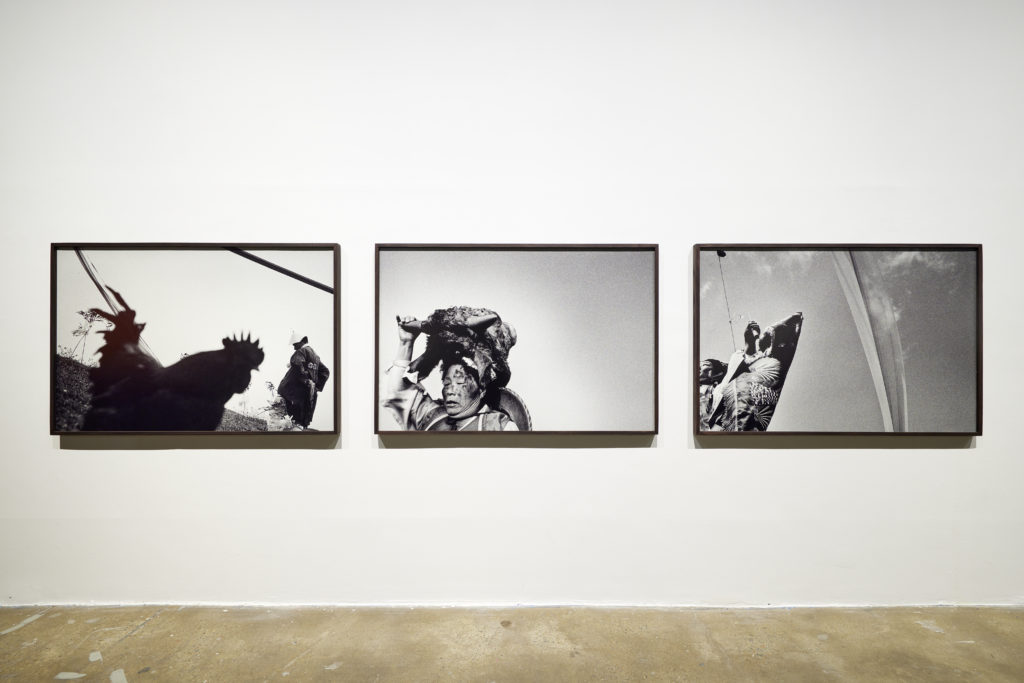 Alongside Vaginal Davis in gallery 3, entitled Bodies in Desire, Beyond the Disciplinary Fold, Kangseung Lee's installation Untitled (QueerArch), 2018-21, serves as a testimony for the need to curate and archive queer stories and existences. By exhibiting memories and archives of queer Koreans and linking them with stories from other countries, Untitled (QueerArch) positions these individual stories as part of a global and structural movement for liberation. Other works with a strong political dimension include Sangho Lee's artworks from the late 1980s to present times. A Gwangju-based artist imprisoned and tortured during his youth for voicing his criticisms against South Korean's military dictatorship, Sangho Lee advocates through his most recent works for the reunification of the Korean peninsula.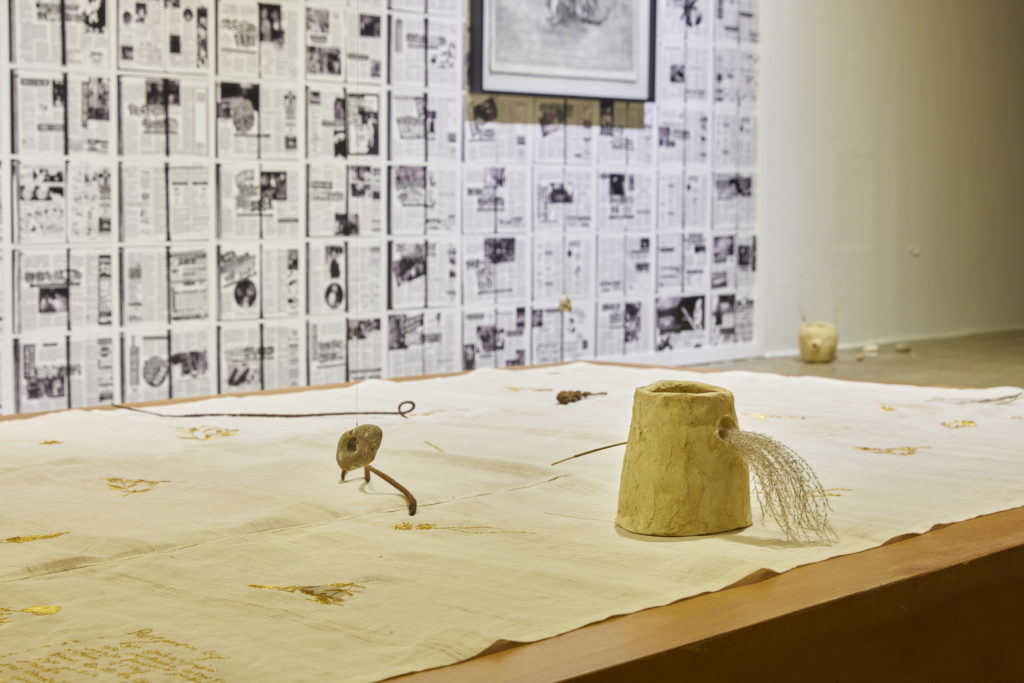 Other Asian artists' works featured in the Biennale's main exhibition include Rajni Perera's recent marble papers, which work as a mythical symbiosis challenging the postcolonial representations of gender, class and race, and are referring to Persian and Indian miniature painting. Indian painter Arpita Singh's watercolour drawings and canvas function as a carnival of images about political cruelty and its effects on the lives of women. At the Former Armed Forces Gwangju Hospital, Thai artist Korakrit Arunanondchai presents Songs for dying, which installations and videos look at rituals of grief and restoration of historical erasure and allude to the Jeju uprising of 1948 and the 2020 protests in Thailand.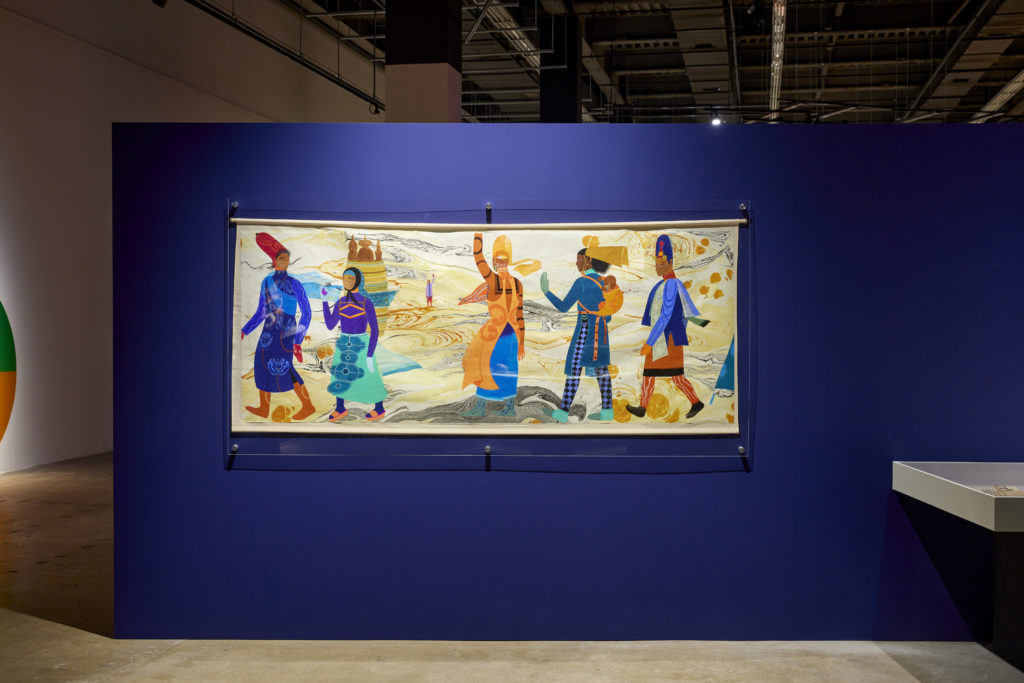 Whichever crisis comes our way – social, political, environmental, aesthetic, health – the curating team and artists exhibited in the 13th Gwangju Biennale are urging us to look for wisdom in ancient know-hows, minorities' practises, and the unseen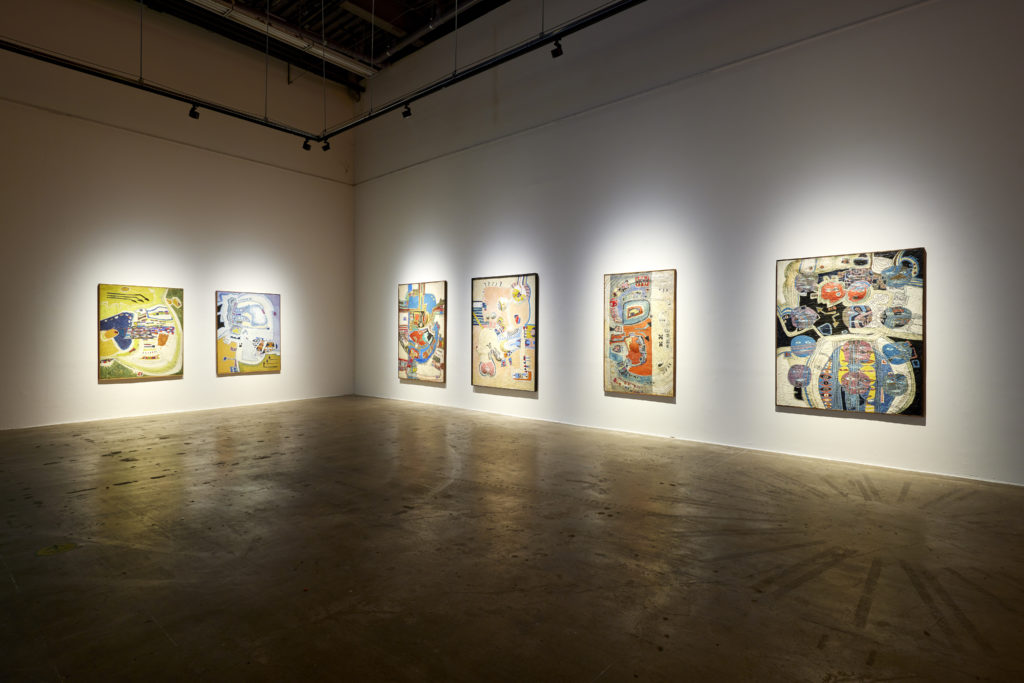 À quoi peut donc bien ressembler une biennale d'art contemporain « post-COVID » ? Deux reports et quelques ajustements plus tard, la 13e édition de la Biennale de Gwangju a finalement pu ouvrir le 1er avril 2021. Jauges limitées, contrôle de température et gel hydro-alcoolique à l'entrée de chaque salle et masques sont désormais la norme, et des robots purificateurs d'air vagabondent entre les toiles et installations.
En dépit de ces quelques nouveautés, une biennale en 2021 n'a à première vue rien d'extraordinaire ; et pourtant, celle de Gwangju parvient à rester fidèle à son esprit thaumaturgique, de communauté et de diversité. Fondée en 1995 au Sud de la République de Corée, dans une ville célèbre pour le mouvement pour la démocratisation de 1980, la Biennale de Gwangju fut la première biennale d'art contemporain créée en Asie, avec pour ambition de refléter la création contemporaine dans sa diversité plutôt que dans ses tendances homogénéisatrices, et de commémorer l'esprit démocratique des soulèvements de 1980 et leur héritage. Initialement prévue en 2020 pour marquer le 40e anniversaire du 18 mai, cette édition intitulée « Minds Rising, Spirits Tuning », sous la houlette des curatrices Defne Ayas et Natasha Ginwala, compte 69 artistes de 43 nationalités, parmi lesquel·le·s se trouvent une sélection particulièrement fine d'artistes coréen·ne·s et asiatiques. Le projet curatorial de Defne Ayas et Natasha Ginwala avait pour but d'établir des ponts entre les époques et communautés et d' « examiner le spectre d'une conscience étendue » en naviguant entre spiritisme, chamanisme, et pratiques et théoriques ancestrales, technologiques, queer, féministes ou indigènes.
Les cinq halls d'exposition jouent sur une intensité lumineuse décroissante et un dialogue fort entre pièces contemporaines, modernes et historiques, qui font chacune écho aux notions de résilience face aux crise, d'isolation et de marginalisation. Parmi les artistes coréen·ne·s notamment, Sangdon Kim présente Cart et March dans les deux premières salles. Ses installations reprennent des motifs du dashiraegi, tradition funéraire traditionnelle de l'île de Jindo, et des éléments issus du chamanisme coréen, de la mémoire coloniale et des circuits de l'hyperconsommation. Ces associations évoquent le deuil et les crises, les résistances, et l'instabilité de nos sociétés. La série de photographies en noir et blanc Conflict and Reaction (1990-2002) de Gap-Chul Lee se veut une exploration d'images de rituels chamanistes et bouddhistes dans la péninsule coréenne.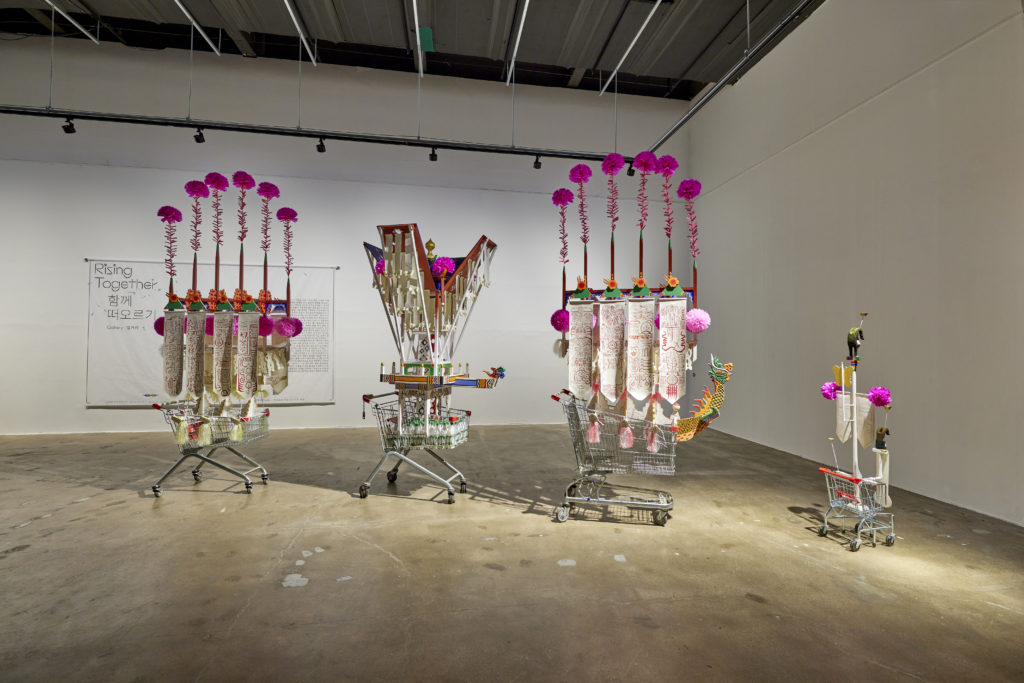 Aux côtés de Vaginal Davis dans une troisième galerie intitulée Bodies in Desire, Beyond the Disciplinary Fold, Kangseung Lee présente une nouvelle version de son installation Untitled (QueerArch), 2018-21, et témoigne de la nécessité d'archiver les histoires et vécus queer. En exposant les mémoires queer de Coréen·e·s et en les liant à des histoires issues d'autres pays, Untitled (QueerArch) intègre ces parcours individuels à un mouvement plus global et structurant pour la libération. D'autres œuvres sont infusées d'une forte dimension politique, à l'image des travaux de Sangho Lee, de la fin des années 1980 à aujourd'hui. L'artiste originaire de Gwangju fut emprisonné et torturé durant sa jeunesse à la suite de ses positions critiques à l'égard de la dictature militaire sud-coréenne de l'époque. Les peintures récentes de Sangho Lee sont un plaidoyer pour la réunification de la péninsule coréenne.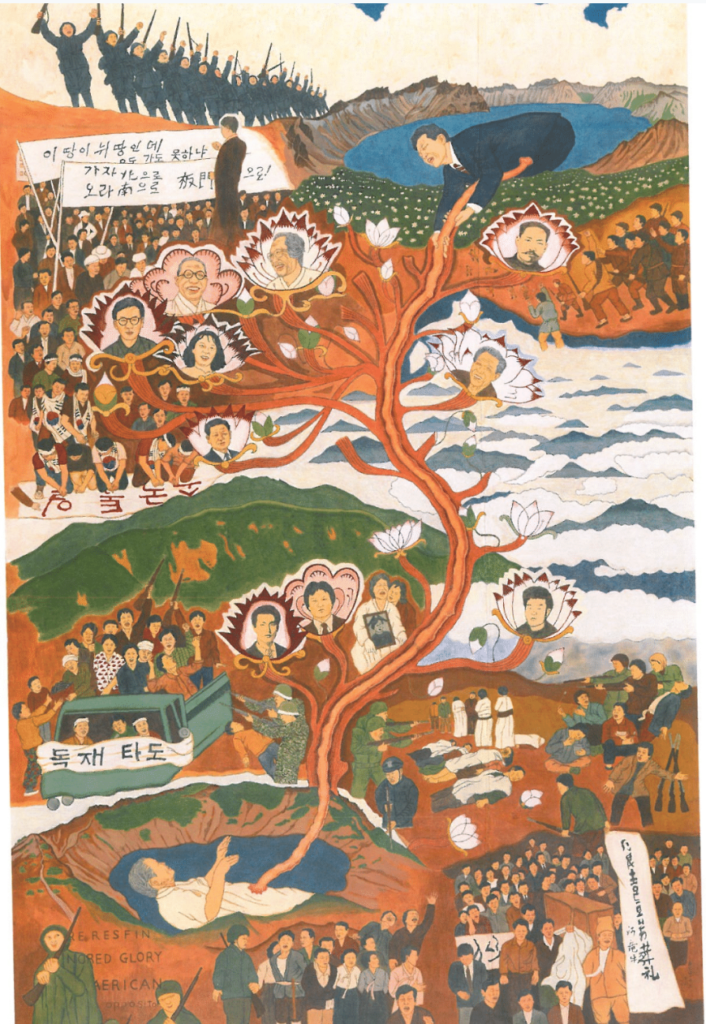 Les scènes contemporaines d'autres pays sont également représentées. Les créations sur papier marbré de Rajni Perera font office de symbiose mythique, et interrogent les représentations postcoloniales de genre, classe et race, tout en faisant écho à la peinture miniature persane et indienne. Les aquarelles et toiles de la peintre indienne Arpita Singh fonctionnent comme un carrousel d'images de la cruauté du politique et de ses effets sur les vies des femmes. Dans l'ancien hôpital militaire de Gwangju, l'artiste thaïlandais Korakrit Arunanondchai installe Songs for dying, dont les objets et vidéos évoquent l'effacement de certains pans de l'histoire, et font référence aux soulèvements de Jeju de 1948 ainsi qu'aux manifestations pro-démocratie récentes en Thaïlande.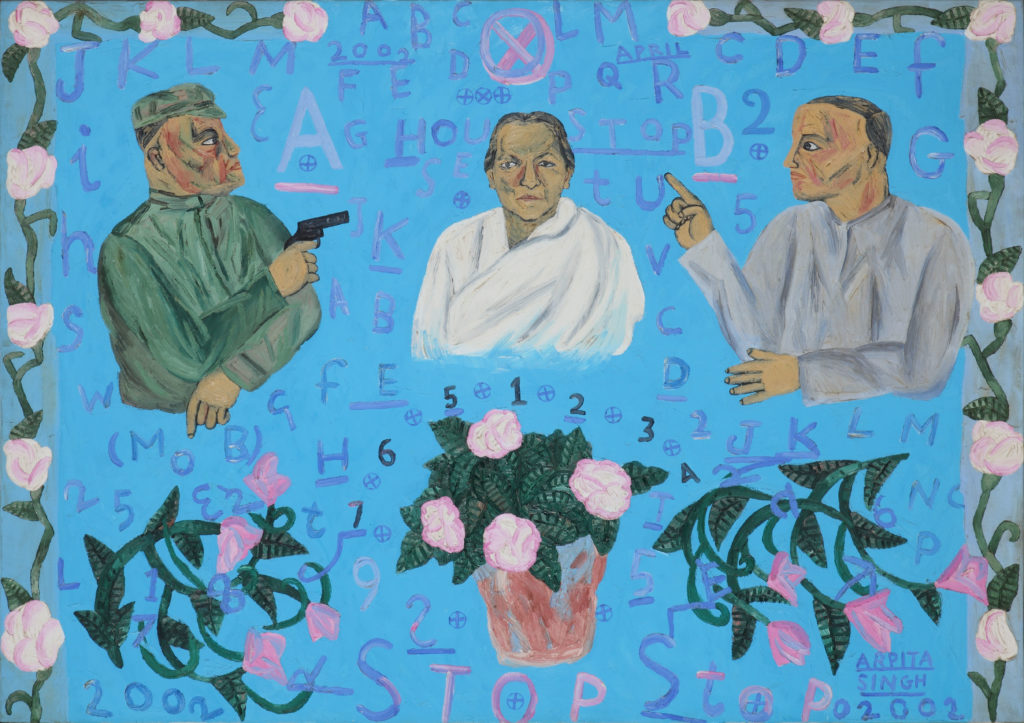 Quelle que soit la nature de la crise qui se profile – sociale, politique, environnementale, esthétique ou sanitaire – l'équipe curatoriale et les artistes de la 13e Biennale de Gwangju nous enjoignent à regarder en direction des savoir-faire ancestraux, des pratiques des minorités et de l'invisible afin de gagner en sagesse.