by Joséphine de Fontaines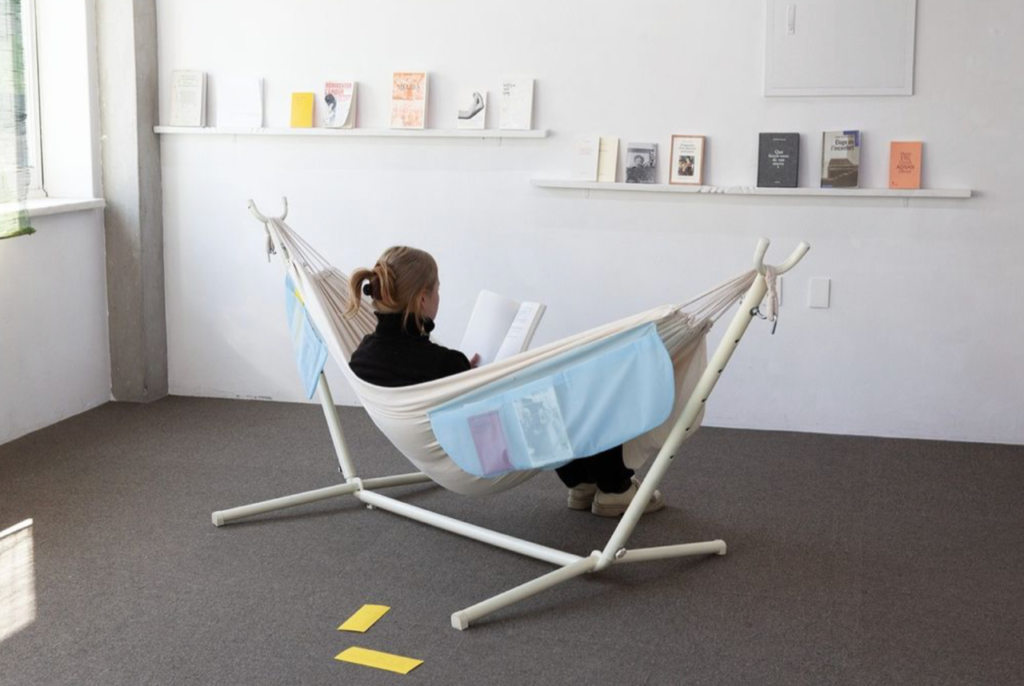 Alors qu'à Séoul l'air frais annonce enfin le printemps et non plus une mort de froid imminente, Park Chae Biole et Park Chae Dalle proposent à leur tour d'explorer avec Break, Breath le sujet du repos, la pause, la respiration, en investissant l'espace d'Alterside dans le district de Mapo-gu. Espace alternatif sous la responsabilité de plusieurs curateurs, Alterside offre aux artistes un lieu d'exposition privilégié dans un quartier résidentiel de la ville, comme une bulle de calme dans la vie urbaine.
La fenêtre panoramique ouverte sur les murs de briques des immeubles d'en face se pare d'un des stores peints de Biole, tandis que la salle est remplie des installations colorées et flottantes des sœurs, que le visiteur découvre au son des créations sonores d'Octave Magescas. Les artistes questionnent la possibilité même du repos, qu'elles apparentent paradoxalement à la pratique de création. Ainsi, les sculptures de Biole et ses hamacs invitent le visiteur à faire une pause pour interagir directement avec les œuvres, qui agissent comme un refuge, tandis que les processus créatifs de Dalle, entre la lente fabrication de pièces faites de feuilles mortes séchées, collées et peintes, ou celle du papier qui lui sert de toile à dessin, sont des éloges de la lenteur. Outre leurs créations plastiques, les artistes pratiquent la poésie et leurs recueils sont présentés dans l'exposition, en écho avec d'autres ouvrages montrés comme autant de sources d'inspiration.
Nées à Paris, les jumelles Park Chae ont vécu à Gangwon avant de revenir étudier en France et sortent diplômées de l'École des Beaux-Arts de Cergy en 2020. Elles ont depuis exposé plusieurs fois à Séoul dont elles sont proches de la scène alternative, et à Paris avec la galerie Anne-Laure Buffard Inc.
« Break, Breath » à Alterside, Séoul, Corée du Sud
While in Seoul the fresh air finally announces spring and no longer an imminent death of cold, the Park Chae sisters propose in turn to explore with Break, Breath the subject of rest, pause, taking a breath, by taking over the Alterside gallery in the Mapo-gu district. An alternative space under the responsibility of several curators, Alterside offers the artists Park Chae Dalle and Park Chae Biole a privileged exhibition space in a residential area of the city, a bubble of calm in the urban life.
The panoramic window overlooking the brick walls of the buildings across the street is adorned with one of Biole's painted blinds, while the room is filled with the sisters' colorful and floating installations, which visitors discover to the sound of Octave Magescas' musical creations. The artists question the very possibility of rest, which they paradoxically relate to the practice of creation. Thus, Biole's sculptures and hammocks invite the visitor to pause and interact directly with the works, which act as a refuge, while Dalle's creative processes, between the slow making of pieces made of dried, glued and painted dead leaves, or the paper that serves as his drawing canvas, are praises of slowness. In addition to their plastic creations, the artists practice poetry and their collections are presented in the exhibition, in echo with other books shown as sources of inspiration.
Born in Paris, the Park Chae twins lived in Gangwon before returning to study in France and graduated from the École des Beaux-Arts in Cergy in 2020. They have since exhibited several times in Seoul where they are close to the alternative scene, and in Paris with the gallery Anne-Laure Buffard Inc.
« Break, Breath » at Alterside, Seoul, South Korea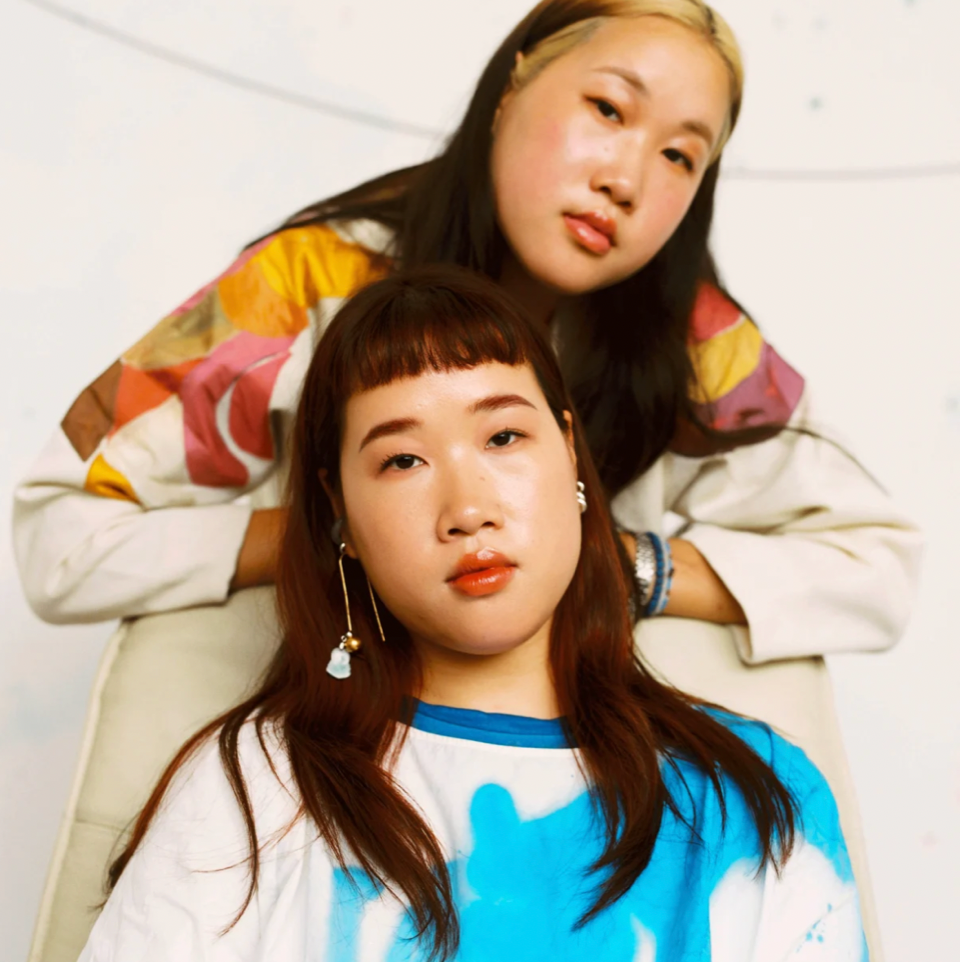 ---
ACA project est une association française dédiée à la promotion de la connaissance de l'art contemporain asiatique, en particulier l'art contemporain chinois, coréen, japonais et d'Asie du sud-est. Grâce à notre réseau de bénévoles et de partenaires, nous publions régulièrement une newsletter, des actualités, des interviews, une base de données, et organisons des événements principalement en ligne et à Paris. Si vous aimez nos articles et nos actions, n'hésitez pas à nous soutenir par un don ou à nous écrire.
ACA project is a French association dedicated to the promotion of the knowledge about Asian contemporary art, in particular Chinese, Korea, Japanese and South-East Asian art. Thanks to our network of volunteers and partners, we publish a bimonthly newsletter, as well as news, interviews and database, and we organise or take part in events mostly online or in Paris, France. If you like our articles and our actions, feel free to support us by making a donation or writing to us.