The works of women artists have long been overlooked by the international art sphere, but many individuals have continued to defy the patriarchal systems which still persist today, cementing themselves as unforgettable, talented forces. Here, ACA project presents a selection of contemporary women artists in a series of three articles, starting with artists born between 1930-1970.
Les œuvres des femmes artistes ont longtemps été négligées par la sphère artistique internationale, mais de nombreuses voix s'attellent à défier les systèmes patriarcaux qui persistent encore aujourd'hui, élevant ces artistes au rang de forces talentueuses et inoubliables. Ici, ACA project présente une sélection d'artistes femmes contemporaines dans une série de trois articles, à commencer par des artistes nées entre 1930-1970.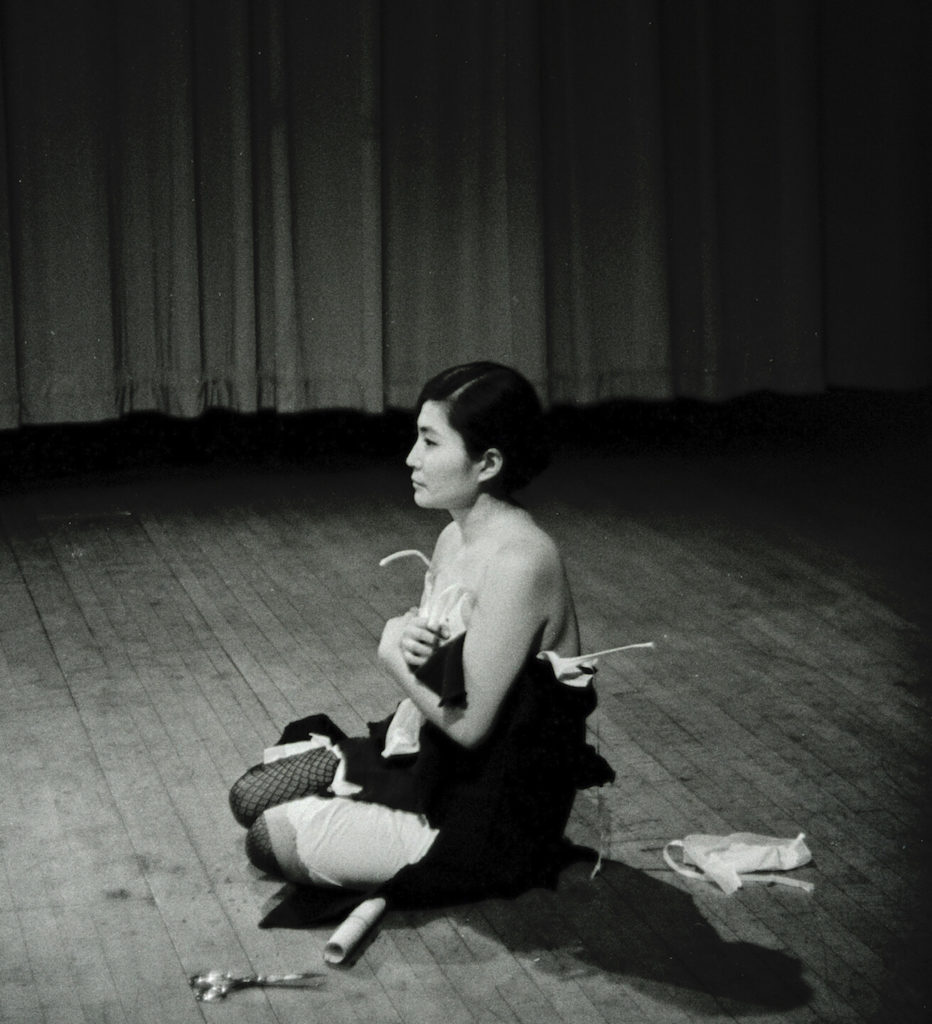 YOKO ONO
Yoko Ono, born in 1933 in a wealthy family in Tokyo, is a Japanese artist and social activist. She is known as a member of the New York avant-garde and for her participation to the FLUXUS movement. As a pioneer of conceptual art, she expresses serious issues using humor in her work. « Cut Piece », her most iconic work, made her internationally famous. Sat in a traditional Japanese position, Yoko Ono is undressed by the audience using scissors. This happening suggested a conniving vision between the observer (the audience) and the observed (the artist). For the artist, this is a way of showing the submission of women, controlled by men.⠀
⠀
Yoko Ono, née en 1933 dans une famille aisée à Tokyo, est une artiste japonaise et une activiste pour la paix. Elle est connue pour son appartenance à l'avant-garde new-yorkaise et sa participation au courant FLUXUS. En tant que pionnière de l'art conceptuel, elle évoque les problèmes de société avec une approche humoristique. « Cut Piece » est son oeuvre la plus emblématique et qui l'a révélée au monde. Assise, dans une position traditionnelle japonaise, elle se fait déshabiller par le public qui utilise des ciseaux. Son happening pose un regard sur la complicité entre l'observateur (le public) et l'observée (l'artiste). Pour l'artiste, cette oeuvre permet d'exposer la soumission des femmes, dirigées par les hommes.
Shoko Hayashi-Moreau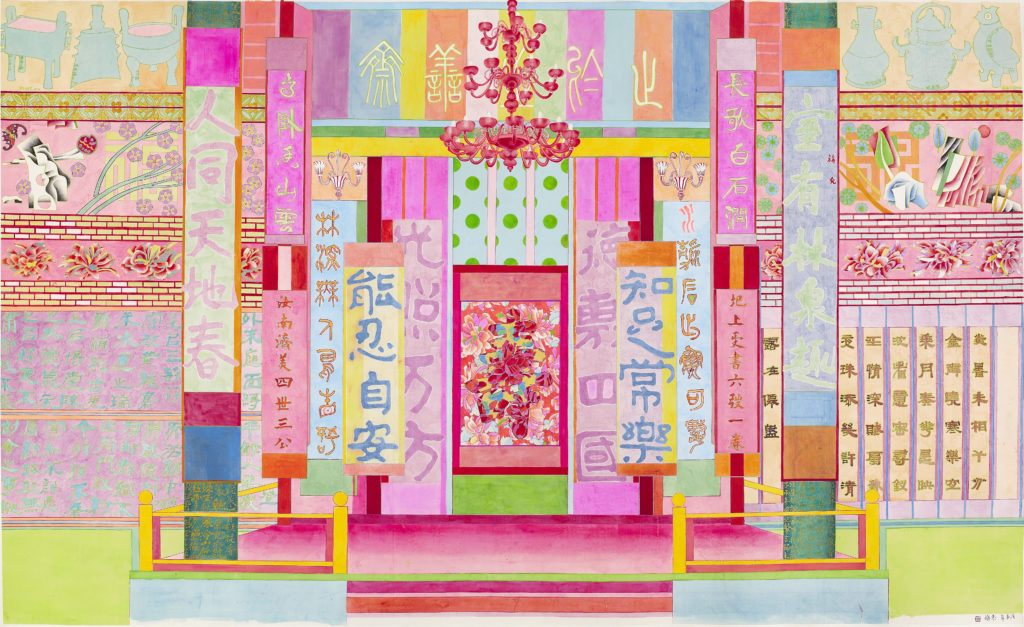 YUAN JAI
Yuan Jai (born in 1941 in China) grew up in Taiwan where she learned Chinese classical painting. She pursued her studies in Belgium, England and the U.S. Yuan Jai begun her artist career belatedly after having worked in the museum field. In her works, she uses the tradition of Chinese literati paintings and reinterprets it into a playful and uniquely fresh way, giving this ancient art a new breath. Black strokes and a monochromatic palette are replaced with a range of vivid and zingy colors. In her work, references to classic and popular Chinese culture are combined with a fantastical vocabulary made of fairies, animals and flowers; creating unique, sensitive and poetic works, breaking new ground in Chinese figurative painting.⠀
⠀
Yuan Jai (née en 1941 en Chine) a grandi à Taiwan où elle a étudié la peinture chinoise. Elle a ensuite poursuivi sa formation en Belgique, en Angleterre et aux États-Unis. Yuan Jai a commencé sa carrière d'artiste sur le tard après avoir travaillé dans le domaine muséal. Dans ses œuvres, elle reprend les codes de la peinture de paysage chinoise en les modernisant. Le cerne n'est alors plus noir mais coloré et la palette de couleurs est élargie à des teintes vives et acidulées. Yuan Jai renouvelle ainsi cet art millénaire avec naïveté, fraicheur et singularité. Dans ses œuvres, les nombreuses références à la culture classique et populaire chinoise sont associées à des éléments du réel et à un vocabulaire fantasmagorique peuplé de fées, de fleurs et d'animaux en tout genre composant un imaginaire singulier et sensible, entre rêve et réalité.
Camille Despré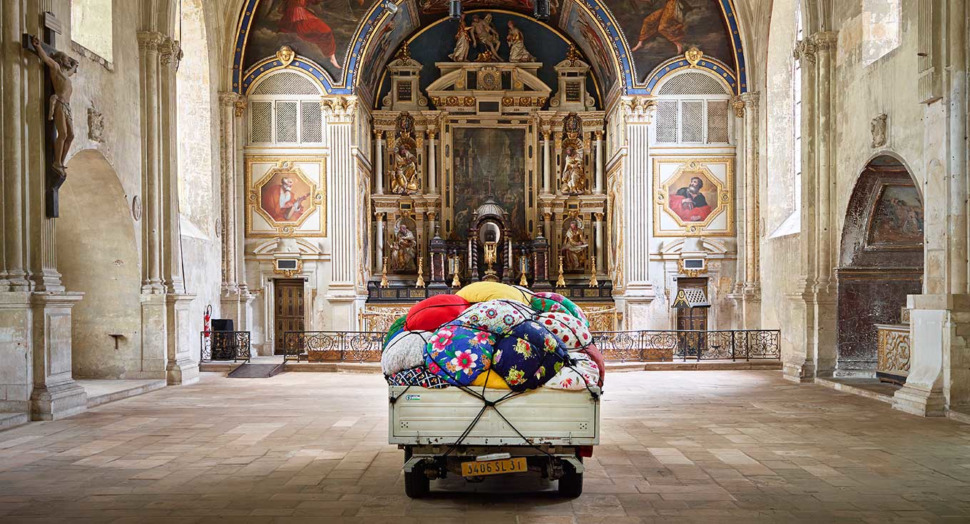 KIMSOOJA
KimSooJa (b. 1957, Taegu, South-Korea) is a multidisciplinary artist whose works feature video performances, sculptures, and installations. With a proclivity for textile art drawn from her Korean heritage, she addresses the work of women, especially with her video series "Thread Routes" and her "bottari" (a large colorful patchwork bindle). Thus, she also engages a reflection inherent to humanity about the notion of travel and exile. KimSooJa, herself a nomad, is « A Needle Woman » and weaves between the world's different cultures.⠀
⠀
KimSooJa (née en 1957, Taegu, Corée du Sud) est une artiste multidisciplinaire dont l'œuvre présente des performances vidéo, des sculptures et des installations. Avec une tendance pour l'art textile puisée dans son héritage coréen, elle aborde le travail des femmes, en particulier avec sa série de vidéos « Thread Routes » et ses « bottari » (grand baluchon en patchwork coloré). Ainsi, elle engage également une réflexion inhérente à l'humanité sur la notion de voyage et d'exil. KimSooJa, elle-même nomade, est « A Needle Woman » (une femme aiguille) et tisse entre les différentes cultures du monde.⠀
Elodie Lafaurie-Bianchi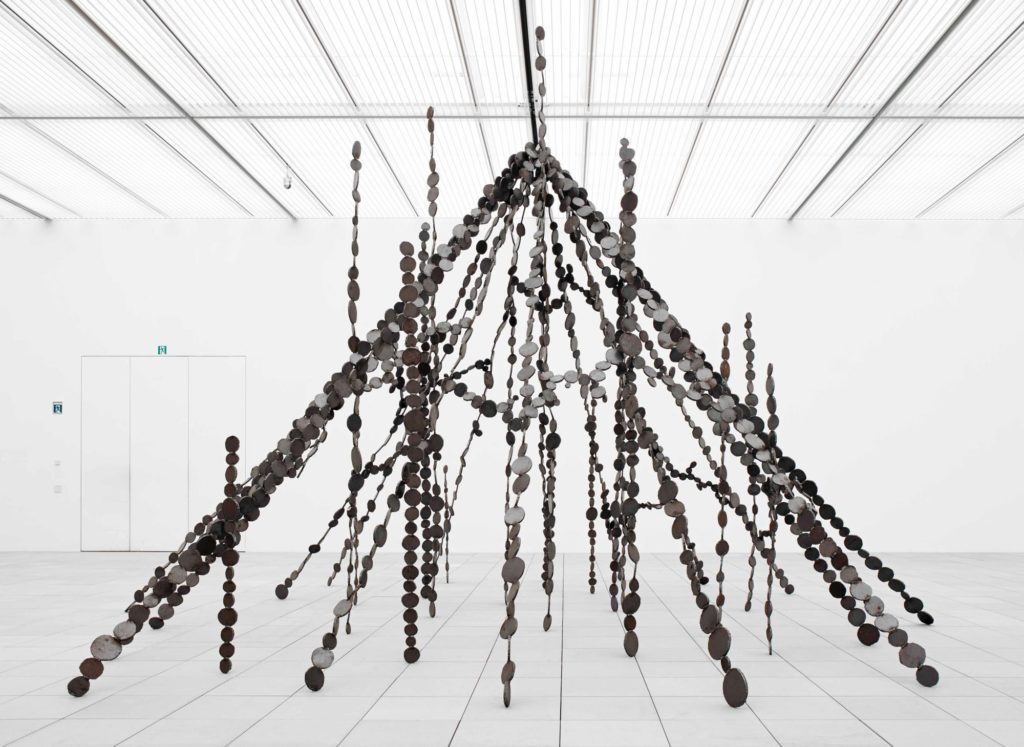 NOE AOKI
Noe Aoki (b. 1958 in Tokyo) is a Japanese sculptor who lives and works in Japan. Since she started her art studies, she has mainly worked with iron, a heavy material which she paradoxically uses to create aerial and spindly sculptures. Noe is close to nature, a theme that is very present in her work. She forges the various elements that will compose her artworks in her studio and it is only later, on site, that she assembles these pieces. Thus, from the sketch to the setting up, her creation evolves and adapts to the exhibition space. She then gets her works back to create other ones, like a natural cycle. Noe is the first and only woman to ever win the Teijirou Nakahara Prize, first in 2003 and later in 2017 with the most prestigious distinction dedicated to sculpture in Japan. Today, Noe uses new materials, such as glass and stone, into her creations. She is represented by Anomaly gallery, Tokyo.
⠀
Noe Aoki (née en 1958 à Tokyo) est une sculptrice japonaise qui vit et travaille au Japon. Depuis ses études d'art, elle travaille essentiellement le fer, un matériau lourd qu'elle utilise paradoxalement pour créer des sculptures aériennes et filiformes. Noe est proche de la nature, un thème très présent dans son œuvre. Elle forge les divers éléments qui composeront ses œuvres dans son atelier, et ce n'est que sur place qu'elle assemble ces pièces. Ainsi, du croquis à la mise en place, sa création évolue et s'adapte à l'espace où il est exposé. Elle récupère ensuite ses œuvres pour en créer d'autres, comme un cycle naturel. Noe est la première et unique femme à avoir été lauréate du prix Teijirou Nakahara, en 2003 puis en 2017 avec la distinction la plus prestigieuse du Japon dédiée à la sculpture. Aujourd'hui Noe intègre de nouveaux matériaux, comme le verre et la pierre, dans ses créations. Elle est représentée par la galerie Anomaly, Tokyo.
Shoko Hayashi-Moreau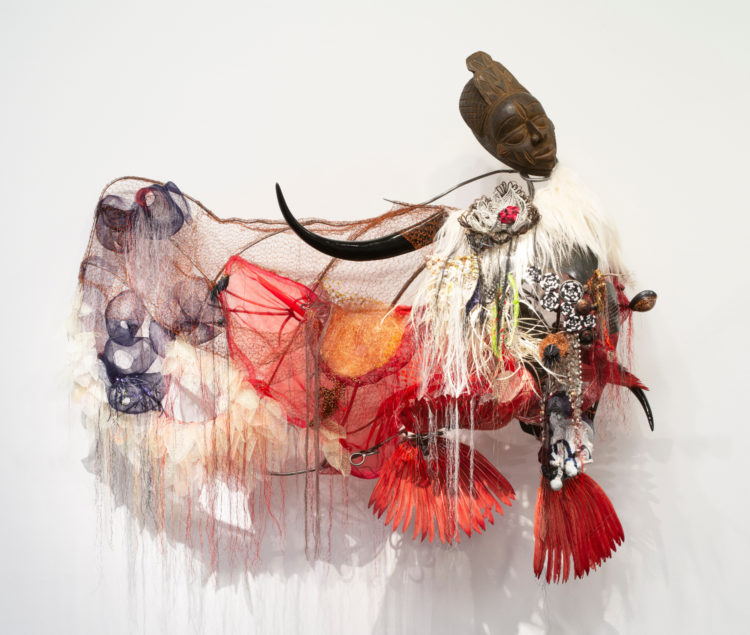 RINA BANERJEE
Rina Banerjee (born in 1963 in India) is an American artist from India. Her work is strongly influenced by her life experiences in countries of different cultures, and in urban environments with mixed cultures and races. Her interest in mythologies, folk tales and anthropology feed her reflections around the question of movement in our globalized world: mobility, migration, uprooting, exoticism, identity. Rina Banerjee's works – mainly sculptures with complex and colorful shapes, but also paintings and installations – are characterized by their mix of mediums, combining everyday objects, fabrics, jewelry, feathers, shells, horns, bones, wood, etc. Rina Banerjee's work is exhibited in many international institutions and is part of numerous public and private collections around the world (Centre Pompidou, Brooklyn Museum, SF MoMA…).⠀
⠀
Rina Banerjee (née en 1963 en Inde) est une artiste américaine d'origine indienne. Son œuvre est fortement empreinte de ses expériences de vie dans des pays de cultures différentes, et dans des milieux urbains aux cultures et origines mélangées. Son intérêt pour les mythologies, les contes populaires et l'anthropologie viennent nourrir ses réflexions autour de la question du mouvement dans notre monde globalisé : la mobilité, la migration, le déracinement, l'exotisme, l'identité. Les œuvres de Rina Banerjee – principalement des sculptures aux formes complexes et colorées, mais aussi des peintures et des installations – se caractérisent par la mixité des médiums utilisés, alliant objets du quotidien, tissus, bijoux, plumes, coquillages, cornes, ossements, bois, etc. Le travail de Rina Banerjee est exposé dans de nombreuses institutions à l'international, et figure dans des collections publiques et privées du monde entier (Centre Pompidou, Brooklyn Museum, SF MoMA…).
Lou Anmella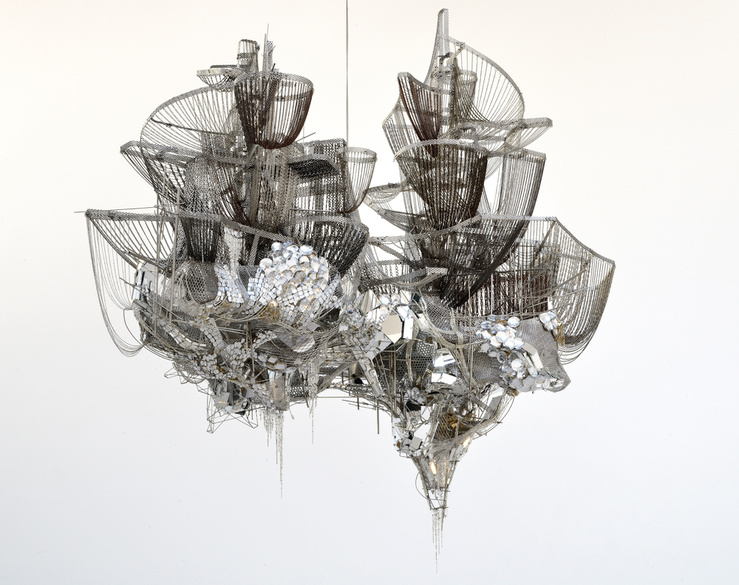 LEE BUL
Lee Bul (b. 1964, South Korea) emerged in the '90s with works that embodied political and gender roles into visual forms. She examines the intricacies of human's desire for perfection and stability that can be found in our collective consciousness, culture, and history, by using a various range of media (drawing, painting, sculpture, performance, installation, and video), and questions the place and the increasing use of technology in our contemporary world. Lee Bul is now a leading figure from the Asian contemporary art scene. Her works are presented in many public and private cultural institutions across the world and received numerous recognitions such as Honorable mention at the 48th Venice Biennale for the Korean Pavilion, the Noon award of the 10th Gwangju Biennale or more recently in 2019, the Ho-Am Prize for the Arts.⠀
⠀
Lee Bul (née en 1964 en Corée du Sud) a émergé dans les années 90 avec des œuvres incarnant les préoccupations politiques et sur la question du genre dans des formes visuelles. Depuis, elle examine les subtilités des désirs de perfection et de stabilité que l'on retrouve dans la conscience collective, la culture et l'histoire humaine, en utilisant une gamme variée de médias (dessin, peinture, sculpture, performance, installation et vidéo), et elle interroge la place et l'utilisation croissante de la technologie dans notre monde contemporain. Aujourd'hui, Lee Bul est une figure de proue de la scène artistique contemporaine asiatique. Ses œuvres sont présentées dans de nombreuses institutions culturelles publiques et privées à travers le monde et ont reçu de nombreuses reconnaissances telles que la mention honorable à la 48e Biennale de Venise pour le pavillon coréen, le prix Noon de la 10e Biennale de Gwangju ou plus récemment en 2019, le Prix Ho-Am pour les arts.
Elodie Lafaurie-Bianchi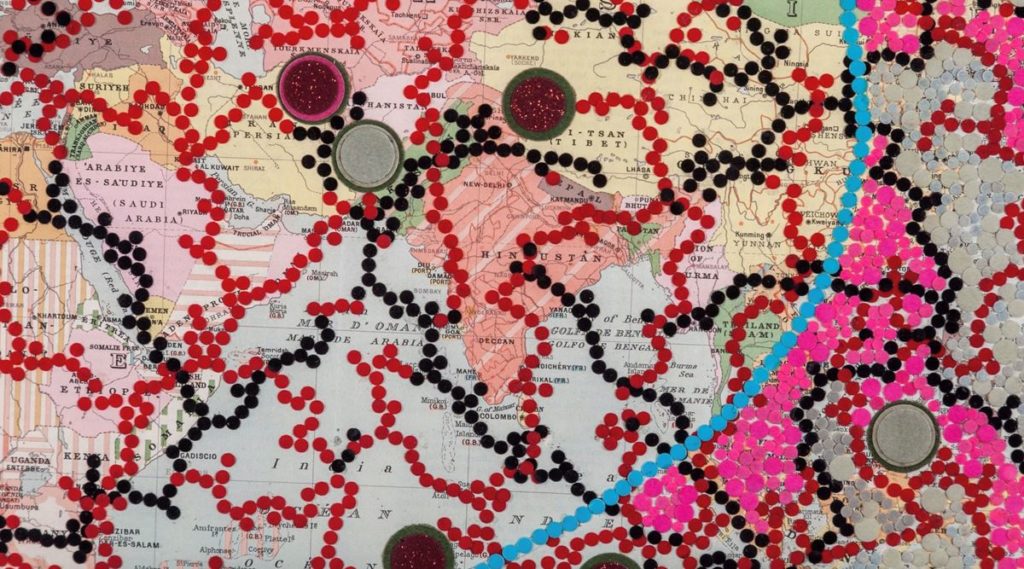 BHARTI KHER
Bharti Kher (b. 1969 in London, UK) is a British-Indian visual artist, living in New Delhi, India since 1993. She draws on her double identity to give form to works with a hybrid nature, in between two worlds; half-women half-animals chimeras and half-human half-machines mutant characters, which evoke an Indian society oscillating between tradition and modernity. Now a signature of her work, the bindi (a mark that Indian women wear on the forehead) is mainly used as an aesthetic material in her paintings and sculptures, although it bears an inherent cultural and traditional symbol. Internationally renowned, Bharti Kher's artworks are part of important collections, such as the Tate Modern in London among others.⠀
⠀
Bharti Kher (née en 1969 à Londres, UK) est une artiste plasticienne britannico-indienne, installée à New Delhi en Inde depuis 1993. Elle puise dans sa double identité pour donner forme à des œuvres au caractère hybride, entre-deux mondes ; des chimères mi-femmes mi-animales et figures mutantes mi-humaines mi-machines, qui évoquent une société indienne oscillant entre tradition et modernité. Devenu signature de son travail, le bindi (marque que les femmes indiennes portent sur le front) est utilisé dans ses peintures et sculptures comme un matériau esthétique avant tout, bien que son symbole culturel et traditionnel lui soit inhérent. De notoriété internationale, les oeuvres de Bharti Kher font partie de collections majeures, notamment celle de la Tate Modern à Londres.⠀
Lou Anmella
English version corrected by Jae Lamb