ACA project's second article on women artists features artists born between 1970-1985, and illuminates long standing talents as well as rising stars.
La deuxième partie de la série d'ACA project sur les artistes femmes, présente des artistes nées entre 1970 et 1985, et met en lumière des talents confirmés ainsi que des étoiles montantes.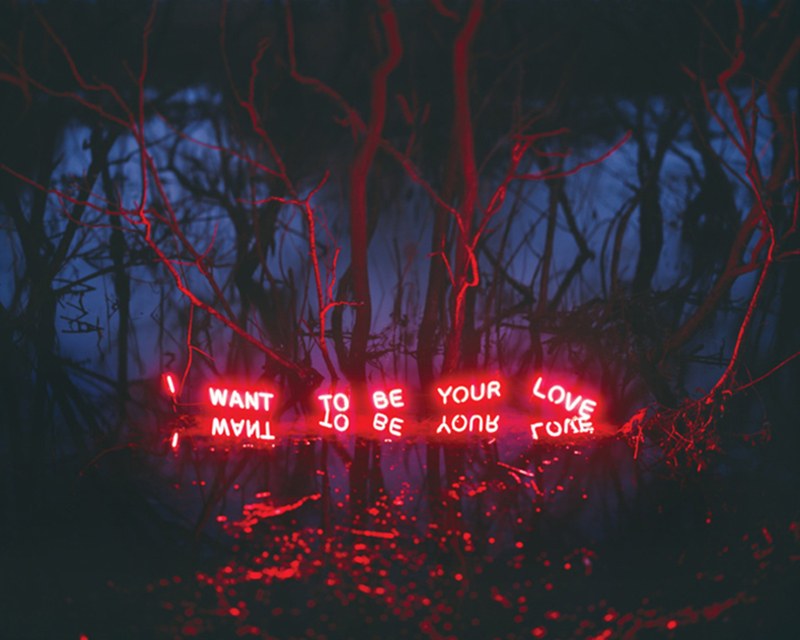 JUNG LEE
Jung Lee (b. 1972 in South Korea) studied journalism and later photography, in London, UK. There, she faced the limits of language and developed her reflections on the links between words and images. She has produced a couple of photographic series representing desolate and misty landscapes accompanied by slogans. The most famous one, « Aporia », inspired by « A Lover's Discourse » by Roland Barthes, features colorful neon lights depicting love messages. Her previous series « Bordering North Korea » uses North Korean propaganda phrases affixed to desert views of the South Korean border. Jung Lee's work illustrates the loneliness and misunderstanding that can arise from the inability of language to embody the scope and accuracy of our thoughts and feelings. Jung Lee currently lives and works in South Korea where she is offered most of her shows.⠀
⠀
Jung Lee (née en 1972 en Corée du Sud) se forme au journalisme puis à la photographie qu'elle étudie à Londres en Angleterre. C'est là que, confrontée aux limites du langage, elle développe ses réflexions sur les liens entre mots et images. Elle produit plusieurs séries photographiques de paysages désolés et brumeux accompagnés de slogans. La plus célèbre d'entre elle, « Aporia », inspirée de « Fragments d'un discours amoureux » de Roland Barthes, met en scène des néons colorés figurant des messages amoureux. Sa série précédente « Bordering North Korea » reprend des locutions de propagande nord-coréenne apposées sur des vues désertiques de la frontière de Corée du Sud. Le travail de Jung Lee illustre la solitude et l'incompréhension qui peuvent naître de l'impuissance du langage à incarner l'ampleur et l'exactitude de nos pensées et sentiments. Jung Lee est principalement exposée en Corée du Sud où elle vit et travaille actuellement.
Lou Anmella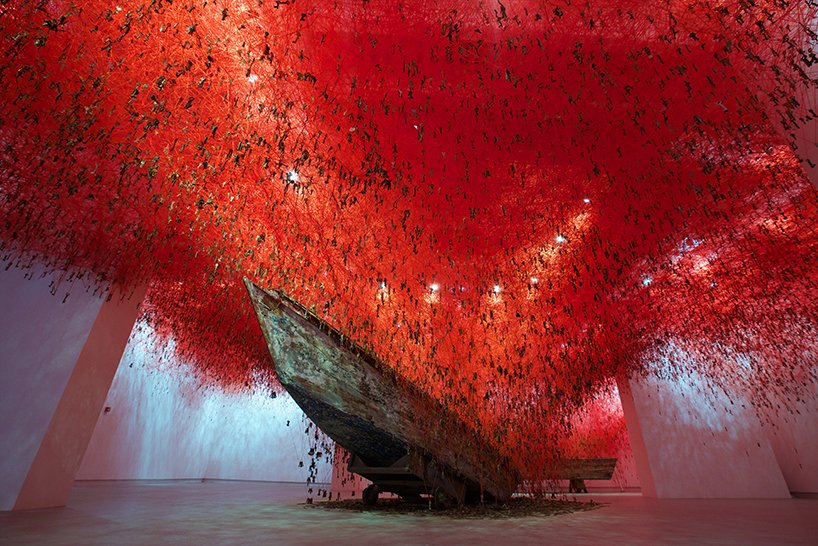 CHIHARU SHIOTA
Chiharu Shiota (b. 1972, Osaka, Japan) is a performative artist also well known for her large-scale installations that combine the use of black or red yarn and used objects. Haunted with memories, powerfully silent, calling out dreams but also anxiety, they embody what she calls « the presence in absence »: an exploration of universal concepts such as identity, boundaries, and existence. By expressing the intangible, her works act as the expression of human experience. Based in Berlin since 1997, Shiota represented Japan at the 2015 Venice Biennale and had a first retrospective in 2019 at the Mori art Museum in Tokyo.⠀
⠀
Chiharu Shiota (née en 1972, Osaka, Japon) est une artiste performative également connue pour ses installations à grande échelle qui combinent l'utilisation de fil noir ou rouge et d'objets usagés. Hantées de souvenirs, puissamment silencieuses, évoquant des rêves mais aussi de l'anxiété, elles incarnent ce qu'elle appelle «la présence en l'absence » : une exploration de concepts universels tels que l'identité, la notion de limite et l'existence. En exprimant l'intangible, ses œuvres agissent comme l'expression de l'expérience humaine. Basée à Berlin depuis 1997, Shiota a représenté le Japon à la Biennale de Venise de 2015 et a vu sa première rétrospective avoir lieu en 2019 au Mori art Museum de Tokyo.
Elodie Lafaurie-Bianchi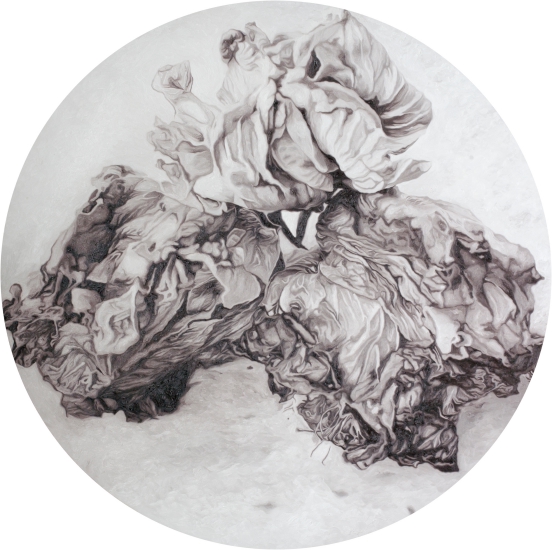 PATRICIA PEREZ EUSTAQUIO
Patricia Perez Eustaquio (b. 1977 in the Philippines) is a Manila-based artist interested in the notions of craft and design. Fabric textiles, wood, glass or metal pieces… are all materials that she explores to give shape to her sculptures and installations. Combining geometric figures and organic compositions, her oil on canvas and graphite drawings play with the viewer's perception, sometimes evoking abstract forms, sometimes evoking creased paper or petals. Considered one of the leading Filipino artists of her generation, Patricia Perez Eustaquio shows her work internationally; at the Singapore Art Museum and the Palais de Tokyo in Paris, France, among others. She is represented by Silverlens Galleries.⠀
⠀
Patricia Perez Eustaquio (née en 1977 aux Philippines), artiste basée à Manille, s'intéresse de près aux notions d'artisanat et de design. Textiles, bois, pièces de verre ou de métal… sont autant de matériaux qu'elle explore pour donner forme à ses sculptures et installations. Alliant figures géométriques et compositions organiques, ses huiles sur toile et dessins au graphite jouent avec la perception du spectateur, évoquant tantôt des formes abstraites, tantôt des papiers ou pétales froissés. Considérée comme une figure de proue des artistes philippins de sa génération, Patricia Perez Eustaquio a exposé son travail à l'international, dont au Musée d'art de Singapour et au Palais de Tokyo à Paris, France. Elle est représentée par les galeries Silverlens.
Lou Anmella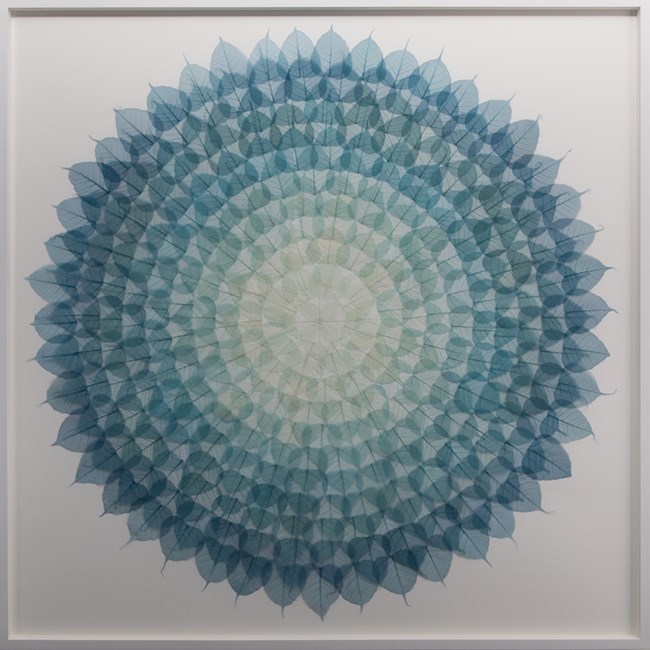 MIYA ANDO
Miya Ando (b. 1978, USA) is an American artist whose painting and sculpture articulate themes of perception and examine one's relationship to time. Ando is a descendant of Bizen sword makers and spent her childhood between a Buddhist temple in Japan as well as in rural Northern California. Her work pays homage to ancient techniques and ideas, fusing them with contemporary materials and forms. She often references historic literary texts and examines the idea that the fundamental nature of reality is that all constituent forms that make up the universe are temporary; a concept found in Buddhism as well as quantum physics.⠀
⠀
Miya Ando (née en 1978 aux Etats-Unis) est une artiste américaine dont la peinture et la sculpture expriment les thèmes de la perception et examinent notre relation au temps. Ando est une descendante des fabricants d'épées de Bizen et a passé son enfance entre un temple bouddhiste au Japon et la Californie du Nord rurale. Son travail rend hommage aux techniques et aux idées anciennes, en les fusionnant avec des matériaux et des formes contemporaines. Elle fait souvent référence à des textes littéraires historiques et étudie l'idée que la nature fondamentale de la réalité consiste en ce que toutes les formes qui composent l'univers sont temporaires ; un concept trouvé dans le bouddhisme ainsi que la physique quantique.
Madeleine Filippi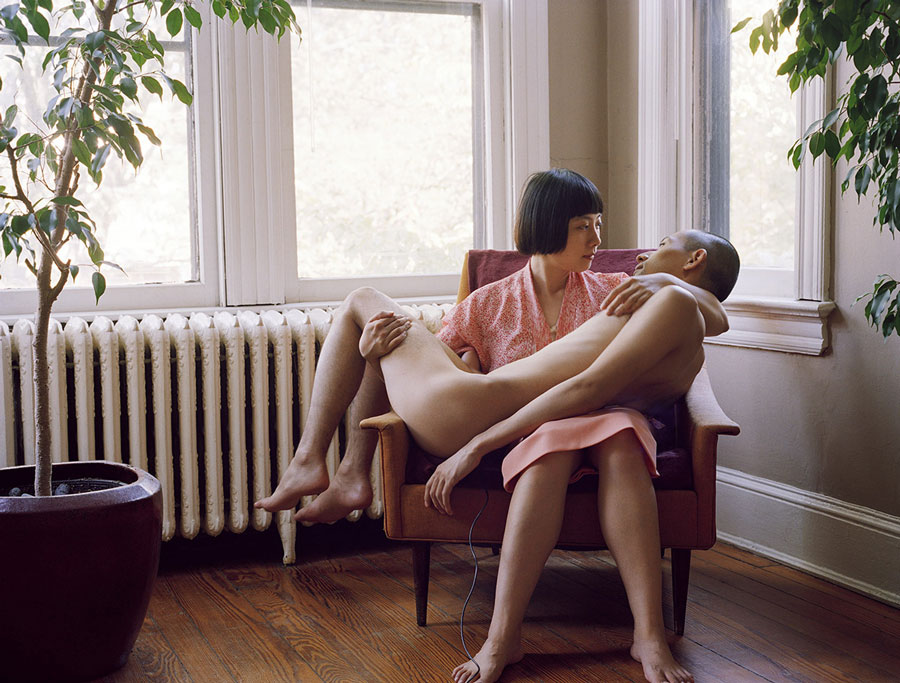 PIXY LIAO
Pixy Liao (b. 1979, China) is a Chinese multidisciplinary artist working with different mediums such as video, photography, installation and music. Her work delves on gender roles and the stigmatisation of the female body; in her photographs, she role plays with her partner who assumes the role of the woman, highlighting the absurdity as well the violence against the female body. Sensuality manifests in her series « For Your Eyes Only », where parts of the human body are unveiled or alluded to in a playful manner. Using a vast colour range in her photographs, Pixy Liao's work bears an incredible resemblance to Harry Gruyaert's interiors. She's the recipient of numerous awards and has exhibited in prestigious institutions.
⠀
Pixy Liao (née en 1979, en Chine) est une artiste chinoise multidisciplinaire travaillant avec différents médiums tels que la photographie, l'installation et la musique. Son travail étudie les rôles de genre et la stigmatisation à laquelle est sujet le corps féminin; ses photographies mettent en scène un jeu où son compagnon assume le rôle de la femme mettant en évidence l'absurdité tout comme la violence systémique envers le corps féminin. Une sensualité se manifeste dans sa série « For Your Eyes Only » dans laquelle des parties intimes du corps masculin et féminin sont évoquées ou même dévoilées. Ses photographies utilisent une vaste palette de couleurs ce qui la rapproche et la font héritière des décors d'intérieur du photographe belge Harry Gruyaert. Elle a reçu de nombreux prix et a exposé dans des institutions prestigieuses.
Milena Estrada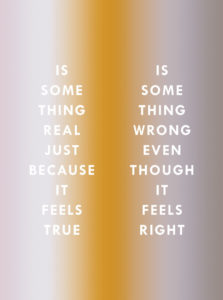 DAWN NG
Dawn Ng (b. 1982 in Singapore) is, to quote her: "a multi-hyphenate visual artist". Her career as a creative in the advertisement industry paved the way to her ability for story-telling with the use of spaces, scales, lights, patterns, colors, and the power of words. With « Walter », a giant inflatable rabbit installation, she encourages a reflection on the constantly evolving landscape of Singapore. Another example is a collection of daily-life objects organized in a monochromatic assemblage that exudes an anthropological documentary of consumerism, while one of her latest series "Monument Memento", carved in stone blocks words exchanged between two women, strangers to each other and petrified their differences of life experiences through past, present and future. Her works obsessively focusing on nostalgia, people and places, have been acquired and exhibited internationally.⠀
⠀
Dawn Ng (née en 1982 à Singapour) est, pour la citer : une artiste « aux traits d'union multiples ». Sa carrière dans l'industrie de la publicité a ouvert la voie à sa capacité à raconter des histoires en utilisant espaces, échelles, lumières, motifs, couleurs et le pouvoir des mots. Avec « Walter », une installation figurant un lapin gonflable géant, elle encourage une réflexion sur le paysage en constante évolution de Singapour. Un autre exemple comme celui des collections d'objets de la vie quotidienne organisées dans un assemblage monochromatique, présente un quasi documentaire anthropologique du consumérisme, tandis que l'une de ses dernières séries « Monument Memento », grave dans des blocs de pierre des mots échangés entre deux femmes, étrangères l'une à l'autre, et pétrifie les différences de leurs expériences de vie à travers le passé, le présent et l'avenir. Ses travaux, obsessivement centrés sur la nostalgie, les personnes et les lieux, ont été acquis et exposés à l'international.⠀
Elodie Lafaurie-Bianchi
English version corrected by Jae Lamb