By Camille Despré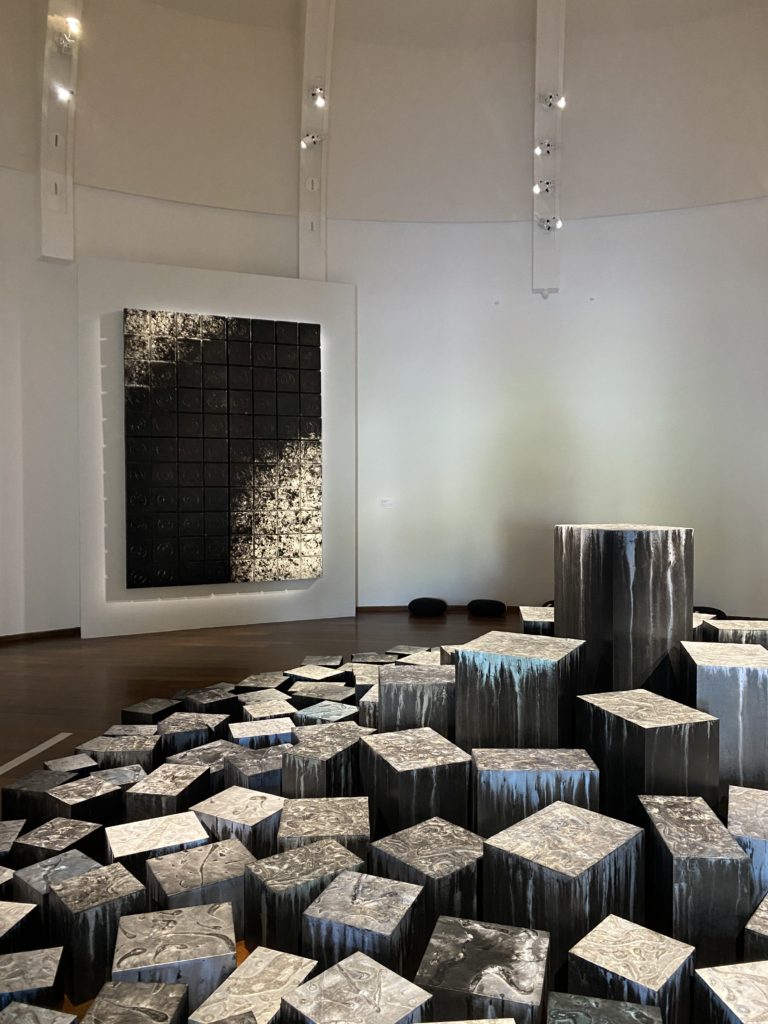 Pour sa nouvelle Carte Blanche estivale, le Musée national des arts asiatiques-Guimet accueille l'artiste coréen Park Dong-Soo pour son retour sur la scène artistique internationale, après une retraite d'une quinzaine d'années dans un ermitage de la région d'Haemi (Corée).
Formé à l'Ecole des beaux-arts de Versailles et à l'Université Paris 8 au début des années 1990, Park Dong-Soo suit ses aînés tel Lee Ungno en faisant de Paris une étape clé dans sa formation. Il développe ainsi un art tout à fait personnel, empreint de ses racines coréennes et de sa formation occidentale dans lequel la gestuelle, sous l'influence de l'expressionnisme abstrait, a une place primordiale. Il reste en France jusqu'en 2008, date à laquelle il est rattrapé par sa nostalgie de son pays et il décide de rentrer en Corée.  
Pour cette Carte Blanche, Park Dong-Soo propose une installation en deux temps intitulée Cette place-là composée de grandes toiles noires et blanches et d'une installation centrale faite de sculptures cubiques. Il y développe un thème qui lui est cher : celui d'un environnement lunaire, renvoyant autant au Big Bang qu'à un univers microscopique. Les cubes, faits de superposition de couches de papier hanji et d'encre éclaboussée, sont disposés de manière pyramidale et évoquent le magma coulant et figé d'une éruption volcanique. Sur les cubes et les toiles se dessine un monde microscopique grouillant, renvoyant autant la division cellulaire que des planctons. La rotonde du 4e étage du musée se transforme ainsi en un paysage lunaire, l'artiste cherchant à évoquer ce moment suspendu et magique de la création du monde, une quête presque spirituelle vers les origines.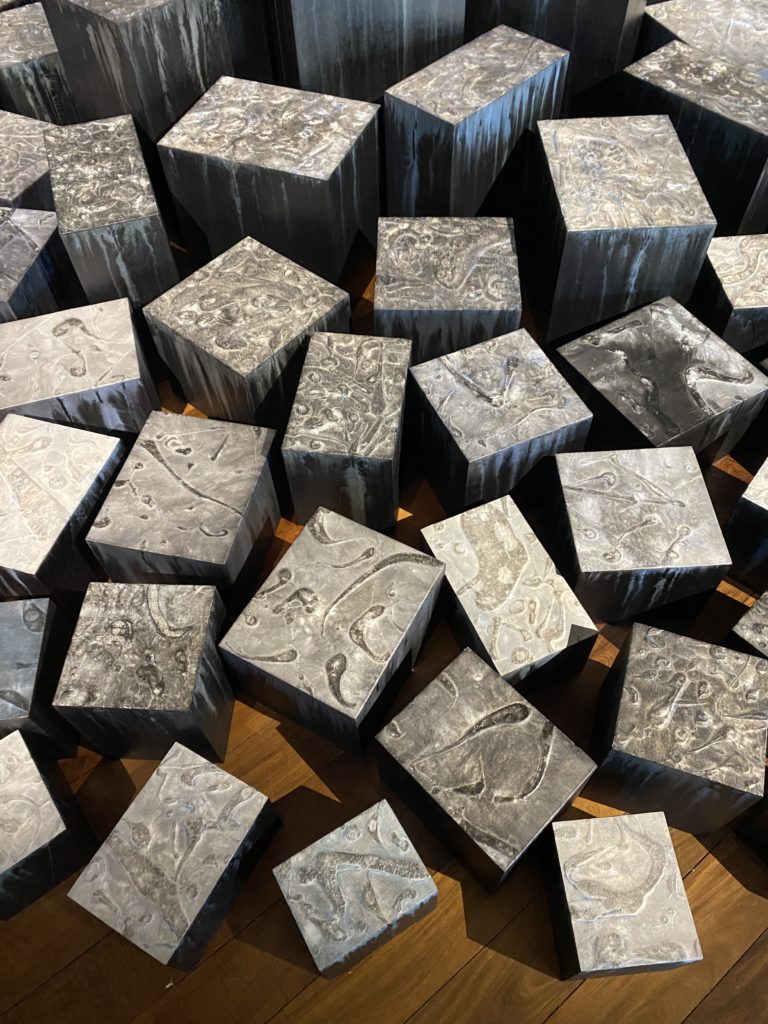 For this new Carte Blanche, the Musée Guimet welcomes the Korean artist Park Dong-Soo for his return to the international art scene after 15 years of retreat in Haemi (Korea).
Park Dong-Soo has been trained at the School of fine arts of Versailles and at Paris 8 University at the beginning of the 1990. Like many Korean artist before him such as Lee Ungno, Paris is a key step in his work. Park develops a personal and unique work, influenced by his Korean roots and by his training in Europe. In his painting, gesture plays a central part, evoking abstract expressionism. Park has lived and worked in France until 2008 before flying back to Korea. 
For this Carte Blanche, Park Dong-Soo created a two-part installation entitled « Cette place-là », made up of large black and white canvases and a central installation of cubic sculptures. In this installation he develops a theme that is dear to him: that of a lunar environment, referring as much to the Big Bang as to a microscopic universe. The cubes, made of layers of hanji paper and splattered ink, form a pyramid and evoke the flowing and frozen magma of a volcanic eruption. On the cubes and the canvases, a teeming microscopic world is drawn, reflecting both cell division and plankton. The rotunda on the 4th floor of the museum is thus transformed into a lunar landscape, the artist seeking to evoke this suspended and magical moment of the creation of the world, an almost spiritual quest towards origins.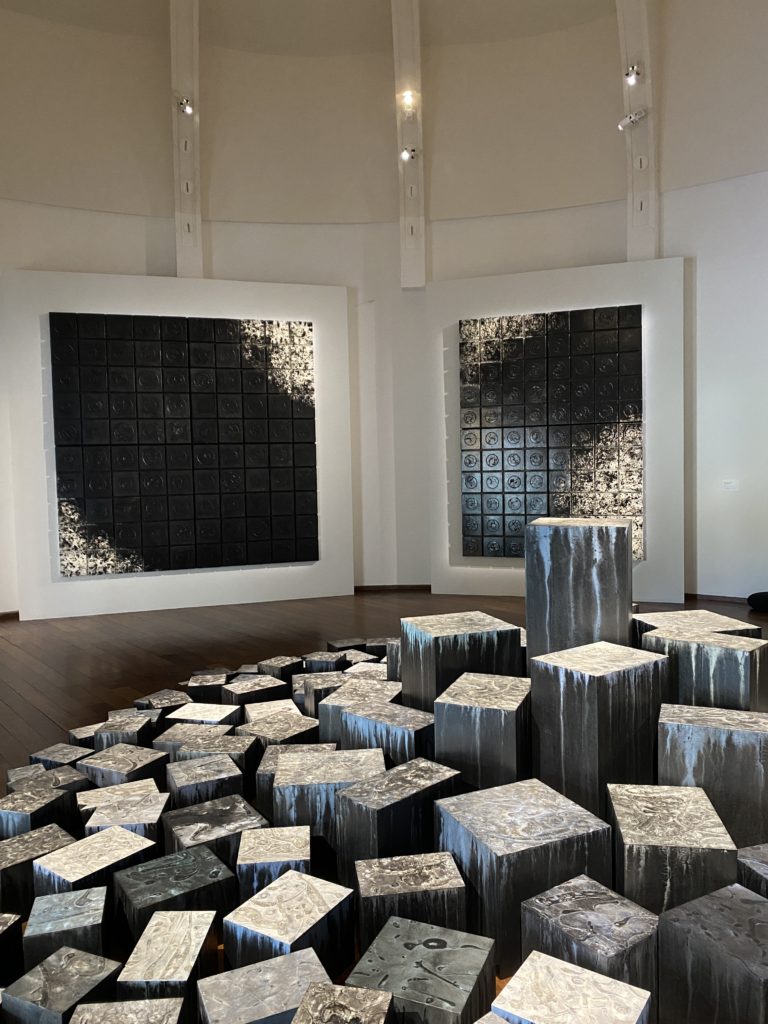 ---
ACA project est une association française dédiée à la promotion de la connaissance de l'art contemporain asiatique, en particulier l'art contemporain chinois, coréen, japonais et d'Asie du sud-est. Grâce à notre réseau de bénévoles et de partenaires, nous publions régulièrement une newsletter, des actualités, des interviews, une base de données, et organisons des événements principalement en ligne et à Paris. Si vous aimez nos articles et nos actions, n'hésitez pas à nous soutenir par un don ou à nous écrire.
ACA project is a French association dedicated to the promotion of the knowledge about Asian contemporary art, in particular Chinese, Korea, Japanese and South-East Asian art. Thanks to our network of volunteers and partners, we publish a bimonthly newsletter, as well as news, interviews and database, and we organise or take part in events mostly online or in Paris, France. If you like our articles and our actions, feel free to support us by making a donation or writing to us.