Le mois de janvier est marqué par le renouveau des expositions dans la capitale française. Des galeries aux musées, de la peinture à l'installation immersive, ACA project a sélectionné pour vous 5 expositions personnelles d'artistes originaires d'Asie à ne pas manquer en ce début d'année.
January is marked by the renewal of exhibitions in the French capital. From galleries to museums, from paintings to immersive installations, ACA project has selected for you 5 personal exhibitions of artists from Asia not to be missed at the beginning of the year.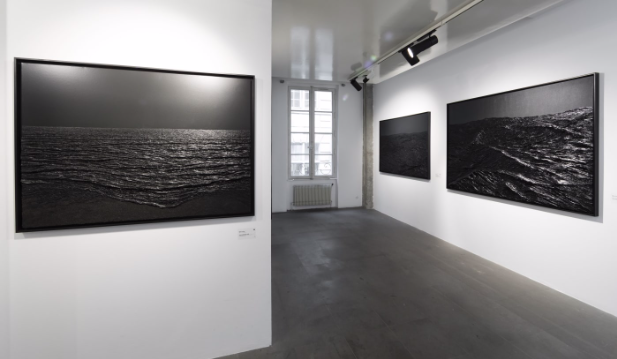 Bao Vuong @ A2Z Art Gallery
Entre ce que l'on voit et son évocation, entre le mirage et la réalité, entre la lumière et l'ombre, les tableaux de la série The Crossing sont une recherche plastique puissante et une recherche poétique de ce qui lie Bao Vuong à son pays perdu. Les monochromes noirs de Bao Vuong sont au départ la projection du traumatisme de l'exil de sa famille, des nuits en haute mer vécues par d'innombrables boat people, la même vision que connaissent des milliers de migrants à travers les siècles et chaque jour encore. S'inspirant des terreurs et des tristesses qu'accompagnent l'exil, Bao Vuong utilise de grandes masses de peinture noire qu'il sculpte, dessine minutieusement chaque vague comme une litanie, un mantra.
A2Z Art Gallery, 24 rue de l'Echaudé, Paris, jusqu'au 23 janvier 2023
Between what we see and what we would like to see, between mirage and reality, between light and shadow, between the full and the empty, the paintings of The Crossing series are a powerful and poetic plastic research of what binds Bao Vuong to his lost country. His black monochromes are the projection of the trauma of his family's exile, nights on the high seas experienced by thousands of boat people and by countless migrants to this day. Inspired by the terrors and sadness that accompany exile, Bao Vuong uses large masses of black paint, with which he painstakingly sculpts and draws each wave like a litany, a mantra.
A2Z Art Gallery, 24 rue de l'Echaudé, Paris, until January 23, 2023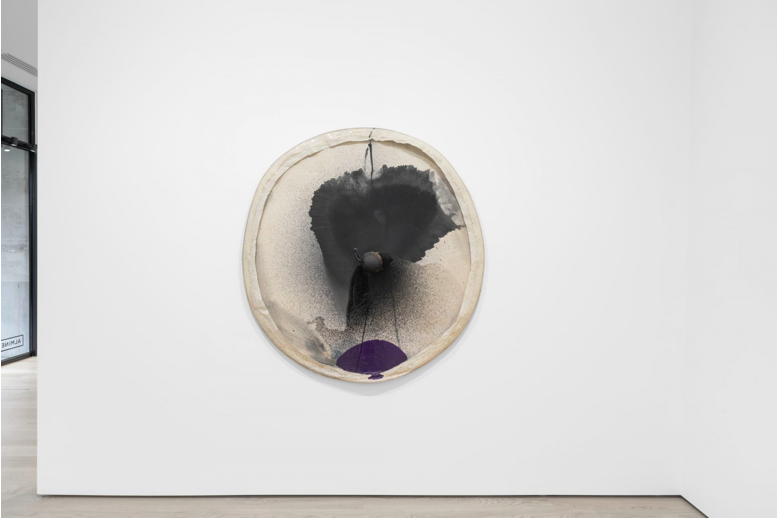 Takesada Matsutani @ Almine Rech Gallery
La galerie Almine Rech de Paris Matignon présente une sélection d'œuvres abstraites aux techniques mixtes de l'artiste pionnier de la modernité japonaise Takesada Matsutani, donnant un aperçu de ses créations des deux dernières décennies, ainsi que des œuvres emblématiques des années 1970 et 1980. L'artiste, installé à Paris depuis les années 1960, est surtout connu pour son engagement au sein de la Gutai Art Association, un groupe de jeunes artistes fondé en 1954, dans l'ouest du Japon, dans le but, comme le déclarait leur manifeste, d' »enfermer » l'art « frauduleux » du passé comme « les cadavres au cimetière ». Expérimentant des matériaux et un large éventail de méthodes de création, les artistes Gutai ont alimenté l'avant-garde japonaise de l'après-guerre avec une énergie débridée qui bouscule les traditions.
Galerie Almine Rech, 18 avenue Matignon, Paris, jusqu'au 18 février 2023
Almine Rech presents a selection of mixed-media, abstract works by the pioneering Japanese modern artist Takesada Matsutani, featuring an overview of his creations from the past two decades, and including emblematic works from the 1970s and 1980s. The artist, who has been based in Paris since the 1960s, is best known for his involvement with the Gutai Art Association, a group of young artists founded in 1954, in western Japan, with the aim of, as their manifesto declared, "locking up" the "fraudulent" art of the past like "corpses in the graveyard." Experimenting with materials and a wide range of art-making methods, the Gutai artists fueled Japan's post-World War II avant-garde with rambunctious, tradition-busting energy.
Almine Rech Gallery, 18 avenue Matignon, Paris, until February 18, 2023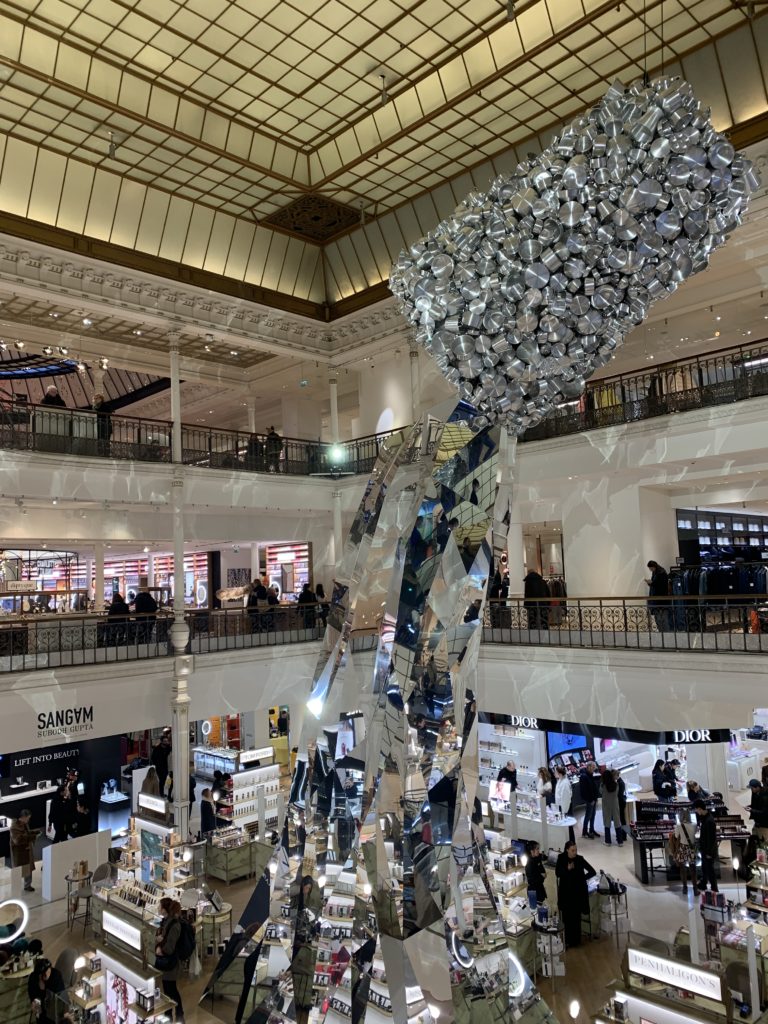 Subodh Gupta @ Le Bon Marché
Des verrières historiques aux vitrines de la rue de Sèvres, en passant par l'espace d'exposition du deuxième étage, Subodh Gupta imagine pour Le Bon Marché plusieurs installations, toutes composées de mobilier vintage, de milliers d'ustensiles de cuisine et de fragments de miroirs. Le nom de ce projet ? « Sangam » , en référence à la Kumbh Mela de Prayagraj (Allahabad), un immense pèlerinage à la confluence sacrée du Gange, de la Yamuna et de la mythique Saraswati. Exposé aux quatre coins du monde depuis plus de 20 ans, Subodh Gupta est l'une des figures majeures de l'art contemporain. L'aluminium et l'acier inoxydable qui composent les ustensiles de cuisine, deviennent les matières premières d'installation monumentales, dont la brillance fascine l'artiste. Son travail s'appuie sur de nombreux récits, aussi bien personnels qu'universels.
Subodh Gupta, Le Bon Marché Rive Gauche, 24 rue de Sèvres, Paris, jusqu'au 19 février 2023
From the historic glass roofs to the windows of the rue de Sèvres and the exhibition space on the second floor, Subodh Gupta has created several installations for Le Bon Marché, all of which are composed of vintage furniture, thousands of kitchen utensils and fragments of mirrors. The name of this project? "Sangam"! , a reference to the Prayagraj (Allahabad) Kumbh Mela, a huge pilgrimage to the sacred confluence of the Ganges, the Yamuna and the mythical Saraswati. Exhibited around the world for over 20 years, Subodh Gupta is one of the leading figures in contemporary art. The aluminium and stainless steel that make up the kitchen utensils become the raw materials for monumental installations, whose brilliance fascinates the artist. His work is based on many stories, both personal and universal.
Subodh Gupta, Le Bon Marché Rive Gauche, 24 rue de Sèvres, Paris, until February 19, 2023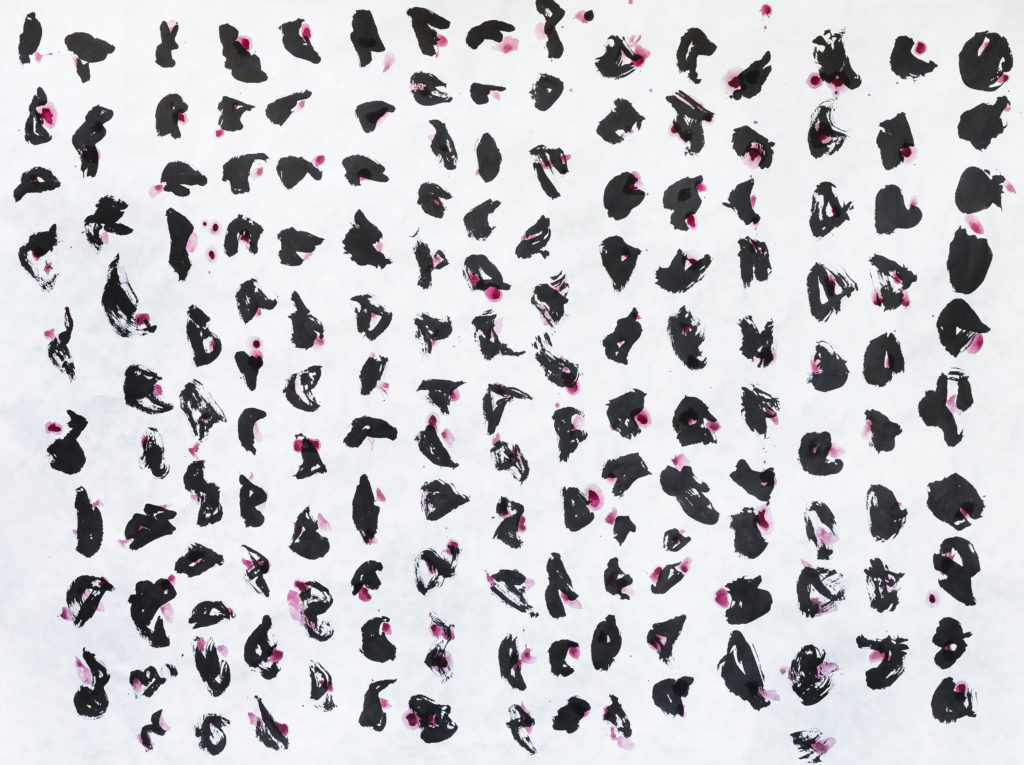 Park In-kyung @ Galerie Vazieux
La Galerie Vazieux présente « Dance of Brush », la première exposition personnelle en France de l'artiste coréenne Park In-kyung (née en 1926 en Corée) depuis celle qui lui a été consacrée au Musée Cernuschi en 2017. Elle réunit une vingtaine d'œuvres, dont six grands formats, produites au cours des quinze dernières années. A près de 97 ans, la flamme créative de Park In-kyung continue de briller. Installée aux abords de Paris dans une petite maison baignée de lumière, l'artiste travaille quotidiennement, entourée par les arbres et la végétation. Le souffle du vent, un rayon de soleil, des feuilles déchues ou des pétales de rose, les éléments naturels sont pour elle une source d'inspiration inépuisable. Assise au bord d'une table ou allongée sur le sol, Park In-kyung fait danser son pinceau et glisser l'encre noire sur la surface lisse du papier hanji. De ses mouvements fluides et ses touches assurées naissent des formes simples, presque abstraites, qui viennent chanter son ode à la nature.
Park In-kyung, Galerie Vazieux, 5 bis rue du Louvre, Paris, du 4 février au 4 mars 2023
Galerie Vazieux presents « Dance of Brush », the first solo exhibition in France of the Korean artist Park In-Kyung (b.1926, Korea), since her show at the Cernuschi Museum in 2017. It combines about twenty works, including six large formats, produced over the past fifteen years. At nearly 97 years old, Park In-kyung's creative flame continues to shine. The breath of the wind, a ray of sunlight, fallen leaves or rose petals, the natural elements are an inexhaustible source of inspiration for her. Settled not far from Paris in a small house bathed in light, the artist works daily, surrounded by trees and vegetation. Sitting at a table or lying on the floor, Park In-Kyung makes her brush dance and glides the black ink on the smooth surface of the hanji paper. From her fluid movements and assured touches are born simple, almost abstract forms, which come to sing her ode to nature.
Park In-kyung, Galerie Vazieux, 5 bis rue du Louvre, Paris, from February 4 to March 4, 2023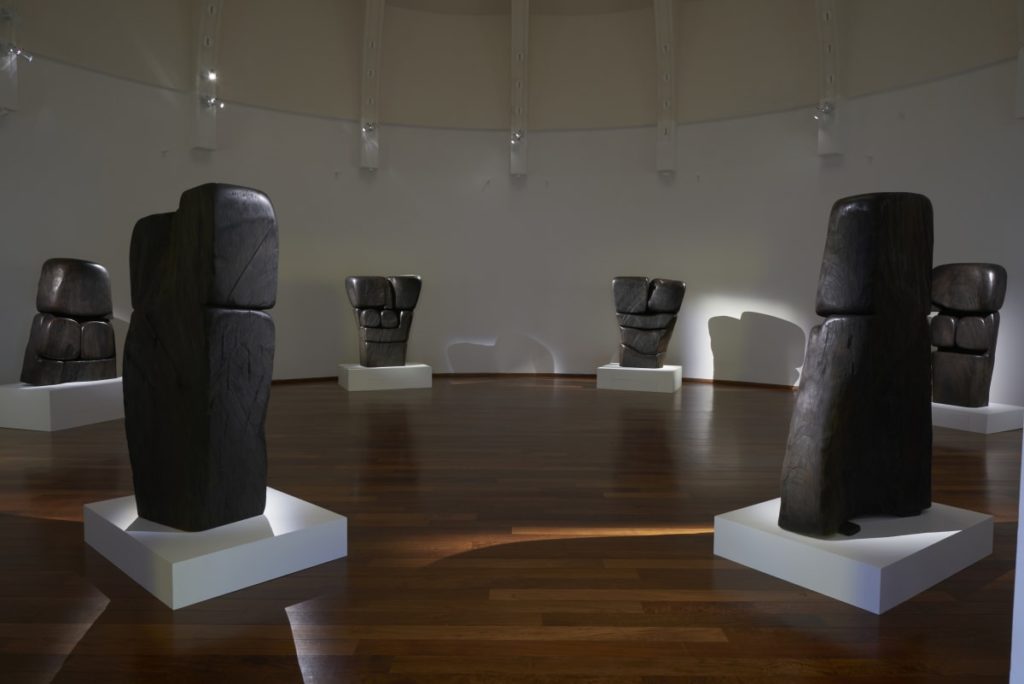 Wang Keping @ Musée Guimet
La 16e carte blanche contemporaine du Musée national des arts asiatiques – Guimet est confiée à l'artiste chinois Wang Keping, qui investit la rotonde du 4e étage et les collections permanentes chinoises. 21 sculptures en bois ou en bronze instaurent un dialogue avec les œuvres millénaires du musée. Né en 1949 près de Pékin, Wang Keping est l'un des fondateurs de l'art contemporain chinois, en raison notamment du rôle clef qu'il a joué dans l'avant-garde artistique chinoise au cours des années 1970 et de son appartenance au mouvement des Étoiles. En quittant la Chine et en s'installant en France en 1984, il se retrouve libéré du poids de la censure ; la sculpture s'impose alors comme un langage à inventer, construisant un chemin résolument personnel, sans mettre en scène son héritage chinois. Il a développé depuis une œuvre virtuose qui explore toutes les possibilités du bois, reconnue internationalement comme l'une des contributions les plus importantes à la sculpture contemporaine.
Carte Blanche à Wang Keping, Musée Guimet, 6 place d'Iéna, Paris, jusqu'au 6 mars 2023
The 16th contemporary carte blanche of the Musée national des arts asiatiques – Guimet is entrusted to the Chinese artist Wang Keping, who takes over the 4th floor rotunda and the permanent Chinese collections. Twenty-one sculptures in wood or bronze create a dialogue with the museum's thousand-year-old works. Born in 1949 near Beijing, Wang Keping is one of the founders of Chinese contemporary art, not least because of the key role he played in the Chinese artistic avant-garde in the 1970s and his membership of the Stars Group. When he left China and settled in France in 1984, he found himself freed from the weight of censorship; sculpture then imposed itself as a language to be invented, building a resolutely personal path, without putting his Chinese heritage on display. Since then, he has developed a virtuoso body of work that explores all the possibilities of wood, internationally recognised as one of the most important contributions to contemporary sculpture.
Carte Blanche to Wang Keping, Musée Guimet, 6 place d'Iéna, Paris, until March 6, 2023
---
ACA project est une association française dédiée à la promotion de la connaissance de l'art contemporain asiatique, en particulier l'art contemporain chinois, coréen, japonais et d'Asie du sud-est. Grâce à notre réseau de bénévoles et de partenaires, nous publions régulièrement une newsletter, des actualités, des interviews, une base de données, et organisons des événements principalement en ligne et à Paris. Si vous aimez nos articles et nos actions, n'hésitez pas à nous soutenir par un don ou à nous écrire.
ACA project is a French association dedicated to the promotion of the knowledge about Asian contemporary art, in particular Chinese, Korea, Japanese and South-East Asian art. Thanks to our network of volunteers and partners, we publish a bimonthly newsletter, as well as news, interviews and database, and we organise or take part in events mostly online or in Paris, France. If you like our articles and our actions, feel free to support us by making a donation or writing to us.