by Erwan Jambet
La Sigg Collection exposée pour la première fois en Corée au SongEun Art Space de Séoul
Sigg Collection Exhibited for the First Time in Korea at SongEun Art Space, Seoul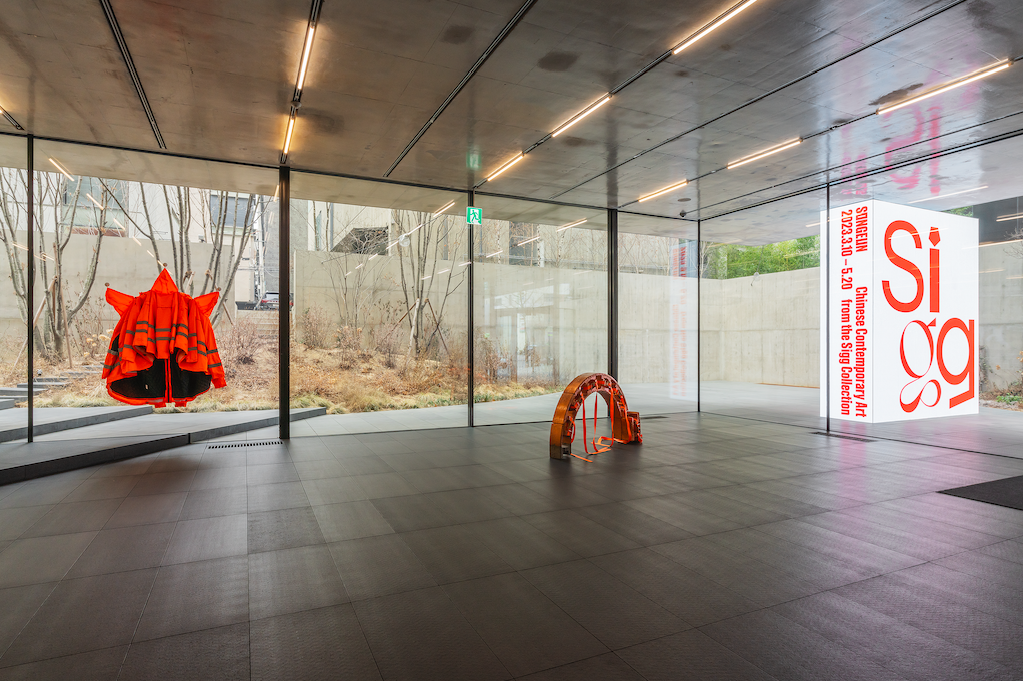 Le SongEun Art Space, centre d'art contemporain emblématique qui occupe depuis l'année dernière un nouveau bâtiment conçu par Herzog & de Meuron à Gangnam, Séoul, présente pour la première fois en Corée une sélection de 48 œuvres de la Sigg Collection. Introduisant plus de 40 ans de production artistique et s'étendant sur quatre étages, l'exposition « SIGG : Chinese Contemporary Art from the Sigg Collection » offre un aperçu de l'art contemporain chinois, qui mis à part quelques expositions phares d'artistes établis (Ai Weiwei au MMCA en 2021-22 et à Tang Contemporary en 2023, Yue Minjun au Hangaram Museum en 2020-21) n'est qu'assez peu présent dans les programmes des musées et centres d'art de Séoul.
SongEun Art Space, a landmark contemporary art center which reopened last year in a new building designed by Herzog & de Meuron in Gangnam, Seoul, is showing for the first time in Korea a selection of 48 works from the Sigg Collection. Spanning over 40 years of artistic production and four floors, the group show "SIGG : Chinese Contemporary Art from the Sigg Collection" offers an insight into Chinese contemporary art, which aside from a few flagship exhibitions from established artists (Ai Weiwei at MMCA in 2021-22, Tang Contemporary in 2023, Yue Minjun at Hangaram Museum in 2020-21) is not so present in the programs of Seoul's museums and art centers.
Curatée par Bernard Fibicher, cette première présentation coréenne de la collection d'Uli Sigg, la plus importante collection privée d'art contemporain chinois au monde, sert d'introduction à certaines des dernières acquisitions d'Uli Sigg après son importante donation au M+ Museum de Hong Kong, et dévoile une sélection de peintures, installations et œuvres vidéo d'artistes célèbres et émergents. La collection qu'Uli Sigg a bâti depuis la fin des années 1970, alors qu'il travaillait à Beijing, et consolidée tout au long de son mandat d'ambassadeur de Suisse en Chine, en Corée du Nord et en Mongolie à la fin des années 1990, a été forgée avec pour but de pouvoir donner une compréhension globale de la scène artistique en Chine, de la fin des années 1970 à 2012, lorsqu'Uli Sigg fit don de plus de 1.400 œuvres au M+.
Curated by Bernard Fibicher, this first Korean presentation of the Uli Sigg Collection, the largest private collection of Chinese contemporary art in the world, serves as an introduction to some of the latest acquisitions of Uli Sigg after his large donation to the M+ Museum in Hong Kong, and showcases paintings, installations and video works from famous and emerging artists. The collection, which Uli Sigg started building since the late 1970s while working in Beijing, and consolidated throughout his time serving as Swiss Ambassador to China, North Korea and Mongolia in the late 1990s, was built in an effort to give a comprehensive understanding of the art scene in China, from the late 1970s to 2012, when Uli Sigg donated more than 1,400 artworks to M+ in Hong Kong.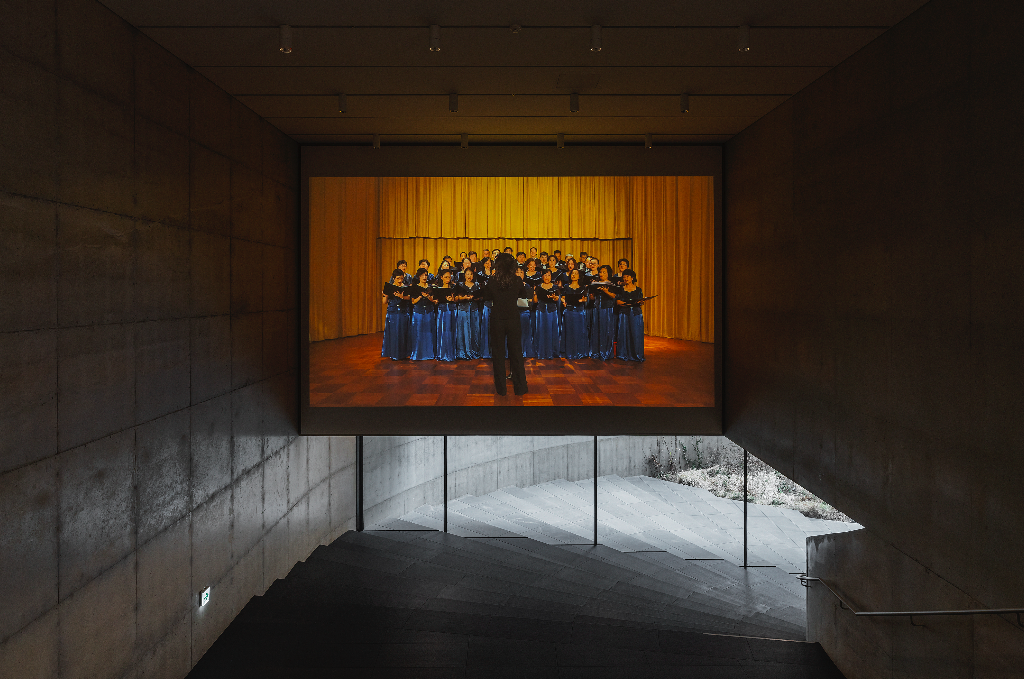 Après avoir été accueillis par « Safety Jackets Zipped the Other Way » d'Ai Weiwei (2020), une œuvre en clin d'œil au concept de ready-made de Duchamp, une première volée de marches attend les visiteurs au son de l'œuvre vidéo de Zhu Jiyuang « The Declaration of the Blind » (2015), dans laquelle cinq musiciens aveugles du Shaanbei jouent et récitent leur propre version de la Déclaration universelle des droits de l'homme, dont ils n'avaient jamais entendu parler auparavant, en dialecte du Shanxi. L'œuvre est jouée en alternance avec « We Are The World » (2017) de l'artiste hongkongais Samson Young, dans laquelle les murmures d'une chorale chantant le hit de 1985 font allusion aux voix démocratiques réduites au silence dans la région administrative spéciale. La salle suivante, consacrée à la peinture abstraite, présente une « Color Wheel » de Yan Lei, une œuvre de la récente série des citrons de He Xiangyu, recherche artistique sur la représentation et le symbolisme de la couleur jaune à travers les cultures et le temps – tandis que son installation « The Death of Marat », représentant un mannequin d'Ai Weiwei inerte, tombé de l'étage supérieur, est présenté au sous-sol -, ainsi que des œuvres de Xie Molin, connu pour ses toiles réalisées par des machines, et proposant des textures tridimensionnelle sensuelles.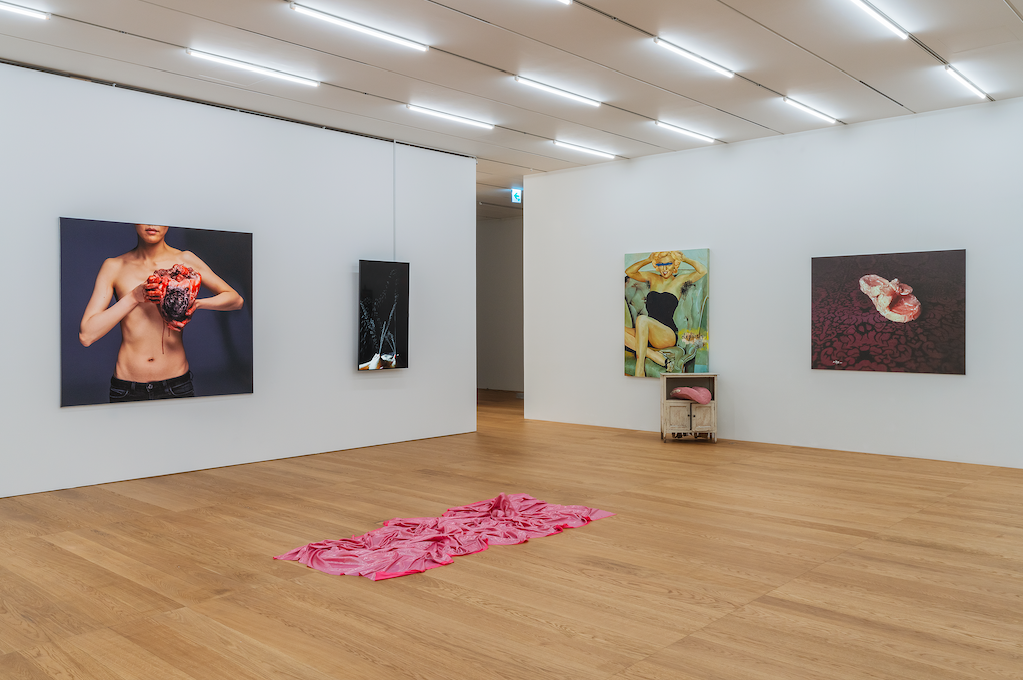 After being greeted by Ai Weiwei's "Safety Jackets Zipped the Other Way" (2020), a work referencing Duchamp's concept of readymade, visitors climb up their first flight of stairs to the sound of Zhu Jiyuang's video work "The Declaration of the Blind" (2015), in which five blind musicians from Shaanbei, who had never heard of it before, play and recite their own version of the Universal Declaration of Human Rights in Shanxi dialect. The work alternates with Hong Kong artist Samson Young's "We Are The World" (2017), in which the whispers of a choir muttering the hit-single from 1985 allude to democratic voices being silenced in the Special Administrative Region. The next room devoted to abstract painting presents a Yan Lei "Color Wheel", a work from He Xiangyu's recent lemons series, an artistic research on the representation and symbolism of the color yellow across cultures and time – while his installation "The Death of Marat", representing an inert Ai Weiwei mannequin that has fallen from the upper floor, is shown in the basement -, as well as works by Xie Molin, known for his "machine-made" canvas, creating a three-dimensional, highly sensual texture.
Au deuxième étage, la curation amorce une transition d'une approche basée sur le médium à une approche thématique en deux parties : représentations des féminités par les artistes femmes, et nouvelles représentations abstraites de la nature en peinture, photographie et installation. L'œuvre de Pei Li est un moment fort de l'exposition, synthétique de sa pratique et ses recherches autour de la douleur, des normes de beauté et de l'identité. Son œuvre vidéo « Art Should Be Beautiful, Artist Should Be Beautiful » (2016) est présentée accompagnée d'un os de mâchoire qu'elle s'est faite retirer lors d'une intervention chirurgicale. Réponse personnelle à l'une des performances les plus célèbres de Marina Abramović, l'œuvre voit Pei Li s'attaquer aux normes de beauté en neutralisant son visage. Les photographies, installations et vidéos de Cao Yu renversent quant à elles les stéréotypes de genre et idées traditionnellement associées à la maternité. Son œuvre vidéo « Fountain » (2015) sert de manifeste du pouvoir du corps des femmes, tout en dialoguant avec des œuvres d'artistes masculins occidentaux. Son installation « Mount Fuji No.1 » (2017) offre un spectacle grotesque et comique d'une représentation du pouvoir (ou de l'absence de pouvoir) des hommes. La dernière section de l'exposition établis de jolis parallèles entre « Kyoto » de Shi Guowei (2017), prise de vue d'une forêt retouchée et colorisée à la main, la sculpture de Shen Shaomin « Bonsai No.19 » (2015) qui touche aux thèmes du contrôle, de la domination et de la torture, ainsi que des dessins de l'artiste taïwanaise Charwei Tsai, dont le travail est également présenté en ce moment à la 14e Biennale de Gwangju. Méticuleusement curatée et tirant profit des somptueux nouveaux espaces de SongEun, « SIGG : Chinese Contemporary Art from the Sigg Collection » est l'un des événements de 2023 à Séoul. Jusqu'au 20 mai.
SongEun' second floor sees the curatorial approach shifting from a medium-based approach to a two-parts thematic one: representations of femininity by women artists, and new abstract representations of nature in traditional painting, photography and installation. Pei Li's work is a highlight of the show, summarizing her research and practice about pain, beauty standards and identity. Her video work "Art Should Be Beautiful, Artist Should Be Beautiful" (2016) is shown alongside the jaw bone she had surgically removed. A personal response to one of Marina Abramović's most famous performances, the work sees Pei Li challenging beauty standards by neutralizing her face. Cao Yu's photographs, installation and video work subvert gender stereotypes and ideas traditionally associated with motherhood. Her video work "Fountain" (2015) serves as a manifesto of the power of women's bodies, while dialoguing with works by Western male artists. Her installation "Mount Fuji No.1" (2017) offers a grotesque yet comical spectacle of the power (or lack of) of men. The last section of the show draws beautiful parallels between Shi Guowei's "Kyoto" (2017), an edited and hand-colored forest photography, Shen Shaomin's sculpture "Bonsai No.19" (2015) alluding to ideas of control, domination and torture, and drawings from Taiwanese artist Charwei Tsai, whose work is also currently on display at the 14th Gwangju Biennale. Meticulously curated and beautifully taking advantage of SongEun's new space, "SIGG : Chinese Contemporary Art from the Sigg Collection" is one of the events of 2023 in Seoul. Until May 20th.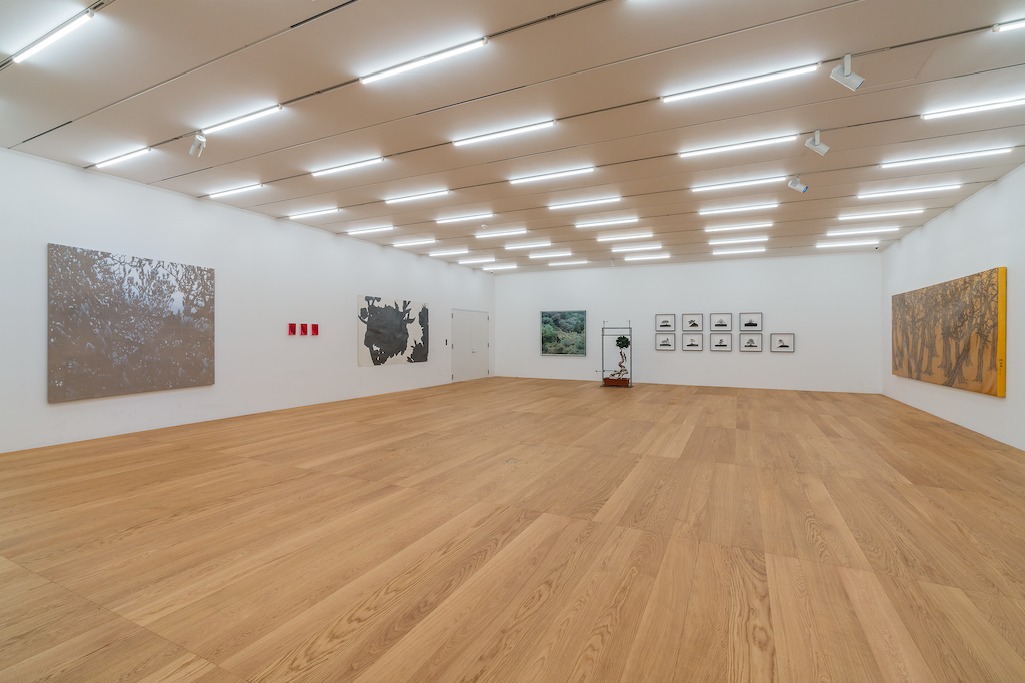 ---
ACA project est une association française dédiée à la promotion de la connaissance de l'art contemporain asiatique, en particulier l'art contemporain chinois, coréen, japonais et d'Asie du sud-est. Grâce à notre réseau de bénévoles et de partenaires, nous publions régulièrement une newsletter, des actualités, des interviews, une base de données, et organisons des événements principalement en ligne et à Paris. Si vous aimez nos articles et nos actions, n'hésitez pas à nous soutenir par un don ou à nous écrire.
ACA project is a French association dedicated to the promotion of the knowledge about Asian contemporary art, in particular Chinese, Korea, Japanese and South-East Asian art. Thanks to our network of volunteers and partners, we publish a bimonthly newsletter, as well as news, interviews and database, and we organise or take part in events mostly online or in Paris, France. If you like our articles and our actions, feel free to support us by making a donation or writing to us.